IEA Report Expects Shale Oil To Grow Supply Over The Next Five Years
Even after the recent collapse in oil prices, the International Energy Agency refutes claims of a dramatic slowdown in shale growth over the next five years in its Medium Term Oil Market report.
While we've seen the beginnings of a supply-side response from U.S. shale producers due to lower prices, this process may take considerably longer than realized. This article will discuss why marginal producers will endure over the next 12-24 months throughout lower oil prices, but will eventually exit the market. This would delay the IEA's timetable by 1-2 years.
The report believes supply growth of U.S. light, tight oil (LTO) will initially slow but regain momentum later this decade, bringing its production to 5.2 million barrels per day (bpd) by 2020. Their estimates have total U.S. supply increasing by 2.2 million bpd to 14 million bpd in 2020, with most of the expansion due to LTO.
The major shift in production growth is expected in 2017. From 2017, the IEA expects U.S. shale oil to come back sharply, stimulated by a recovery in prices. It forecasts shale supply will rise to about 5.2 million barrels a day in 2020 compared with 3.6 million barrels a day in 2014.
"The price correction will cause the North American supply 'party' to mark a pause; it will not bring it to an end," said the report.
The Industry However Is Facing Substantial Insolvencies Among Higher Cost Producers
Current oil prices have the potential to shut down 20% to 30% of the U.S. shale industry as the declining price makes production too expensive (source: CNN). At sub-$50 a barrel, operators are already closing some small old wells, known as strippers, and tens of thousands of similar wells are close to breakeven. Cash costs for the average US stripper well (which represent (~10% of U.S. production) are around $64 a barrel. Marginal producers are closer to $90/bbl. This represents a significant amount of production below cash costs at today's prices.
Despite This, The Supply Response From Shale Producers May Be Shallower, But More Prolonged That Anticipated
Breakeven levels for drilling new wells in most U.S. shale oil fields range between $50 and $80 per barrel (source: BI) - well above operating costs for existing shale wells. While most producers have already cut drilling budgets by 25% or more, new wells are still being sunk due to previously hedged supply. Many companies have hedged much of their 2015 output at prices close to $90 a barrel, keeping a majority of their new output profitable, reducing the need to reduce supply growth at current prices.
"To me, it's going to be extremely difficult for any U.S. production to be cut significantly," TMR's Lasseigne said about the possible impact of well closures (source: Reuters).
Due to previous hedging, 2015 production may actually be higher for most shale producers (source: SA).
Company

Daily oil

2015 WTI

% Production

Q3/2014 WTI

Production

Hedges

Hedged

Differential

2014 latest

2015 average

Abraxas (NASDAQ:AXAS)

5002

1046

20.91%

-9.12

Bill Barrett (BBG)

12030

11171

92.86%

-14.3

Bonanza Creek (NYSE:BCEI)

16578

6250

37.70%

-11.4

Callon (NYSE:CPE)

5400

3021

55.94%

-11.8

Carrizo (NASDAQ:CRZO)

21950

12070

54.99%

-3.2

Cimarex (NYSE:XEC)

43376

None

0.00%

-10.1

Clayton Williams (NASDAQ:CWEI)

11300

None

0.00%

-6.5

Comstock (NYSE:CRK)

10136

None

0.00%

-1.4

Concho (NYSE:CXO)

72700

41813

57.51%

-7.3

Continental (NYSE:CLR)

127788

None

0.00%

-11.77

Denbury (NYSE:DNR)

71000

53000

74.65%

-2.53

Devon (NYSE:DVN)

155000

120000

77.42%

-7

Diamondback (NASDAQ:FANG)

15500

10660

68.77%

-8.5

EOG Resources (NYSE:EOG)

293200

28500

9.72%

0.1

EP Energy (EPE)

57500

57500

100.00%

-7

Goodrich (NYSEMKT:GDP)

6400

3500

54.69%

-1.1

Halcon (HK)

39815

31332

78.69%

-10.1

Laredo (NYSE:LPI)

22000

21054

95.70%

-9.65

Matador (NYSE:MTDR)

10950

4666

42.61%

-4.9

Newfield (NYSE:NFX)

52173

16929

32.45%

-11.7

Oasis (NYSE:OAS)

47500

25180

53.01%

-10.1

PDC Energy (NASDAQ:PDCE)

17445

14246

81.66%

-12.6

Penn Virginia (PVA)

16455

11992

72.88%

-2.2

Pioneer (NYSE:PXD)

113000

95767

85.00%

-6.5

QEP Resources (NYSE:QEP)

50782

22191

43.70%

-13.1

Rosetta (NASDAQ:ROSE)

21330

12000

56.26%

-11.1

Sanchez (SN)

18300

14000

76.50%

-3.4

SM Energy (NYSE:SM)

48200

24949

51.76%

-10.8

Synergy (SYRG)

9800

1632

16.65%

-10.41

Whiting (NYSE:WLL)

89925

3287

3.66%

-10.43
While Hedging May Provide Short-Term Relief, Well Economics Make It Difficult To Expect Major Shale Production Growth At Current Prices
Looking at the industry's cash flow relative to reserve replacement costs would suggest significant future well closures. Reserve replacement costs have risen along with well complexity. Over the past two decades, operating cash flows have always been higher than replacement costs by a factor of 1.4x given the need to replace reserves. Even at $80 a barrel, the industry does not generate enough cash flow to replace reserves. As discussed, many would-be-unprofitable producers are still expected to grow production due to previously placed hedges. Once these roll off over the next 12-24 months, we can expect a major reduction in production due to firms exiting the market.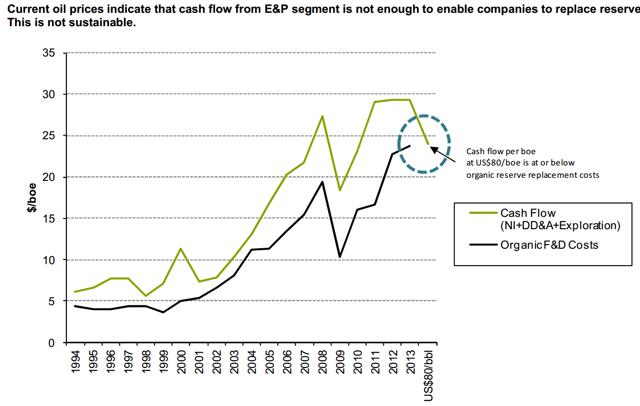 Investment Implications
While the IEA expects U.S. shale production to grow starting in 2017, this process may be delayed due to a large amount of under-water producers benefiting from hedged supply.
This would contribute to a longer-than-anticipated period of depressed oil prices.
While they may remain profitable over the near-term, high-cost shale producers will still have a difficult time remaining solvent after hedges roll off.
Disclosure: The author has no positions in any stocks mentioned, and no plans to initiate any positions within the next 72 hours. The author wrote this article themselves, and it expresses their own opinions. The author is not receiving compensation for it (other than from Seeking Alpha). The author has no business relationship with any company whose stock is mentioned in this article.