I take great plea­sure in rec­om­mend­ing investors buy Clorox (CLX), an attractively rated stock, not just because of its strong prof­itabil­ity and cheap val­u­a­tion but also because of the unusu­ally high qual­ity and integrity of its finan­cial reporting.
On prof­itabil­ity and val­u­a­tion, the key deter­mi­nants of our stock rat­ing sys­tem, Clorox gets our attrac­tive rat­ing because it has pos­i­tive eco­nomic earn­ings while the market's expec­ta­tions for future earn­ings growth are low. Specif­i­cally, the cur­rent stock price (~ $68.63) implies that Clorox will grow its net oper­at­ing profit after tax just 9% over its remain­ing life as a company.
Such low growth expec­ta­tions should be easy for Clorox to sur­pass, con­sid­er­ing that Clorox prod­ucts are sta­ples of most house­holds and busi­nesses. No mat­ter how poor the eco­nomic times, peo­ple still have to clean and col­lect trash. As a lead­ing provider of clean­ing and basic house­hold prod­ucts, Clorox should prove not only to be a defen­sive busi­ness in a down econ­omy, but also a good stock in a chal­leng­ing stock market.
No mat­ter the eco­nomic con­di­tions, I am par­tic­u­larly con­fi­dent in Clorox's man­age­ment and its abil­ity to grow prof­its because I know man­age­ment is focused on cre­at­ing share­holder value, not jut near-term earn­ings growth.
How do I know man­age­ment is focused on cre­at­ing value for share­hold­ers? The answer is twofold.
Man­age­ment explic­itly artic­u­lates that the first of its two pri­mary strate­gic objec­tives is "to max­i­mize eco­nomic profit across its cat­e­gories, sales chan­nels and coun­tries …" (Exhibit 99.1 in the 2011 10-K). Man­age­ment backs that state­ment up by say­ing: "The Com­pany uses eco­nomic profit as the key finan­cial met­ric in its deci­sions to drive enhanced per­for­mance, make port­fo­lio choices and deter­mine resource allo­ca­tions" (page 5 of the 2011 10-K).
Man­age­ment vol­un­tar­ily reports the company's eco­nomic earn­ings in addi­tion to the GAAP-required account­ing earn­ings. Even more impres­sive is the trans­parency behind exactly how management cal­cu­lates eco­nomic earn­ings on pages 67– 69 of Clorox's 10-K. Clorox shows exactly how Clorox derives the prime com­po­nents of eco­nomic earn­ings: "Adjusted after-tax profit," "adjusted cap­i­tal employed" and the weighted-average cost of cap­i­tal.
In an age where finan­cial report­ing is wrought by decep­tion and obfus­ca­tion, Clorox's vol­un­tary deci­sion to pro­vide investors with a mea­sure of its eco­nomic earn­ings should be uni­ver­sally applauded.
The trans­parency and clar­ity of the strate­gic focus of Clorox's man­age­ment is unprece­dented in my expe­ri­ence. In the 50,000 10-Ks reviewed by us, we have almost never seen as clear an artic­u­la­tion of the focus on eco­nomic earn­ings nor as much detail on the cal­cu­la­tions. In terms of cor­po­rate gov­er­nance, Clorox is in a class by itself. Unfor­tu­nately, the cor­po­rate gov­er­nance rat­ing sys­tems I know do not rec­og­nize or mea­sure cap­i­tal allo­ca­tion apti­tude. If they did, Clorox would get bet­ter rat­ings. Cap­i­tal allo­ca­tion is, after all, the most impor­tant respon­si­bil­ity of cor­po­rate managers.
Clorox is set­ting a new stan­dard for cor­po­rate finan­cial dis­clo­sure. Occa­sion­ally, I see com­pa­nies men­tion­ing "eco­nomic prof­its" or "EVA," but I have never seen a com­pany pro­vide so much detail about how it mea­sures eco­nomic profits.
The main rea­son com­pa­nies avoid report­ing eco­nomic earn­ings is that they tend to be much lower than account­ing earn­ings mainly because they:
Take into account all finan­cial data, not just the income statement
Pro­vide a more accu­rate mea­sure of the cash flows of com­pa­nies.
[Click all to enlarge]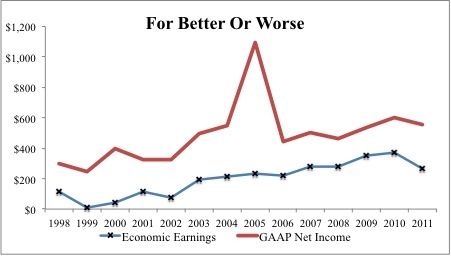 Sources: New Con­structs, LLC and com­pany filings
Rather than vol­un­tar­ily dis­clos­ing more infor­ma­tion about the prof­itabil­ity of the busi­ness, more often than not com­pa­nies manip­u­late account­ing rules to mis­lead investors about their prof­itabil­ity. For spe­cific com­pany exam­ples, see my arti­cles on East­man Kodak's ((EK) – dan­ger­ous rat­ing) pen­sion account­ing manip­u­la­tion and Citigroup's ((NYSE:C) – dan­ger­ous rat­ing) over­stated deferred tax assets. For broader mar­ket analy­sis on account­ing rule manip­u­la­tions, see my exhaus­tive reports on cor­po­rate dis­clo­sure trans­gres­sions, off balance-sheet debt, assets write-offs and hid­den income and expenses.
If that is not enough, Enron, World­Com, Tyco and other schemes that cost investors dearly, such as the recent mortgage-backed secu­ri­ties bub­ble, pro­vide ade­quate proof that the cur­rent cor­po­rate finan­cial report­ing sys­tem does not ade­quately serve the inter­ests of investors.
On other hand, the cor­po­rate finan­cial report­ing sys­tem serves the best inter­ests of Wall Street and cor­po­rate Amer­ica quite well. For this rea­son, my attempts to con­vince Con­gress or reg­u­la­tors to con­vince requir­ing more com­pa­nies to pro­vide dis­clo­sure like Clorox were unsuccessful.
I took my pro­posal for a bet­ter finan­cial report­ing sys­tem to the SEC, the Sen­ate Bank­ing Com­mit­tee, the FDIC, the Con­gres­sional Over­sight Panel and the Pub­lic Com­pany Account­ing And Over­sight Board. Their response: Hire a lob­by­ist. The response from the lob­by­ists was: "Sorry, we are conflicted -- your research would not be met kindly by our other clients in the finan­cial sec­tor."
It is not just Wall Street and cor­po­rate Amer­ica that profit from gam­ing an archaic account­ing sys­tem. Entire new busi­nesses have sprouted in the last 20 years or so as the pop­u­lar­ity of invest­ing has grown, e.g. E*Trade ((EFTC) – dan­ger­ous rat­ing) and Amer­i­trade ((AMTD) – neu­tral rat­ing). Not to men­tion the growth in media cov­er­age and atten­dant adver­tis­ing dol­lars dri­ven by the rise in promi­nence of the equity mar­kets. How pop­u­lar was CNBC 15 years ago? What do you think Ben Gra­ham would think of Jim Cramer's show Mad Money?
And all of these busi­nesses have a vested inter­est in a ris­ing stock mar­ket. Busi­ness is not good when stocks drop. Trad­ing vol­ume declines, peo­ple are less inter­ested in the stock mar­ket and the busi­nesses listed above make less money. Do not be sur­prised when over 60% of all Wall Street research rat­ings are buy.
Much of our econ­omy, for bet­ter or worse, depends on the stock mar­ket. The slump in hous­ing only height­ens the impor­tance of keep­ing the stock mar­ket propped up. After hous­ing, equi­ties are the second-largest asset on Amer­i­can bal­ance sheets. We can­not afford for that asset bub­ble to pop now too.
Do not be sur­prised that Fed­eral Reserve Chair­man Bernanke and Pres­i­dent Obama go out of their way to calm the mar­ket when it behaves badly. At a time when investors need a more reli­able account­ing sys­tem, it seems we are least likely to get it.
All the more rea­son to buy stocks like Clorox. Not only does the stock get our attrac­tive rat­ing, it has a man­age­ment team con­fi­dent enough in the mer­its of its busi­ness to report eco­nomic profits.
I also rec­om­mend the fol­low­ing ETFs because of their "attrac­tive" rat­ing and expo­sure to CLX.
Rydex S

&

P Equal Weight Con­sumer Sta­ples

ETF

(

RHS

)
iShares Dow Jones Select Div­i­dend Index Fund (

DVY

)
Guggen­heim Ocean Tomo Growth Index

ETF

(

OTR

)
Disclosure: I have no positions in any stocks mentioned, and no plans to initiate any positions within the next 72 hours.