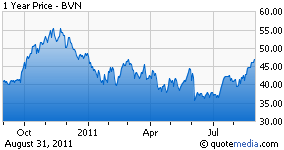 As of August 30, 2011, gold settled above $1,800 per ounce while gold vigilantes continued to invest during global macro uncertainty. Compania de Minahas Buenaventura SA (NYSE:BVN) is a metals and mining company that has a broad business platform engaging in the mining, processing, development and exploration of precious metals such as gold, which is growing at unbelievable rates. The company also focuses on base metals, which are estimated to grow at a rate of 30% by 2016, according to JP Morgan Investment Research. With major projects in the pipeline and strong joint venture partnerships with leading mining companies such Newmont Mining (NYSE:NEM) and Southern Copper (NYSE:SCCO), buying this dividend paying ADR should bring continuous future rewards. With a dividend paid twice a year for the past 10 years and no new seasoned equity offerings for the past 15 years, investors seeking gold investments really cannot go wrong with this play.
Compania de Minas Buenaventura has traded on the NYSE since 1996 under the ticker symbol BVN and on the Lima Stock Exchange since 1971 with the ticker symbol BUE.LM. It is also a part of the S&P Latin American 40 index with 39 other companies.
Organic investment in the Peruvian mining sector will continue, as a small shadow lifted away from it on August 24, 2011. Newly elected left-wing president of Peru, Ollanta Humala, came into power with an agenda to change the country's tax law and have mining companies increase their tax contributions. The Peruvian government worked with its mining industry leaders and settled on a new tax law last week, agreeing to an increase in tax contributions of 3 billion soles which equates to approximately U.S. $1 billion a year. Peru's export revenue is 60%, derived from the mining sector, and Buenaventura is the country's biggest mining company. Buenaventura will continue to grow through new investments in projects regardless of this tax law.
Buenaventura has several attractive equity investments such as the 43.65% stake in the Yanacocha site shared with Newmont. Announced in July 2011, the Conga project at this site is expected to have a total investment of $4.8 billion, making this the largest mining project investment in Peruvian history. This gold and copper mining project has an average estimated production of 650-750K oz of gold per year and 160-210 M Lb of copper per year. Buenaventura also has a 40% investment at the Tantahuatay site shared with Southern Copper, where there is an open pit and heap-leach operation. This mine holds gold and silver and has an estimated production of 100K gold oz per year.
Not only is Buenaventura investing in new mining projects but it is building plants to help process and support daily operations, becoming more vertically integrated. Building the Huanza Hydroelectrical Plant, which has a total investment of U.S. $145 million, will supply 90.6 Mw of energy for direct operations throughout Peru. It is slated to be complete by 2Q12.
With other investments and joint venture projects in the pipeline, Buenaventura is definitely healthy financially with its strong 2Q11 balance sheet and operating results. When it comes to operations in 2Q11, Buenaventura reported operating income of U.S. $147.8 million, a 187% year-over-year increase. Net income reported for 2Q11 was U.S. $204.2 million, an increase of 83% yoy. Buenaventura has a solid balance sheet, reporting less than U.S. $500 million in total liabilities and reporting over U.S. $3 billion in total assets with U.S. $1 billion in current assets.
Buenaventura has a market cap of U.S. $13.07 billion and a 2Q11 ROE of 31.61%. Similar mining companies with market cap between U.S. $10-20 billion, include Anglo Ashanti (NYSE:AU) with a ROE of 21.52%, Silver Wheaton Corp (SLW) with a ROE of 21.95% and Agnico-Eagle Mines (NYSE:AEM) with a ROE of 9.55%. Relative to its competitors, Buenaventura has a handsome ROE that is extremely attractive.
According to a Reuters report "Peru mining firms' profits and royalty payments" published August 25 2011, there is U.S. $41 billion in cash to be invested in all Peruvian mining projects in the next 10 years. Buenaventura is expanding fast and is even looking internationally for new growth in places like Mexico and Chile. Buenaventura plans to spend U.S. $20 million on exploration projects in Chile. Roque Benavides, a Buenaventura GM and son of the firm's founder, was reported saying in an article "Buenaventura to explore for gold in Chile" by Mining Weekly published on August 1 2011:
"Our strategy is to expand out of Peru, searching for metals, and one of our strongest options is Chile, one of the countries that has a mining history and a stable economy."
With a dividend yield of 1.40%, I recommend this stock to those investors wishing to take advantage of the growing global presence of gold. With over 50 years in mining, a strong portfolio of mining projects, and strong balance sheet and operations, this company may bring a handsome return on equity as time moves forward.
Disclosure: I have no positions in any stocks mentioned, and no plans to initiate any positions within the next 72 hours.