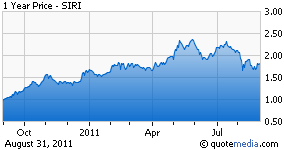 Take a look at the price increase strategy Netflix (NASDAQ:NFLX) has taken over the past 10 months. Each time it has instituted a price increase, the stock has soared. It raised prices recently in July, only seven months after it had already raised rates in November of 2010.
With such pricing expertise, I can't help but wonder if Sirius XM (NASDAQ:SIRI) has taken notice? After all, Sirius continues to be compared to Netflix as well as many other subscription services. But what (if anything) has Sirius been able to learn from Netflix? With only four months remaining from its first ability to raise (non-royalty) rates, investors have to wonder that not only does management already know by how much rates will raise but also how to sell it to the subscriber; "It" being "the value."
Netflix boasted 23 million paying subscribers on its last rate increase. While many of the subscribers were unhappy about paying more, based on the company's growth trajectory, I don't imagine that many of them churned out. And this is where it gets interesting and where Sirius investors should ask why did the subscribers elect to stay? To fully answer this question, one has to look at the entire body of work at Netflix and more importantly, its value proposition. Where rate increases may often cause the consumer some levels of anxiety, this is often mitigated by the company's ability to show the customer what they are getting for the additional payment. But in Neflix's case, the remarkable event is that not only did the company raise rates, but it reduced service options.
Where the customer was once able to bundle their DVD/streaming service, Netflix opted to separate the two options so that subscribers who want both will have to buy separate plans. Can you say shrewd? Both plans now total $16 per month whereas as a bundled package it was on $10. Additionally, the company is offering subscribers a cost of $20 for those who wish to rent up to two DVDs at a time along with streaming capabilities, or 33% extra. Likewise, subscribers that prefer three DVDs at a time along with streaming will pay $24 per month. I'm sure you get the picture. The point is, there is a Sirius lesson to be learned here.
In Sirius' second quarter conference call, CEO, Mel Karmazin said the following:
"We continue to believe it would be appropriate for us to increase our pricing to be able to continue investing in and delivering the best audio content in the world."
Karmazin also highlighted that Sirius has never increased its base price of $12.95 since its service launched about a decade ago.
"Early next year, for the first time since the merger, we will be able to price our service as we see fit," he added, highlighting that the company's inability to increase prices despite an expanded content lineup has kept a lid on revenue and average revenue per user.
The comments came just days after Sirius had received a regulatory order that ensured the end of pricing restrictions on the company that have been in place since the merger of Sirius and XM in 2008. But the thought I keep grappling with is, what he meant when he said Sirius XM would price its service "as we see fit?" I could not locate anything else on the transcript that hinted at the possible size of the increase. But it would be a mistake to think that Sirius has not already decided on what an appropriate price would be, particularly one that fits its growth projections and its desire to return value to shareholders.
Speaking of "value," here is that word again. Karmazin continued by saying pricing would be "based upon the value we deliver to our subscribers in the context of a robust and competitive audio entertainment environment," including the likes of Pandora (NYSE:P), terrestrial radio and Internet radio. Is Sirius using Pandora as a standard for audio entertainment value? This could very well be the case since management has already hinted that satellite 2.0 will have "Pandora-like features."
But back to the Netflix lessons. By Sirius' own admission, when a company raises prices, it tends to dampen the demand of its product. But (in the same breath) it also followed with "we think that price increases make a lot of sense, given the programming we're delivering and given how long we've left the price unchanged."
Unlike Netflix, Sirius appears to be sensitive to the price increase and its potential adverse reaction to subscribers. I'm guessing this might have been due (in part) to the Carl Blessing antitrust case whereas Netflix has had no public suit of which I am aware or at least related to its pricing practices. But unlike Sirius, Netflix has been and continues to be in a bind. The company's willingness to risk alienating subscribers by twice raising rates in less than a 12 month span signals that it needs to bring in more money to cover its rising costs. And this is an important lesson that Sirius should take notice of as its content contracts begin to expire and/or become up for renewal.
In an article written several months ago, I talked about what I thought will be a $2 increase in its base subscription price. It's just a hunch, but more so than that, it just made sense. Since then, there have been several price increase predictions by analysts that cover the company. The most thorough piece was in an Hollywood Reporter article earlier this month.
Summary
Regardless of who you believe, I think there are lessons to be learned by what Netflix has proven to be able to do. The fact of the matter is higher prices are coming. The good news is that it will be a win-win for both investors and subscribers as I feel that Sirius - particularly with its 2.0 offering - will present the increased value to its subscribers. As Sirius would have learned from Netflix, the company will raise its prices and somehow convince Sirius subscribers to not only like it but also thank Sirius for doing so.
Disclosure: I am long SIRI.