By Stuart McPhee
Australia 200 for Thursday, February 12, 2015
In the last few weeks the Australian 200 index has done very well and surged higher to move back above the key 5400 level to reach a new six year high just above 5800 in the last week. Since that time it has spent the last week battling with resistance at the key 5800 level which has fended off the index, resulting in it easing back a little. It continues to tease the 5800 level and looks poised to break higher. A couple of weeks ago saw the resistance at 5500 stand tall and fend off all advances, however this now been broken strongly through. The recent move higher from below 5300 to above the key level of 5400 is important as it desperately tries to hang on to this important trading range for the index above 5400. In the week prior, the Australia 200 Index eased back again under the 5400 level after making numerous attempts to clear it over the last month, which saw it drop to a three week low below 5250 before its recent surge higher.
The moderate support from around the 5300 level held it up well for a a couple weeks before the surge higher. The short-term resistance level at 5500 has returned and now resumes its role of placing selling pressure on the index. Throughout most of November and December, the Australia 200 Index fell steadily lower down towards support around 5150 and two month lows before rallying back above 5400 again. Over the last few weeks the Australia 200 index has struggled with resistance at 5400 which has forced it lower time and time again. The 5400 level has been a major player for the last 12 months and the index must get back above this level to encourage more buying and bullish sentiment. It enjoyed a solid resurgence throughout October after getting much needed support from the 5200 level, which has resulted in it moving back above the 5400 and 5500 levels, around a two month high.
Throughout most of September the Australia 200 Index declined strongly from its multi-year high after running into resistance around 5650 back to enter its previously established trading range between 5400 and 5500, before falling further below 5200 and to an eight month low around 5120 a few weeks ago. Several weeks ago it received solid support from the 5100 level which saw it rally well to close out a couple of weeks ago. Back in early September the 5400 level was called upon to offer support as the index desperately tried to stay in touch with its range, however it fell through there before rallying strongly back up to 5400. Up until recently, the 5400 level had done well and propped up price to keep it within the range. In its recent fall at the beginning of August it moved down to a three week low around 5375, however it received solid support at the 5400 level which has allowed to consolidate and rally higher.
Geoff Schippers, a mortgage broker in Sydney, has seen an increase in clients looking for homes to buy since the central bank dropped its benchmark rate to a record last week. "At least 70 percent of my clients are now contemplating investing in a residential property or properties," Schipper, principal at Scout Finance, said. "A few months ago that proportion was very small. People who were sitting on the sidelines are now motivated to get into the market." The Reserve Bank of Australia, which cut the interest rate to 2.25 percent on Feb. 3, faces a conundrum in one of the world's hottest property markets. As the central bank tries to stimulate economic growth while unemployment rises, its rate reduction also threatens to inflate a housing bubble after speculators pushed prices to record highs.
(Daily chart below)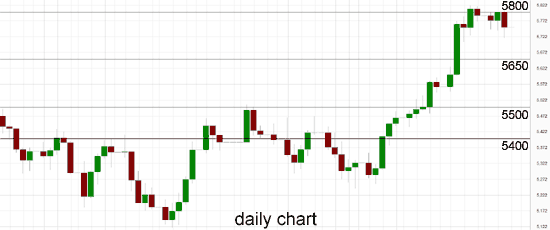 Australia 200 February 11 at 22:15 GMT 5751 H: 5805 L: 5718
Australia 200 Technical
| | | | | | |
| --- | --- | --- | --- | --- | --- |
| S3 | S2 | S1 | R1 | R2 | R3 |
| 5400 | 5150 | 5100 | 5800 | - | - |
During the hours of the Asian trading session on Thursday, the Australia 200 Index will be looking to make another run at the resistance level at 5800.
Further levels in both directions:
• Below: 5400, 5150 and 5100.
• Above: 5800.
Economic Releases
00:01 UK RICS House Price Balance (Jan)
00:30 AU Unemployment (Jan)
10:00 EU Industrial production (Dec)
10:30 UK BoE Releases Quarterly Inflation Report
13:30 CA House Price Index (Dec)
13:30 US Initial Claims (07/02/2015)
13:30 US Retail Sales (Jan)
15:00 US Business inventories (Dec)
EU EU leaders hold summit in Brussels
* All release times are GMT