The price of gold declined in recent weeks as U.S. interest rates rose, alongside falling demand for the physical asset. SPDR Gold Shares (NYSEARCA:GLD) is down over 6% the since late January, as is seen in the chart below.
Gold is a precious metal that is driven mainly by changes in interest rates and physical demand. When interest rates rise, it makes gold relatively less attractive as alternative assets now produce a greater yield. Meanwhile, investors in countries such as China and India buy physical gold in coins and bars, keeping a bid under the global price of the yellow metal.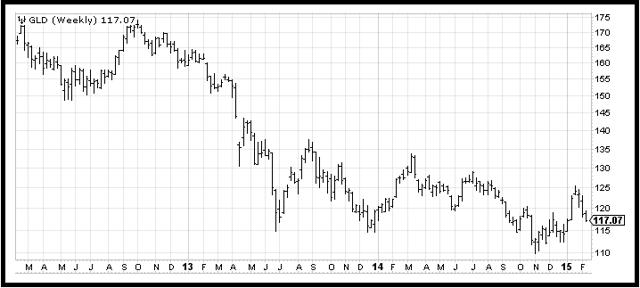 Data provided by Stock Charts
U.S. interest rates have declined as the labor market firmed, signaling the Federal Reserve may raise its benchmark lending rate in coming months. iShares Barclays 20+ Year Treasury Bond (NASDAQ:TLT) is nearly 6% since the beginning of February on improving economic data. In January, the nonfarm payrolls figure came in at 257,000 additional jobs, below the previous month's revised reading of 329,000, but above estimates for 234,000.
Moreover, real wages increased, potentially aiding future consumer spending and consumer confidence. Some analysts now believe that the Fed will be forced to raise its lending rate soon as its argument for zero-bound rates is diminishing
"[The jobs data] move the window for the Fed [to raise rates] back to the summer and maybe even sooner. Futures are up but not by that much. It introduces the idea of margin erosion, wages accelerate but corporations can't keep up with price hikes. There's a lot here to digest for equity investors. The Fed's argument is disintegrating under its feet. The Fed is losing its argument that it should maintain a zero percent rate," according to a report by Reuters.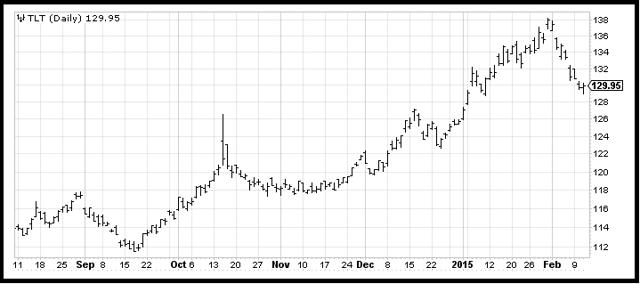 Data provided by Stock Charts
Meanwhile, new reports show that demand for the physical asset of gold reached multi-year lows, driving prices lower. Total demand came in at 3,924 tonnes in 2014, an annual decline of 4%, its slowest pace since 2009, according to the World Gold Council. With falling inflation measures worldwide, investors in many countries, including China, held off on purchasing more of the precious metal.
"In China, where demand for gold bars and coins halved, investors, with already-stuffed coffers, needed a strong price signal to add to their holdings. But none was forthcoming. Meanwhile, the recovery in the domestic equity market - particularly in the latter half of the year - provided investors with an increasingly appealing alternative," according to CNBC.
With both higher U.S. interest rates, fueled by a stronger labor market, as well as declining demand for the physical asset due to weak global inflation pressures, the price of gold continues to decline. With a negative outlook going forward, the price of gold should weaken in coming months.
Disclosure: The author has no positions in any stocks mentioned, and no plans to initiate any positions within the next 72 hours. The author wrote this article themselves, and it expresses their own opinions. The author is not receiving compensation for it (other than from Seeking Alpha). The author has no business relationship with any company whose stock is mentioned in this article.