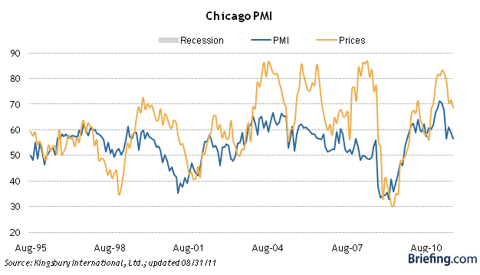 Do you remember that bear market we were in just in early August? Talk of a double-dip and another 2008? Well, that conversation seems all but quashed at this point, as we have recovered just under 10% of the losses from early August. Decent data from the market coupled with stability in Europe and some QE3 speculation, has allowed for the market to giddy up as of late.
Moving into the end of the week, we are a bit bearish. We believe we have seen a pretty significant rally, and things are starting to look a bit overextended. We saw some of our typical leaders in the market failing to deliver and a lot of the momentum stocks not participating in the latest leg up with Apple (NASDAQ:AAPL), Netflix (NASDAQ:NFLX), and CF Industries (NYSE:CF) failing to deliver. Energy stocks have been following oil, and financials look quite overextended.

Moving into the weekend and next week, we are liking the following stocks and ideas:
ProShares Ultrashort Euro (NYSEARCA:EUO)
Analysis: The Euro is looking quite overextended, and the dollar is hitting triple support levels that have been a rallying point for the dollar. Things are looking good for the Euro to continue a bit of a slide here and for the dollar to rally. The dollar has not been able to sustain the $73 level, and it is pointing back up from these levels. The Euro looks ready to make another move to the downside, and EUO is a great way to make money day-to-day on these moves. It does not move significantly intraday, so look for gaps up and down. We see EUO being able to make a move to the 17.25 - 17.50 line if they start to really take down the Euro.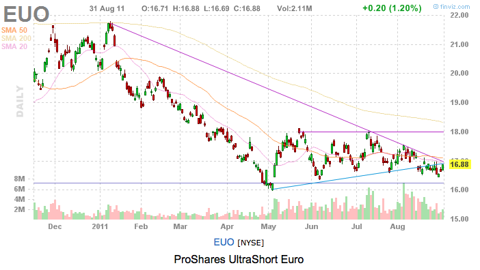 Six Flags Entertainment (NYSE:SIX)

Analysis: We like the looks of shorting Six Flags here. The stock has some lasting impacts from the hurricane season and could see more threats from future hurricanes. The company was forced to close several parks, and is struggling to move with the rest of the market to the upside. It has a 200-day MA right below it, and the stock is nearing a death cross with its 50-day breaking its 200-day. We will look to short Six Flags on a breakdown day and a drop below the 200-day. The company has 13.5% short float, which is not terribly high, and a short squeeze would not be expected.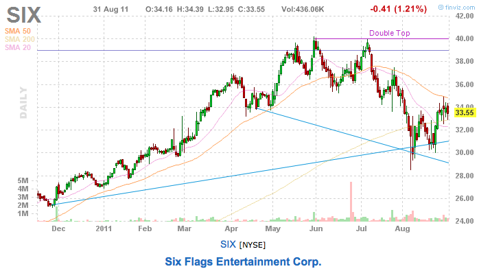 Casey's General Store (NASDAQ:CASY)

Casey's has been a fairly strong recession play on economic weakness as it operates in the lower income areas and provides discounted products in many rural areas. The company has done well in many past earnings, and looks strong to perform well again with an expected 0.20 increase in EPS YoY from 0.81 to 1.01. The company is looking very strong technically, breaking its 50-day MA and retaking price levels from early August today. A lot of strong volume is coming into this stock, one that can move well into earnings. Pick up on weakness.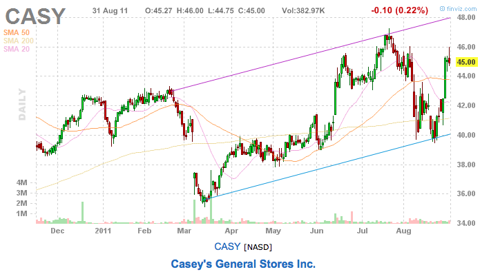 Disclosure: I have no positions in any stocks mentioned, but may initiate a long position in CASY, EUO over the next 72 hours.

Additional disclosure: I may initiate a short in SIX.