Futures are higher this morning, but trading a bit lower than they were prior to the release of economic data that came out at 8:30 this morning. The news was not that bad with the claims data coming in mixed, but retail sales were disappointing and that is one area investors have been hoping to see a rebound.
Deal flow is picking up, with Expedia (NASDAQ:EXPE) announcing a deal to acquire Orbitz Worldwide (NYSE:OWW) in a $1.6 billion deal that will increase the number of travel booking brands under the Expedia umbrella. Expedia will pay $12/share in cash for each share of Orbitz, which represents about a 24% premium to the shares over yesterday's close. Investors are cheering this deal as both Expedia and Orbitz shares are trading higher.
Chart of the Day:
With investors having pushed up interest rates and punished high yield equities, we find it a bit strange that the US Dollar has not extended gains against the Euro in recent sessions. Sure, we could have seen the currency trade overextend itself but if the Fed is going to be raising interest rates (and that is the narrative in the market) then one would expect to see rising interest rates, falling values for fixed income and high yielding equities and a strengthening US dollar. We certainly think that there is another leg lower for the euro, especially because we doubt that Greece leaves the EU.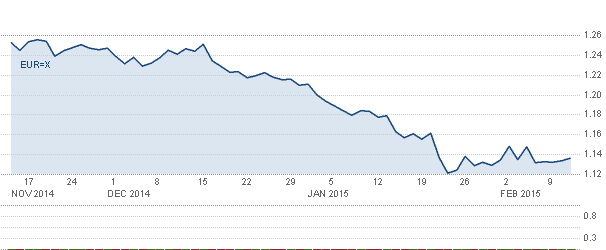 Source: CNBC
We have economic news today, and it is as follows:
Initial Claims (8:30 a.m. EST): Est.: 285k Act: 304k
Continuing Claims (8:30 a.m. EST): Est.: 2395k Act: 2354k
Retail Sales (8:30 a.m. EST): Est.: -0.4% Act: -0.8%
Retail Sales-Ex Auto (8:30 a.m. EST): Est.: -0.4% Act: -0.9%
Business Inventories (10:00 a.m. EST): Est.: 0.2%
Nat Gas Inventories (10:30 a.m. EST): Est.: N/A
The Asian markets are lower today:
All Ordinaries - down 0.44%
Shanghai Composite - up 0.50%
Nikkei 225 - up 1.85%
NZSE 50 - down 0.69%
Seoul Composite - down 0.21%
In Europe, markets are higher today:
CAC 40 - up 1.17%
DAX - up 1.73%
FTSE 100 - up 0.14%
OSE - up 2.18%
Tesla Disappoints
Elon Musk let down investors as Tesla (NASDAQ:TSLA) reported a loss of $0.13/share for their most recent quarter instead of the $0.32/share in profits that Wall Street was looking for. The company also missed on revenues, which was attributed to deliveries which were delayed until 2015. While Tesla missed on EPS, revenue and delivery projections, none of its issues were due to waning consumer demand - which is a fact that has not been lost on investors.
Execution was the problem this past quarter, as the company experienced a timing issue and what dragged results down last quarter will only work to boost results this quarter.
Addressing the China issue, Musk said that Tesla would start acting as its rivals do and begin to install charging stations at buyers' homes while also continuing their buildout of stations across the country. Regardless of how the China market performs next year, with demand in the United States and elsewhere strong, Mr. Musk explained that the company would be able to meet its goal of delivering 55,000 vehicles for the year.
Tesla shares are down about 8% early this morning.
Apple Continues Its Move Higher
While some will look at Apple's (NASDAQ:AAPL) latest milestone achievement with skepticism, at least one investor believes that the company still has about 43% upside. We are talking about Carl Icahn and his belief that Apple could be worth $216/share. This means that Mr. Icahn believes that Apple is a bargain at its current market capitalization of $700 billion and thinks that the company can get that figure up to $1 trillion as it moves to return cash to shareholders through dividends and increased share buybacks.
We are still bullish Apple, but recognize that volatility could lie ahead with the debut of the company's watch rollout.
Tech Giant Surprises To The Upside
Cisco (NASDAQ:CSCO) shares rose about 7% in after hours trading after the company reported quarterly results which saw the company beat on the top and bottom line. Cisco reported adjusted EPS of $0.53, which came in $0.02/share above analysts' consensus. The company also saw revenues beat estimates, coming in at $11.94 billion versus the estimate of $11.8 billion.
Cisco's results were driven by growth across the board, with both new areas of business and the company's core seeing increased customer demand. Revenue growth was the highest in nearly three years, as geographical areas which had dragged down results in previous quarters rebounded.
Cisco also boosted its dividend by $0.02/share per quarter, which brings its quarterly dividend to $0.21/share.
GE Gives Shareholders More Say On Board
With activists gaining more clout on Wall Street, investors are seeing companies take steps to preempt attacks which has been good for everyone. The threat of activists targeting companies has created management teams that are more proactive in addressing weaknesses and addressing issues that create shareholder value. While the largest companies were spared from activists in the past, everyone is now fair game as firms team up to overthrow failing boards and management teams.
All of this brings us to today's news that General Electric (NYSE:GE) will give its investors more privileges when it comes to choosing members of the company's board. Very few companies give investors proxy access, let alone companies as large as General Electric.
In order to be eligible to nominate candidates to the company's board, the shareholders nominating a candidate will have to own at least 3% of the company's shares and will have to have owned those shares for at least three years. We really like this news and hope that other companies will follow in GE's footsteps.
Disclosure: The author has no positions in any stocks mentioned, and no plans to initiate any positions within the next 72 hours. The author wrote this article themselves, and it expresses their own opinions. The author is not receiving compensation for it (other than from Seeking Alpha). The author has no business relationship with any company whose stock is mentioned in this article.
Additional disclosure: AAPL has previously been recommended.