The Dow Jones Industrial turned higher on the year following Wednesday's session, as stocks ricocheted off their lowest point since September 2010. The Dow forfeited 4.36% to end the most volatile month of trading since the Great Recession. Banks' dismal performance sent the financial sector down 6.9%, which lead all others in the loss column. Utilities were up 1.4% in August, while the healthcare sector ended the period near parity. The following graph breaks down performance by sector for the month of August.
[Click all to enlarge]


Trading towards the month-end showed a sharp turnaround in sentiment as investors scooped up bargains, by-products of a chaotic and fearful market. Stocks cut their losses as the Dow recouped about 1000 points in the latter part of the month. By and far, August's strong close points to the likelihood of a higher start for September. Following that logic, September's biggest advancers may very well be August's laggards – equities that fell victim to panicking sellers.
We took a look at the healthcare sector and screened for the most oversold components. The results pointed to five stocks that lost an average of 60.8% during the same period that the healthcare sector showed resilience to a crumbling market. These companies were clustered around the small cap sector, with the exception of Dendreon (NASDAQ:DNDN), which is more appropriately characterized as a middle capitalization (or mid-cap) company. The following graph shows the performance of these five equities over the course of August.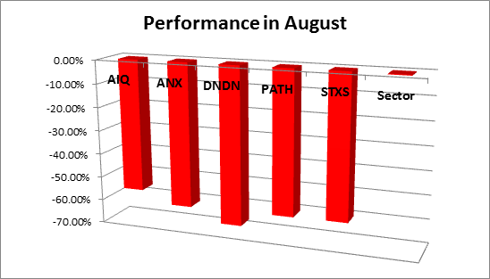 Dendreon's shares crumbled after the immune-therapy company revealed sales of Provenge, DNDN's sole marketed product, would fall way short of DNDN's $350-400M guidance, citing supply chain issues as the cause. During DNDN's conference call on August 3 (
transcript
), management said that investors could expect to see modest sales growth in the third and fourth quarter, but gave no further information or specifics. Shares of the biotechnology firm have rebounded nearly 24% from a low of $9.22 on August 11, at which time the company was trading at a price-to-sales ratio of about 12 – far below the industry average (according to Yahoo Finance). As of Wednesday, Dendreon's cash on hand comprised about a third of its market capitalization; a 1.35 current ratio pointed to solvency.
Adventrx Pharmaceuticals' (ANX) Exelbine, a reformulated chemotherapeutic, met an impasse with the FDA, as the agency cited concerns over their trial design, requesting "that the bioequivalence trial … be repeated" (
source
). Up until Wednesday, shares of the development-stage biotechnology firm were trading for less than liquidation value, meaning investors virtually valued the firm's clinical pipeline at nothing. A return of confidence helped lift Adventrx stock nearly 42% from a low of $0.81/share just last week. On Tuesday, management publicly
vowed
to work closely with the FDA to advance ANX's clinical pipeline and overcome any impasses that stand in the way of commercialization of ANX's products.
NuPathe (
PATH
), a biotechnology firm developing treatments for diseases of the central nervous system, said the FDA would require additional safety and manufacturing data before the FDA could give Zelrix, a patch used to treat migraines, the thumbs up (
source
). Shares plummeted more than 50% in early-morning trading on Tuesday, but moved higher in the ensuing sessions. As of Wednesday's close, NuPathe was valued at about $40.5M, despite reporting cash and equivalents of more than $36M in
Q2
. It would appear that the concerns voiced by the FDA could be settled in a timely manner, moving Zelrix closer to market.
Stereotaxis (NASDAQ:
STXS
), a medical device company, dropped following STXS' Q2
financial report
, as investors learned that revenue fell well below guidance and a larger loss resulted. Despite four consecutive sessions of gains, Stereotaxis' shares are selling for far less than STXS' peers on a price-to-sales basis. Even under the assumption that sales will decline drastically in 2011, the company would be unlikely to exceed industry averages, and thus would arguably remain undervalued. Of greater concern, Stereotaxis' lackadaisical quarter was accompanied by the resignation of STXS' CFO. On the bright side, short interest fell to its lowest level since June (NASDAQ.com), a sign that some short sellers may feel that the bottom is in.
Alliance Healthcare Services (NYSE:
AIQ-OLD
) also felt the earnings pinch as investors staged a sell-off following
financial results
that fell below the street's expectations. While the diagnostic imaging firm saw healthy cash flows from operating activities, a mounting $673M+ debt required servicing, and a sharp jump in acquisition costs helped deplete a significant amount of cash in Q2. The company lowered full-year guidance and announced a restructuring of certain costs, leading to the departure of a couple of executives (
source)
. Uncertainty moving forward plagued this firm as investors traded their shares for cash. But as sentiment has turned in the broader markets, and for the biotechnology firms previously discussed, AIQ shares have also begun to ascend.
These firms experienced difficulties in an environment where investors were showing no mercy. Their share prices reflected excessive selling; thus they lagged in performance to the sector. However, opportunity is born of seemingly dismal environments and seemingly unfavorable circumstances, in general. Perhaps investors should look beyond the broader sentiment and probe a more rational or fundamental analysis of the opportunities at hand, particularly with equities most out of favor.
Disclosure: I have no positions in any stocks mentioned, and no plans to initiate any positions within the next 72 hours.