We see four reasons that the Market Vectors Agribusiness ETF (NYSEARCA:MOO) will stage a swift rally. First, the supply and demand of agricultural commodities are favorable. As recently reported on Barron's (here and here), demand for corn and soybeans is rising and supply for rice is waning. China needs to import more corn and soybeans to feed its 446 million hogs as the Chinese people shift from vegetable to animal protein; Thailand and India will curb rice exports as both governments are expected to raise rice's price; and farmers in the US by estimation planted the smallest rice crop in 24 years due to unusual heat and heavy rains thereafter.
The imbalance between supply and demand will drive up prices of the named agricultural commodities. Consequently the PowerShares DB Agriculture Fund (NYSEARCA:DBA) is up 5.7% in August, while the S&P 500 dropped exactly the same amount. We believe the price appreciation of DBA will channel to companies producing fertilizer and building tractors, where MOO stands to benefit.
Second, MOO is a leveraged play for agricultural commodities. The correlation between MOO and DBA is 0.79 in the past month. That is, MOO moves almost in lockstep with DBA. Moreover, MOO's beta with respect to DBA is 2.25 in the same period, meaning that MOO is expected to rise 2.25% whenever DBA rises 1%. If an investor put $1 into MOO, he would enjoy a return as if he had put $2.25 into DBA. And the investor does not need to borrow money for the leverage. If agricultural commodities continue rising, MOO's investors will earn a leveraged return.
Third, the price ratio between MOO and DBA is going to rise. In the past 18 months, the MOO over DBA price ratio followed a normal distribution. The mean is 1.65 and the standard deviation is 0.07. On Aug 19, the ratio dropped to 1.43, which is more than three times standard deviation below the mean. If the normal distribution is still in play, we expect to see the ratio to revert to its mean. As a result, MOO's price will rise even faster. The so called "mean reversion" will further boost MOO's return.
[Click to enlarge]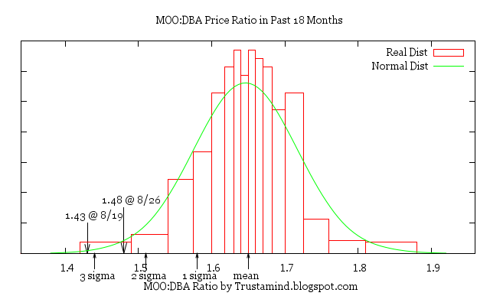 Indeed, the ratio already rose to 1.48 on Aug 26. Nonetheless, 1.48 is still more than two times standard deviation below the mean. It's still a rare event with probability less than 5%, and there is still meat left for investors.
Fourth, MOO has solid fundamentals. We consult our ETF ranking system to quantify fundamentals. Key attributes of the ranking system is listed below. For a brief understanding of our ranking system please read "ETF Ranking: A New Fundamental Approach That Drives Short-Term Return," The ranking system is based on fundamentals. Individual stocks are ranked by their valuation, financial condition and return on capital. We extended the ranking system to ETFs. The rank of an ETF is calculated to be the weighted average over the ranks of stocks in its portfolio. It has predictive power; we observed that stocks with higher ranks had a strong tendency to outperform those with lower ranks over a period of one week. The data show that moving up 10 rank points translates to an extra annualized return of 1.7% in the past 10 years, it ranks range from 0 to 100. As a matter of fact, the S&P 500 Index returned an annualized 2.5% in the same period. Growth is not fabricated into the ranking system. Stocks whose rich valuation is propped up by their growth potential are not going to have rosy ranks.
Currently MOO is ranked at 60, which means that its aggregated fundamentals are better than 60% of companies in the market.
MOO's largest holding, Potash (NYSE:POT) (8.7% of the ETF), is ranked 66, and its second largest holding Monsanto (NYSE:MON) (7.7%) is ranked 64. Ranked an averaged 65, POT and MON combined have an expected annualized return that is twice the market return. The aggregated rank of the entire market should be 50 since it is generally an average of all stocks whose ranks range from 0 to 100. Because in the past 10 years 10 rank points translated to an extra annualized 1.7%, stocks ranked 65 would have outperformed the market (ranked at 50) by 1.7% x (65 – 50) / 10 = 2.6% annually. Plus a market return at an annualized 2.5%, the total annualized return would have been 5.1%, which is more than twice 2.5%, the market return in past 10 years. That said, historical returns do not guarantee future performance.
Remember that our ranking system doesn't consider growth. The rank didn't take account of any growth driven by the price appreciation of agricultural commodities, which will push MOO even higher.
Disclosure: I have no positions in any stocks mentioned, and no plans to initiate any positions within the next 72 hours.