Two Bakken leaseholders have been knocked down by market and oil prices recently. However, their fundamentals have not changed. Both Whiting Petroleum Corp (NYSE:WLL) and Hess Corp (NYSE:HES) are set to deliver gains of 50%+ within a year. Hess missed on earnings, but some of that may be attributed to the loss of production from Libya. Recent developments there indicate that the rebels are very close to taking over the government. The most likely scenario now is that HES will soon get its properties and infrastructure back. I have no doubt the infrastructure will need repairs after a war. However, getting back a few percent of its production capacity should ultimately help Hess Corp. Plus it is light sweet crude near European refineries (effectively Brent crude).
A few of HES' highlights for 2010 were:
It generated net income of $2.1B.
It grew oil and gas production by 2.5%.
It replaced 176% of production at a cost of $23 per BOE.
Its year end proved reserves were 1.54B BOE.
A chart of HES's global reserves base is below:
[Click all to enlarge]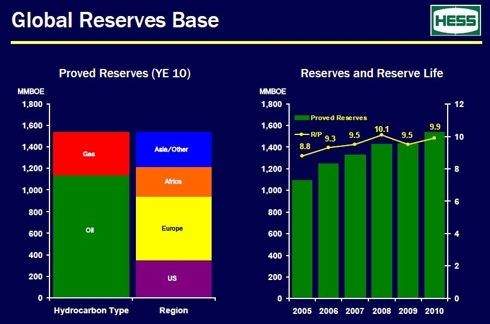 Aside from getting the Libyan assets back soon, HES has other reasons to be more than optimistic about future growth. It has an 18 rig drilling program planned on its 900,000+ net acres in the Bakken Oil Shale. The CAGR chart for the Bakken development below shows the expected results.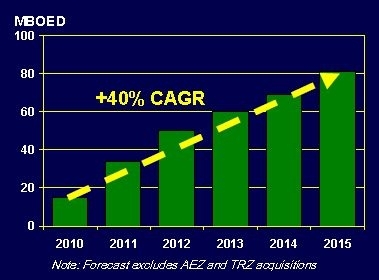 In addition, HES recently found (drilled) a rich crude and natural gas condensate well off Ghana. The three layers of oil discovered total 490feet thick, and HES owns 90% of it. HES will have to exploit this discovery with further wells, but the results are fantastic so far. HES has a 64% working interest in the Norwegian North Sea Valhall Field. It expects to achieve net production of 28,000 BOE per day in 2011. It expects to reach a net 75,000 BOE per day by 2015. HES has an 85% working interest in Equatorial Guinea Block G. HES expects to achieve 60,000 BOE per day in 2011. In later years it expects to extend the plateau. It has a 40% working interest in the Tubular Bells field and a 100% working interest in the Pony field in deepwater offshore Louisiana. It has a variety of other interests. However, the above may have the most near term impact on production and reserves.
Whiting Petroleum has the following statistics:
1,025,730 net acres in the Rocky Mountains (680,137 net acres in the Williston/Bakken/Three Forks).
258,517 net acres in Texas.
78,709 net acres in Mid-Continent.
80,540 net acres in Michigan.
Some assets in the Gulf Coast region (non-Texas).
Proved reserves as of Dec. 31, 2010 were 304.9 million BOE (83% oil).
Q2 2011 net production of 64.1 MBOE per day.
RP ratio as of Dec. 31, 2010 of 12.9 years.
Capex budget of $1.6B in 2011 versus $978 million in 2010.
The most recently drilled wells in the Williston had an average IP of 1,471 BOE per day.
WLL was the second largest producer in the Bakken over the first half of 2011 with 9,167,000 BOE. Continental Resources was a distant third with 5,701,000 BOE.
The fundamental financial data for these companies may help flush out the picture. The data in the table below are from TDameritrade and Yahoo Finance.
| | | |
| --- | --- | --- |
| Stock | HES | WLL |
| Price | $59.34 | $47.11 |
| 1 yr Analysts' Target price | $92.14 | $72.72 |
| Predicted % Gain | 55% | 54% |
| PE | 7.23 | 18.83 |
| FPE | 7.64 | 9.61 |
| Avg. Analysts' Opinion | 2.0 | 1.8 |
| Miss Or Beat Amount For Last Quarter | -$0.16 | $0.00 |
| EPS % Growth Estimate for 2011 | 38.30% | 45.00% |
| EPS % Growth Estimate for 2012 | 9.10% | 24.70% |
| 5 yr. EPS Growth Estimate per annum | 12.45% | 18.68% |
| Market Cap | $20.17B | $5.53B |
| Enterprise Value | $23.52B | $6.53B |
| Beta | 1.13 | 2.05 |
| Total Cash per share (mrq) | $6.46 | $0.09 |
| Price/Book | 1.05 | 2.0 |
| Price/Cash Flow | 3.9 | 7.68 |
| Short Interest as a % of Float | 1.52% | 4.36% |
| Total Debt/Total Capital (mrq) | 22.67% | 27.78% |
| Quick Ratio (mrq) | 1.10 | -- |
| Interest Coverage (mrq) | 10.91 | -- |
| Return on Equity (ttm) | 16.58% | 11.31% |
| EPS Growth (mrq) | 55.71% | 61.82% |
| EPS Growth (ttm) | 66.62% | 22.19% |
| Revenue Growth (mrq) | 26.53% | 27.43% |
| Revenue Growth (ttm) | 15.35% | 29.40% |
| Annual Dividend Rate | $0.40 | -- |
| Gross Profit Margin (ttm) | 25.37% | 82.94% |
| Operating Profit Margin (ttm) | 10.78% | 32.29% |
| Net Profit Margin (ttm) | 7.16% | 20.42% |
A few things stand out. WLL could have some near term cash problems depending on the circumstances.. However, it has a net profit margin of 20.42%, which is great for most companies. If it can get further into production without experiencing serious problems, it should start to show truly great results. HES by comparison is a solid company that has had some problems with dry wells, etc. in the past. These tended to lower its margins. With its 900,000+ net acres in the Bakken and the new likely prolific Ghana field, this seems likely to change. In the Bakken 99% of the wells find oil, and 90% are commercially viable. HES is likely to deliver the same kind of statistics from the Bakken. This will be good for HES.
The two-year charts of these companies should provide some technical trading indicators.
HES: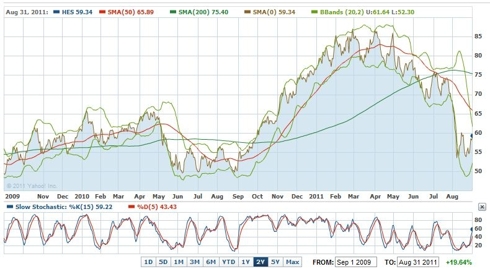 HES is just coming off oversold levels. It bounced off a level of huge support. Its down move is most likely explained by the overall market downturn and the earnings miss in the most recent quarter. The multiples indicate it is a bargain at these prices. The resolution of the Libyan problems, the accelerating Bakken development, and the new Ghana offshore field should put HES solidly on track to much improved earnings. Considering it was doing well without the above boons, HES should really accelerate earnings and revenues in the near future. Margins should improve too. The chart indicates that it could easily track back to its most recent high in the near term.
WLL: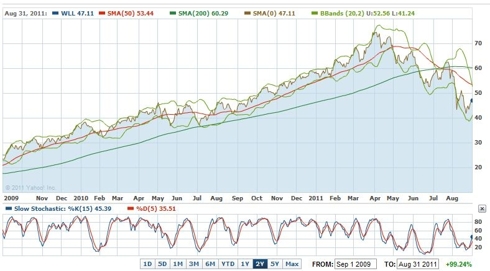 WLL had a strong uptrend in place before the recent overall market downturn. It has a Beta of 2.05. This likely explains its quick move down with the overall market downturn. It the overall market is going to continue rising as market strategists Jeffrey Saut of Raymond James and Abby Cohen of Goldman Sachs have suggested, both WLL and HES should rise with it. WLL is currently rising off of oversold levels. The recent rise in China's PMI to 50.9 from 50.7 the previous month should help. The recent data beats in U.S. durable goods orders, personal spending, factory orders, and Chicago PMI data should all help (Yahoo Finance). Both WLL and HES seem likely to regain recent highs relatively quickly. Both have very rosy longer term pictures.

Disclosure: I have no positions in any stocks mentioned, but may initiate a long position in HES, WLL over the next 72 hours.