The Dow Jones index has rallied by 8% from its lows of 10,720 on August 10. The rally in the markets has been primarily due to oversold market conditions leading to a technical bounce back and
Bernanke's statement, which instilled some confidence in the markets along with hopes of another stimulus announcement in September,
However, Bernanke might refrain from announcing further stimulus later this month. With the recent debt ceiling debate and governments long-term commitment to cut deficits, the policymakers would not be very keen to announce further stimulus until things look terrible for the economy.
There is no doubt that we are headed for a slowdown. However, few economic indicators still makes me believe that there would be no recession. Also, even if the Fed does not act immediately, we are not headed for an economic freefall.
As the chart below shows, the nominal personal consumption expenditure (August 29release) shows some strength in terms of percentage change over previous month. This is surely a critical data to watch for an economy driven by consumption.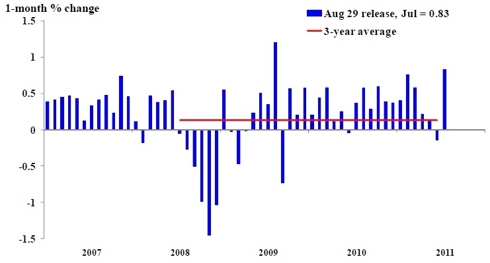 Another good indicator of the consumption trend would be the stock prices for Wal-Mart (NYSE:
WMT
). From the highs of $54.5 on July 22, the stock has corrected by 2% to $53.2 currently. During the same period, the Dow Jones has corrected by 9%. Since stock markets and stock prices are a discounting mechanism, the bounce back in Wal-Mart stock prices after more significant correction is an indicator of relatively stable consumption (even if on the lower side).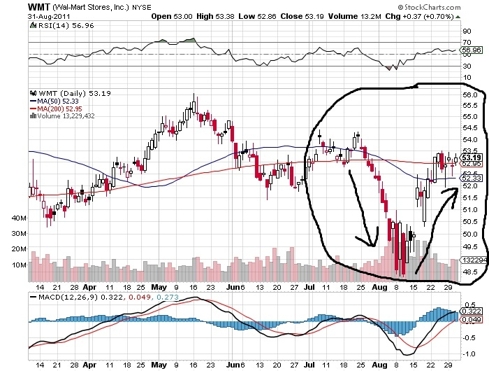 This argument is confirmed by steady improvement in retail sales as shown in the chart below.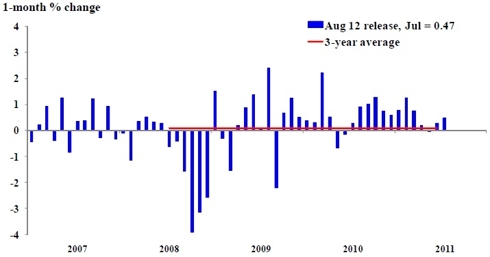 At the same time, the growth in industrial production has not been very dismal in the recent past.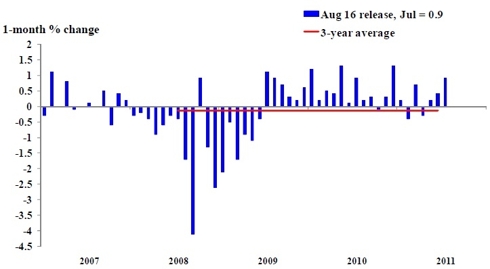 I am not suggesting that we are back on track for moderate to robust growth. All I want to emphasize is that the scenario is not so gloom to force the policymakers to rush into another QE package. The consumer confidence and consumer sentiment data has been dismal, the job additions in the private sector have been sluggish and the cautious approach adopted by consumers and the private sector is strangling economic growth to some extent.
Therefore, concerns remain on the outlook for the economy and I believe that economic activity might get weaker than it is today. From the market's perspective, it would love to have further stimulus measures. From the policymakers' perspective, they would still wait and watch before any action is taken. Therefore, as we near the Fed's next meet, I would expect negative reaction from equity and commodity markets. Treasury bonds and dollar might rally further, while gold witnesses some correction.
Disclosure: I have no positions in any stocks mentioned, and no plans to initiate any positions within the next 72 hours.