A raging debate continues over whether gold or U.S. Treasuries are in a bubble. However, both sides are overlooking what appears to be a genuine bubble in corporate profits: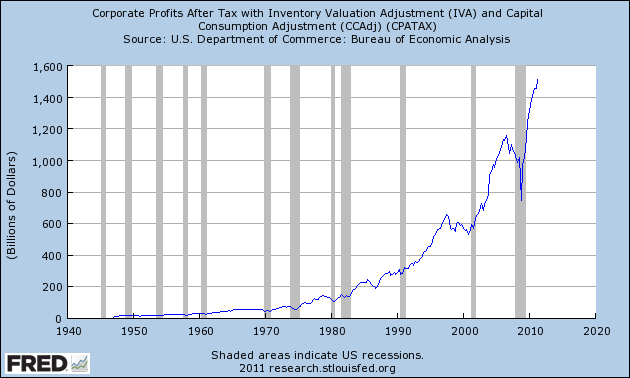 On a logarithmic scale, which gives a fairer view of a compounding variable like profits, the recovery and post-recession ascent don't look nearly as "parabolic":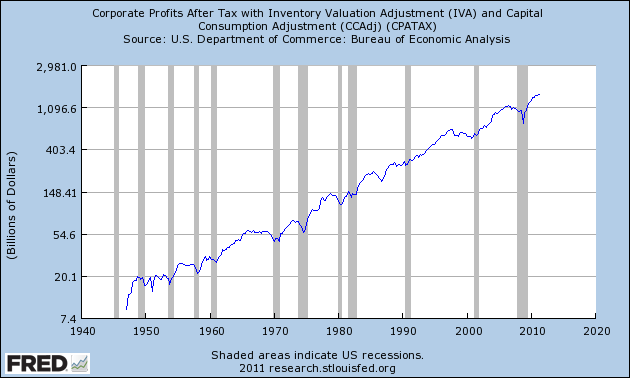 However, it's important to understand that profits are cyclical, as both charts show. And if today's upward revisions to unit labor costs and continuation of negative productivity growth are any indication, corporate profits may well have peaked in 2011.
That means that equity analysts should be busy revising earnings forecasts downward in the weeks and months ahead, an activity presaged by recent credit market behavior and negative revisions to Wall Street strategists' forecasts.
If this happens, then the surprisingly negative readings of late from "soft" data such as sentiment indicators should prove to be well-founded, with more "hard" data eventually confirming an economic downturn. Rising labor costs could work to offset this effect via higher household incomes, but whether it's enough to keep economic growth in positive territory—especially if labor markets worsen in 2012—remains to be seen.
Disclosure: I have no positions in any stocks mentioned, and no plans to initiate any positions within the next 72 hours.
IMPORTANT DISCLOSURES: Symmetry Capital Management, LLC (NYSE:SCM) is a Pennsylvania registered investment advisor that offers discretionary investment management to individuals and institutions. This publication is for informational, educational, and entertainment purposes only. It is not an offer to sell or a solicitation to buy securities, or to engage in any investment strategy. Past performance is not indicative of future results. This material does not take into account your personal investment objectives, your personal financial situation and needs, or your personal tolerance for risk. Thus, any investment strategies or securities discussed may not be suitable for you. You should be aware of the real risk of loss that accompanies any investment strategy or security. It is strongly recommended that you consider seeking advice from your own investment advisor(s) when considering any particular strategy or investment. We do not guarantee any specific outcome or profit from any strategy or security discussed herein. The opinions expressed are based on information believed to be reliable, but SCM does not warrant its completeness or accuracy, and you should not rely on it as such. All views and positions are subject to change without notice.