Cisco Systems, Inc. (NASDAQ:CSCO) designs, manufactures, and sells Internet protocol (IP)-based networking and other products related to the communications and information technology industry worldwide. It offers routers that interconnect public and private IP networks for mobile, data, voice, and video applications; switching products, which offer connectivity to end users, workstations, IP phones, access points, and servers. Application networking services, and home networking products; such as adapters, gateways, modems, and home network management software products.
A year ago, if someone told you that Cisco would drop to $15 a share, you would probably call them crazy. You would probably argue about its enormous cash flows and strong buybacks. Unfortunately, Cisco is now trading at $15 a share falling from a year high of almost $25 a share.
So why the drop? Well for one, the company was in too many places at once. It started to diversify away from its core businesses creating items such as the Flip Camera (now discontinued). Not to mention Cisco had major contracts with the federal government so the budget cuts have caused a decrease in earnings for them.
These budget cuts will continue to happen as the government tries to close the deficit. Cisco has also been losing market share to competitors like Hewlett Packard (NYSE:HPQ), Brocade Communications (NASDAQ:BRCD), Dell (NASDAQ:DELL), Juniper Networks (NYSE:JNPR), Alcatel-Lucent (ALU) and Aruba Networks (NASDAQ:ARUN).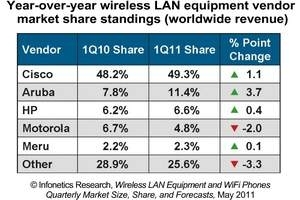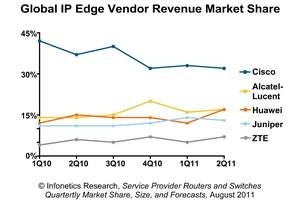 So why should we like the stock now? It is simple, it's very cheap and CEO John Chambers has already started to restructure the company by cutting cost and going back to its core business model. Due to lower than expected profit, Cisco cut annual costs by $1 billion in July 2011.
The company cut around 3,000 employees with an early-retirement program who accepted buyout and 7,000 jobs that would be eliminated by the end of August 2011. Cutting as many as 10,000 jobs means around 14 percent of the 73,400 total employees before curtailment. Cisco is also beating companies like Dell and HP in the X86 market now as the company tries to get its edge back.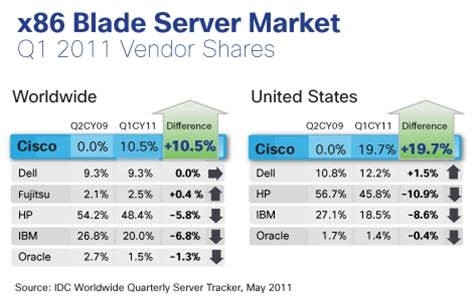 Another reason why I think Cisco should see $30 a share is because Cisco's management has put in place massive buyback programs. Last year, they added another $10 billion to the repurchase program. Although Cisco is known to dilute the stock with employee stock options, overall the shares outstanding are increasing at an overwhelming rate.
click on image to enlarge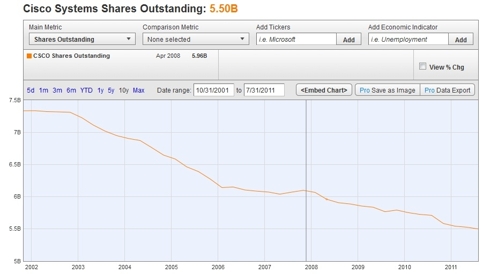 Cisco also announced this year that they would start paying a dividend for the first time in history. The yield currently stands around 1.5%, but I believe it will eventually go up. Very few of Cisco's competitors pay a dividend.
HP pays a 1.8% dividend, while the other smaller companies such as Aruba and Juniper do not pay anything. As soon as Cisco announced a dividend, many analyst immediately responded negatively saying the company had no idea what to do with its capital. I respectively disagree with them, I think the only thing this shows is that Cisco is generating stable cash flows and that they can afford to pay a dividend.
On top of being a turnaround story, Cisco also has the best valuations compared to its competitors. The stock has a forward P/E of 8.3. This is significantly lower than companies like Juniper and Aruba, which have a forward P/E of 13 and 25, respectively. The market is saying these companies have more growth ahead than Cisco does, which is probably true as they are smaller companies. However, as Cisco begins to focus on its core business, it may start grabbing market share from the little guys.
I honestly believe Cisco could see $30 in the next 5 years. The company is going back to its roots and is cutting back in low profit margin areas. Not to mention the shares outstanding will probably be half of what it is now assuming it maintains the repurchases at the same rate it did before. An increase in the dividend will also attract income investors and mutual funds as well. I believe Cisco's turnaround is happening and at this price it is worth a buy.
Disclosure: I have no positions in any stocks mentioned, and no plans to initiate any positions within the next 72 hours.