Here is a quick list of value stocks that are breaking out in a bullish direction over their downward sloping trend lines.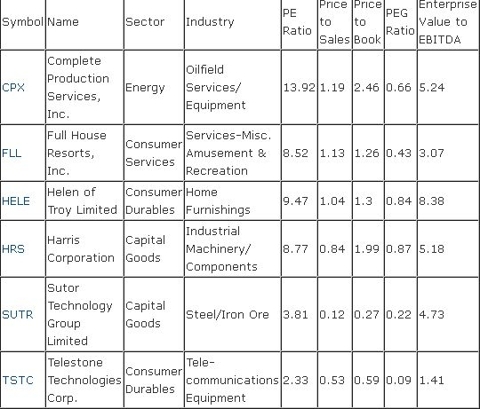 This list is derived from the Free Stock Screener over at sister site TradingStockAlerts.com. It was set up by simply choosing the Value preset and then selecting a Bullish Reversal in the Simple Trend Reversal drop-down.
All are profitable. All are seeing increasing sales. Basic valuation measures range from reasonable to deep value. Sutor Technology Group and Telestone Technologies, being Chinese micro-cap companies, are heavily out of favor these days, thus the extremely low valuation levels. Sutor is doing well enough that they have announced they are buying back stock. Telestone announced good earnings a couple of weeks ago. Could be something attractive for a brave investor in one of these stocks.
More traditional is Complete Production Services who recently turned in a stellar earnings report. This energy-related company displays solid fundamentals across the board and was listed as a Zacks #1 rank (strong buy) back in the middle of August. With the market and the price of oil recovering in the last week or so, Complete Production Services could attract more buying interest. Keep an eye on this one.
Disclosure: No positions in any stocks mentioned in this post