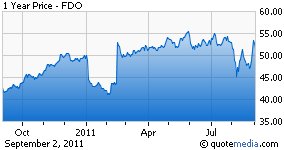 In 2008 when the world was coming to an end and there was blood in the streets, one stock stood out above the tumult and destruction - Family Dollar Stores (NYSE:FDO). With the S&P down 43%, Family Dollar was the leading gainer, up 44%. Now with the latest volatility in the market and a threat of an economic slowdown or a continuation of sub par growth, investors are looking for the proverbial "safe" investment. As every investor knows, there is no 100% safe investment, but there are attractive investments with cash on hand, consistently profitable, low debt, doing business in a rapidly growing market sector and paying a dividend. And in a market sector that is not as vulnerable to another economic slowdown.
Consumers may stop buying Coach handbags, Armani scarfs or that new Lexus, but they will continue to buy soap, toothpaste and crackers. These discount stores are a cross between 7/11 stores (offering convenience) and Wal-Mart (NYSE:WMT) (offering low prices) with low prices and convenience. The discount stores that offer inexpensive groceries along with basic staples - Dollar Tree (NASDAQ:DLTR), Family Dollar (FDO), Big Lots (NYSE:BIG) and Dollar General (NYSE:DG) - have won over the middle class. The same middle class that has been under pressure with unemployment, underemployment and lower wages have "discovered" discount stores and are unlikely to stop shopping for certain items at these discount stores even in the event of an economic rebound. The new frugality has arrived.
Layman's explanation: If I want a 100 oz. box of Tide at a discount price I can drive five miles to a Wal-mart, take five minutes to park and hike to the store, spend another 10 minutes going up and down the aisles and another five minutes waiting in line at the cash register then hike back to my car and drive five miles home. Or I can pop into a "convenience" store and pay handsomely for the privilege.
Or I can drop by a discount store and quickly pick up some needed items, from detergent to greeting cards, without the high prices.
In this "discount convenience store" sector, Family Dollar Stores is the most attractive to this writer. The company is very well-managed and financially conservative. FDO has recently opened its 7,000th store - continuing to expand to achieve greater purchasing power with its vendors resulting in margin expansion. Most FDO stores have added a cold food freezer section to broaden grocery offerings to attract more customers for more frequent visits.
Management's philosophy has always been to finance expansion with cash flow and not by taking on debt. FDO does have long term debt of $250 million that was accrued to finance a very timely stock buyback when FDO was trading in the $20s (the authorized stock buyback plan is still in place for another $245 million). Earnings at Family Dollar have grown over 50% in the past two years and the margins have been expanding - with more room for improvement. FDO is currently trading at a modest 18 times earnings on $8 billion in revenues. The 1.5% dividend is the same as the yield on a five-year CD - an attractive consideration for investors wanting to have income and equity appreciation potential.
All these factors have not gone unnoticed by the financial community. Ninety-one percent of the shares are owned by institutions and the short interest is a very modest 4 million shares short out of 120 million shares outstanding (not exactly indicating broad and strong conviction for the naysayers).
Family Dollar Stores continues to be an attractive addition to investors' portfolios in these volatile times.
Disclosure: I have no positions in any stocks mentioned, and no plans to initiate any positions within the next 72 hours.