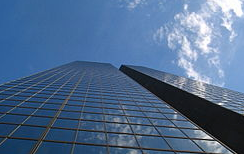 John Hancock, a Boston-based financial firm, has signaled its intention to enter the $1 trillion exchange traded fund business.
The company recently filed for exemptive relief with the Securities and Exchange Commission to launch an infrastructure-themed ETF.
John Hancock has been itching to enter the ETF business for over two years and it will begin by launching an ETF that targets the global infrastructure sector, reports Lisa Barr for IndexUniverse.
According to the exemptive relief filing, the initial ETF will based on a global infrastructure index, which holds companies involved in the infrastructure sector, including airport services, construction & engineering, electric utilities, gas utilities, heavy electrical equipment, highways & railtracks, marine ports & services, mutli-utilities, oil & gas storage and transportation, and water utilities.
The index will be based on proprietary quantitative measures that calculate holdings based on various quantitative and qualitative factors.
Additionally, Hancock also plans on launching actively managed ETFs.
According to the another filing, the John Hancock Global Balanced Fund will hold 40% of its assets in fixed-income securities and around 60% in equity securities, with variation in the target percentage allocated of up to 10% in either direction. The fund may hold U.S. and non-U.S. equity type securities and fixed-income investments.
Max Chen contributed to this article
.