The market is trading higher today as we have had good earnings, M&A rumors and a cooling of tensions between Russia and Ukraine. The cease fire agreement between the two countries is key as it should enable stability to build within the region and could lead to a thawing of relations between the US, EU and Russia. Easing economic sanctions could help boost growth, not only in Russia but also the EU which sorely needs it.
Also in focus right now is the Nasdaq, which has seen the Nasdaq Composite reach levels not seen since early 2000. We have not yet taken out the highs that the Nasdaq hit, but we are getting very close to all-time high territory.
Chart of the Day:
It has been a heck of a run over the last few years, and if you look at valuations of the largest companies we are still trading at valuations which seem more than fair.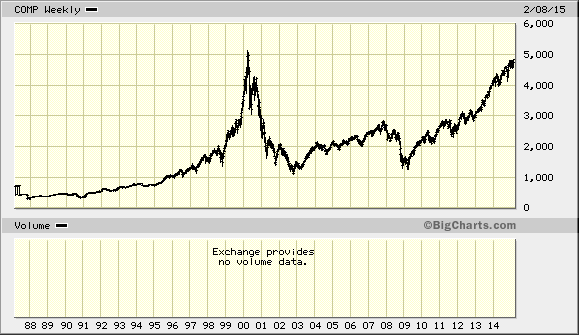 Source: BigCharts
We have economic news today, and it is as follows:
Export Prices - Ex Ag (8:30 a.m. EST): Est.: N/A Act: -1.0%
Import Prices - Ex Oil (8:30 a.m. EST): Est.: N/A Act: -0.7%
Michigan Sentiment (9:55 a.m. EST): Est.: 98.3
The Asian markets are higher today:
All Ordinaries - up 2.33%
Shanghai Composite - up 0.98%
Nikkei 225 - down 0.37%
NZSE 50 - up 0.65%
Seoul Composite - up 0.82%
In Europe, markets are higher today:
CAC 40 - up 1.11%
DAX - up 0.63%
FTSE 100 - up 0.68%
OSE - up 1.11%
AIG Misses Estimates
American International Group (NYSE:AIG) reported earnings which came in under analysts' estimates, both on a net income basis and an operating basis. The company took a number of charges and essentially threw the kitchen sink at investors this quarter, which saw a $0.58/share charge for buying back expensive corporate debt at a loss. Last year's interest rate movement impacted the company's business and required the company to do some house cleaning, which saw them have to take a charge of $0.40/share in order to boost reserves for certain business segments.
The company announced a new $2.5 billion in share repurchases and a quarterly dividend of $0.125/share.
Management Changes At Major Food Companies
Two large American food companies have announced some key management changes in the last 24 hours, while also lowering investors' expectations moving forward. Both ConAgra Foods (NYSE:CAG) and Kraft Foods (KRFT) announced major changes, with ConAgra naming former co-CEO of Hillshire Brands, Sean Connolly, as their new CEO. Current CEO Gary Radkin will remain in his current position until early April and will then stay on until the end of May to help with the transition. ConAgra lowered their earnings estimates due to weak private label sales and the negative impact that the strong US Dollar is having on results.
Kraft Foods announced that the company's Chief Financial Officer, Chief Marketing Officer and head of R&D will be leaving the company. Teri List-Stol, the company's outgoing CFO, will stay on as an adviser and George Zoghbi was given a promotion to the Chief Operating Officer position.
Gaming Companies Report
Rivals King Digital (BATS:KING) and Zynga (NASDAQ:ZNGA) reported quarterly results last night and there is no question which company is delivering for shareholders. King reported adjusted EPS of $0.57, which blew away estimates by $0.10/share. The company also exceeded revenue estimates as new games and overall engagement outperformed. King announced a special dividend of $0.94/share and a new $150 million share buyback plan.
Zynga's results were much worse, with weakness resulting from new games underperforming and lower overall engagement. With new titles underperforming the company announced surprising guidance which calls for a loss in the upcoming quarter. It seems clear that investors who want exposure to the industry should look to King and ignore Zynga until they can finally right the ship.
Bidding War For Salix?
One has to wonder if a bidding war is about to start for Salix Pharmaceuticals (NASDAQ:SLXP), which has seen two acquisitive companies rumored as a potential suitor in as many days. Yesterday the news was that Valeant Pharmaceuticals (VRX) had secured financing for a potential bid and was getting everything prepared to launch a bid. This morning there are reports that Shire (NASDAQ:SHPG) is another name interested in making a bid for Salix, even though it recently entered into a deal for NPS Pharmaceuticals (NASDAQ:NPSP).
We are not ones to speculate on potential deals, as we have found that merger speculation has mixed results at best, but this news has piqued our interest. It will be interesting to see if a bidding war breaks out and who lands Salix as both of the potential bidders are foreign-based and would realize the same favorable tax treatment for international profits from a deal.
Disclosure: The author has no positions in any stocks mentioned, and no plans to initiate any positions within the next 72 hours. The author wrote this article themselves, and it expresses their own opinions. The author is not receiving compensation for it (other than from Seeking Alpha). The author has no business relationship with any company whose stock is mentioned in this article.
Additional disclosure: KRFT has previously been recommended.