Container leasing companies are an interesting niche market. We found four companies that specialize in this area which we highlight below. With one exception, these companies share two uncommon traits: they pay dividends that generate a very high yield at current prices and carry very heavy debt loads. These companies may appeal to investors reaching for income but we would be very cautious.
Demand for containers depends largely on the rate of world trade and economic growth, with consumer demand being one of the most critical factors affecting this growth. Economic downturns in one or more countries, particularly in the United States, China and other countries with consumer-oriented economies, could result in a reduction in world containerized trade growth or in demand by container shipping lines for leased containers. Most of the container investor programs into which these companies sell employ a certain amount of debt in order to increase investor equity returns. The more difficulty container investors have in being able to access debt for future investment programs, increases the potential that they may not be able to sell containers to investor programs in the future. In such cases, their revenue, net income and cash flow will be lower, which will limit the level of growth in their operating fleet that they might otherwise be able to attain.
Thomson Reuters provides the description of our first candidate:
CAI International, Inc.,(CAP) incorporated on August 3, 1989, is a container leasing and management company operating through two business segments: container leasing and container management. The Company purchases new containers, leases them to container shipping lines, freight forwarders and other transportation companies and either retain them as part of its owned fleet or sell them to container investors for whom the Company then provides management services. In operating its fleet, it leases, re-lease and dispose of containers and contract for the repair, repositioning and storage of containers. As of December 31, 2009, its fleet comprised 743,000 20- foot equivalent units, the industry's measurement unit, 68.4% of which represented the Company's managed fleet and 31.6% of which represented its owned fleet.

CAI International leases containers to lessees under long-term leases, short-term leases and finance leases. Long-term leases cover a specified number of containers, which is on lease for a fixed period of time. Short-term leases provide lessees with the ability to lease containers either for a fixed term of less than one year or without a fixed term on an as-needed basis, with pick-up and drop-off of containers at depots around the world. Finance leases are long-term lease contracts that grant the lessee the right to purchase the container at the end of the term for a nominal amount. As of December 31, 2009, 83.2% of the Company's fleet was on lease, with 75.7% of these containers on long-term leases, 21.5% on short-term leases and 2.8% on finance leases.


The Company manages containers under management agreements that cover portfolios of containers. Its management agreements typically have terms of 10 years and provide that it receives a management fee based upon the actual rental revenue for each container less the actual operating expenses directly attributable to that container. The Company also receives fees for selling used containers on behalf of container investors. CAI International's container leasing segment revenue comprises container rental revenue and finance lease income from its owned fleet, while the container management segment revenue comprises gain on sale of container portfolios and management fee revenue for managing containers for container investors.

Seacube Container Leasing Ltd. (NYSE:BOX-OLD) describes itself on its website as:
SeaCube Container Leasing Ltd, and its associated companies acquire, own, manage and lease containers which are essential intermodal equipment used in global containerized cargo trade. This equipment has enabled the growth in global containerized trade because it allows efficient movement of goods via multiple transportation modes, including ships, rail, and trucks. We lease out equipment primarily under long-term contracts to the world's largest shipping lines.

SeaCube Container Leasing owns and manages both Dry and Refrigerated shipping containers including generator sets used to power the refArigerated containers when transported over land for prolonged periods of time while en-route to their final destination. We have long-term relationships with an extensive group of customers in the intermodal shipping industry. Our companies employ 75 people in 7 offices in 4 continents throughout the world to provide you high quality equipment and excellent service with the global coverage.
Formed in 1963, we are one of the world's largest lessors of intermodal freight containers currently with 18 offices in 11 countries and approximately 216 third party container depot facilities in 39 countries. Our global operations include the acquisition, leasing, re-leasing and subsequent sale of multiple types of intermodal containers.

We lease three principal types of containers: (1) dry freight containers, which are used for general cargo such as manufactured component parts, consumer staples, electronics and apparel, (2) refrigerated containers, which are used for perishable items such as fresh and frozen foods, and (3) special containers, which are used for heavy and oversized cargo such as marble slabs, building products and machinery.
Our fleet currently consists of approximately 992,000 containers representing approximately 1,622,000 twenty-foot equivalent units (TEU). This places TAL International among the world's largest independent lessors of intermodal containers and chassis as measured by fleet size.

Textainer Group Holdings Limited (Textainer), incorporated on December 3, 1993, is a holding company involved in the purchase, ownership, management, leasing and disposal of a fleet of intermodal containers. The Company is a lessor of intermodal containers based on fleet size, with a total fleet of 1.5 million containers, representing over 2,300,000 twenty-foot equivalent unit (TEU). The Company leases containers to more than 400 shipping lines and other lessees. The Company operates in three segments: Container Ownership, Container Management and Container Resale. On November 1, 2010, TL purchased approximately 23,400 containers. During the year ended December 31, 2010, the Company sold 4,000 containers.


The Company two directly owned subsidiaries: Textainer Equipment Management Limited (TEM), its wholly owned subsidiary, which provides container management, acquisition and disposal services to affiliated and unaffiliated container investors and Textainer Limited (TL), its wholly owned subsidiary, which owns containers directly and via a subsidiary, Textainer Marine Containers Limited (TMCL), in which TL and TCG Fund I, L.P. (TCG) holds interests of 75% and 25%, respectively. Textainer provides its services worldwide via a network of regional and area offices and independent depots. As of December 31, 2010, the Company owned approximately 51% of the containers in its fleet, and managed the rest, equaling 1,137,114 twenty-foot equivalent units (TEU), on behalf of 16 affiliated and unaffiliated container investors.


As of December 31, 2010, the Company operated 2,314,219 TEU. As of December 31, 2010, the Company managed its container fleet through more than 330 independent container depot facilities in more than 160 locations. As of December 31, 2010, the Company managed containers on behalf of 16 affiliated and unaffiliated container investors, providing acquisition, management and disposal services. It also supplies leased containers to the United States military pursuant to a contract with the Surface Deployment and Distribution Command (SDDC) and earn a fee for supplying and managing its fleet of leased containers. It is a supplier of leased intermodal containers to the United States military.

As of December 31, 2010, total managed containers accounted for 49% of its fleet. The Company purchases and leases or resells containers from shipping line customers, container traders and other sellers of containers. The Company purchases all of its containers in the People's Republic of China.
CAP reported 2Q11 EPS at $0.55 compared to the prior year period of $0.31 and quarterly sales of $28.8 million versus $17.4 million. BOX reported EPS of $0.46, essentially flat when compared to the year ago period of $0.45. Sales increased to $40.8 million from $33.6 million. TAL had a big jump in EPS, rising to $0.70 in 2Q11 versus $0.15 in 2Q10 and a sales increase to $120.2 million from $87.4 million. TGH doubled EPS to $1.03 in 2Q11 from reported EPS of $0.51 in 2Q10. Sales increased to $105.7 million from $74.6 million.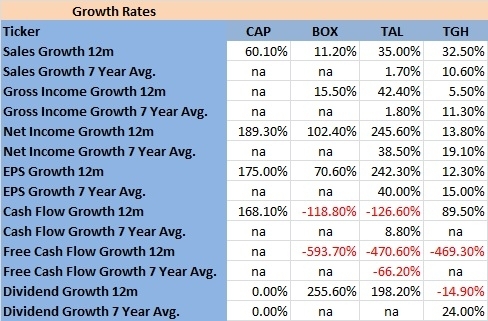 However, estimates for the current and next two fiscal years are expected to be less dramatic. For FY11, EPS estimates for CAP range from a low of $2.25 to a high of $2.50. These estimates are from five analysts. Five analysts project EPS for BOX to fall within the range of $2.02 to $2.15. TAL has eleven analysts making projections. These range from $3.57 to $3.84. TGH has nine analysts making projections ranging from $3.12 to $3.33. The question is whether any of these forecasts are too optimistic when considering slower growth rates in China, elsewhere in the emerging markets and flat or negative growth in the U.S. and Europe.

Profitability is the keystone for determining investment value. Operating margins for these companies have been inconsistent. CAP reported negative Operating margins in FY08 but has seen steady margin growth since then. BOX reported negative operating margins in FY09 and reports steady, though uninspiring margins of 22% in FY10 and for the trailing twelve months. TAL is a bright spot in that they have positive and growing operating margins in each of the five prior fiscal years and for the trailing twelve months. TGH also reports steady and growing operating margins for the six reporting periods.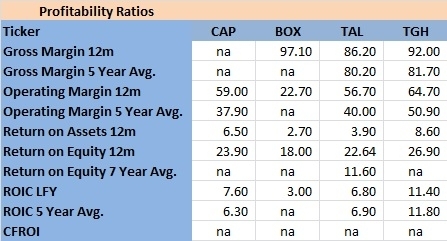 As mentioned in our opening comment, these companies are very highly leveraged which raises the question in my mind about their ability to sustain high dividend payouts. CAP does not pay a dividend. BOX has a payout ratio of 36.8% which is not normally considered excessive. However, it has only $12.5 million in cash and $882 million in long term debt. The dividend yield is currently 8.0%. TAL has a dividend yield of 7.6% with a 51.2% payout. Cash is listed at 60.4 million and long term debt at $2,135.9 million. TGH has a current payout of just 36.5% providing a nice 6.0% yield. It has $100.3 million in cash and LTD of $1,251.3 million.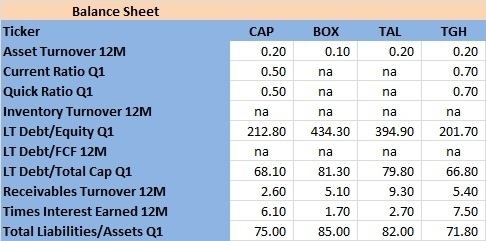 It is hard to see how these dividends are sustainable with debt to equity ratios so high and all of these companies reporting negative free cash flow.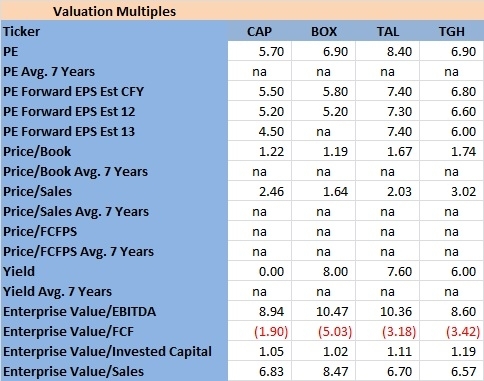 The valuation ratios suggest that these companies are low priced. I believe the low PE ratios are deceptive. Only TAL can report a five year PE ratio as the others were not profitable in each of the past years. Money losing firms can oftentimes be valued on the basis of price/sales ratios. Again, these metrics appear to me to be too high. Of this group, only TAL appears to offer enough substance worthy of further investigation.
Disclosure:
I have no positions in any stocks mentioned, and no plans to initiate any positions within the next 72 hours.