Intuitive Surgical, Inc. (NASDAQ:ISRG) designs, manufactures, and markets da Vinci surgical systems for various surgical procedures, including urologic, gynecologic, cardiothoracic, general, and head and neck surgeries. Its da Vinci surgical system consists of a surgeon's console or consoles, a patient-side cart, a 3-D vision system, and proprietary wristed instruments.

Using the most advanced technology available today, the da Vinci Surgical System enables surgeons to perform delicate and complex operations through a few tiny incisions with increased vision, precision, dexterity and control. The da Vinci system may take longer than normal procedures, but the surgery survival rate is significantly higher.

Hospitals have been rapidly buying the system. The robot costs on average $1.3 million in addition to several hundred thousand dollars of annual maintenance fees. The da Vinci system is on the way to becoming the standard system. Intuitive Surgical does not necessarily make money on the robots, but the company makes money on the maintenance fees, which basically act like royalties. Each robot means a few hundred thousand dollars a year for Intuitive Surgical. If hospitals want to switch out of the surgical system, it will cost them a hefty amount, as the robot costs well over a million dollars. Basically, Intuitive Surgical is creating a strong monopoly in the hospital system. As this moat increases, so will its profits.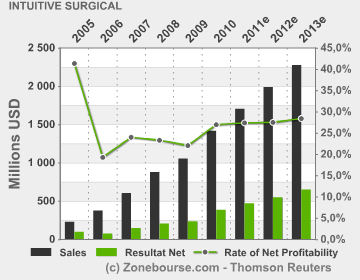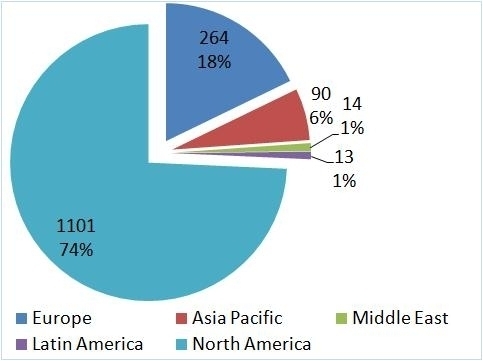 As you can see, there is plenty of room for growth in developing countries. Asia only accounts for 6% of Intuitive's revenue, and considering China is supposed to growth substantially over the coming years, Intuitive is well positioned to profit from it.

ISRG currently trades at a forward P/E of 27 consensus. It has almost $1 billion in cash and absolutely no debt. The P/E might be higher than that of the S&P 500 average, but considering the company has a strong growing moat and plenty of potential in emerging market economies, the valuations may actually be cheap. This company is increasing its installed base, and in the long run will gain from the recurring revenue stream that comes.


Disclosure: I have no positions in any stocks mentioned, and no plans to initiate any positions within the next 72 hours.