The Big Move is a new series that I plan to periodically post exclusively at Seeking Alpha. Over the past several years, I have closely studied and played big moves. As evidenced by my public track record, I have a knack for calling 'em right most of the time – Silver, Biotech, Oil, and now Corn.
ETF Long and Short Ideas: (1) Teucrium Corn (NYSEARCA:CORN) or (2) PowerShares Agriculture Double Short (NYSEARCA:AGA)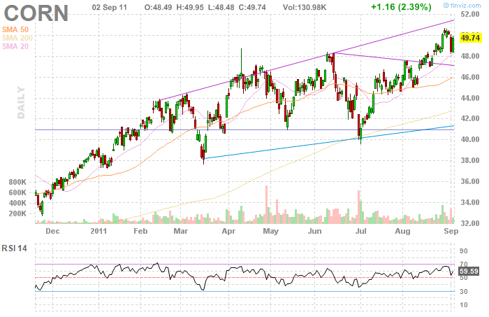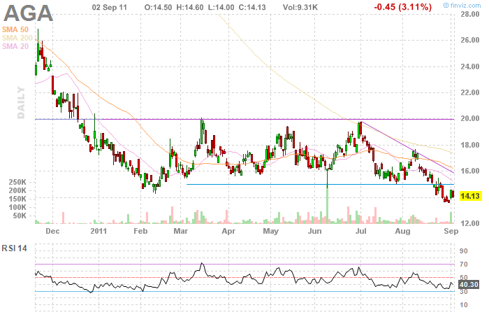 I know - corn isn't sexy. For this reason, many investors don't follow it and most won't even look at it. That's crazy. When a good opportunity presents itself, who cares whether it's sexy or not?
That said, investors really need to sit up and pay attention here. A potentially very good opportunity exists right now with corn.
In this article, I will briefly try to state my case – again. In addition, I will provide you with a simple plan on how you can take advantage of falling corn prices.
I. Expect Corn Prices To Fall
Supply
On 9/1/11, I explained that South American corn farmers should help offset any supply constraints, presuming such constraints actually materialize.
Also reported on 9/1/11, Gavilon Grain told a group of famers in Crawfordsville, Indiana, "The Russians and Ukrainans were out of the corn market for a while, now farmers in those areas are producing corn once again." See entire quote below.
Demand
In the US, Ethanol subsidies are set to expire on 12/31/11. In addition, tariffs on foreign ethanol will also be lifted. This opens the door to Brazil's sugar-based ethanol. Notably, Bunge (NYSE:BG) recently announced plans to buy more farmland in Brazil to plant sugarcane.
Side Note: Cellulosic Ethanol
The US government will continue to subsidize cellulosic ethanol producers, who make ethanol from other fibrous materials that humans and animals don't eat. In this space, I like BlueFire Renewables (OTCPK:BFRE). BlueFire is a highly speculative play on cellulosic ethanol and last traded at $0.155 per share on Friday, September 2, 2011. My 12–month target on BRFE.OB is set at $0.40.
Gavilon Grain
At a luncheon and presentation last week in Crawfordsville, Indiana, Gavilon Grain gave farmers some sound advice – sell corn.
Farmers have watched the price of corn ramp up in the past year from about $4 per bushel in September, 2010, to nearly $8 this month.

Be very cautious about holding on to your corn was the message given to producers by Gavilon Grain spokesmen on Thursday at the 4-H Building at the Montgomery County Fairgrounds.

Gavilon invited local producers to a luncheon followed by a presentation on commodity prices by Ankush Bhandari, director of economic research, and Ed Prosser, vice president of agricultural trade.

The men presented data supporting the old adage, "What goes up must come down."

Some of the reasons corn growers should hesitate to think of corn price increases continuing for a long time into the future are:

The Russians and Ukrainans were out of the corn market for a while, now farmers in those areas are producing corn once again.

Ethanol production has taken the largest percentage of corn but that is changing as government mandates and credits expire or level off.

There is pressure on Washington not to renew or increase supports for ethanol because cattle producers don't want to compete with ethanol producers for the available corn, the Gavilon spokesmen said.

Source: Frank Phillips, Editor of The Paper of Montgomery County
II. Evidence Of The Corn Bubble
Farmland prices are way up
On July 25, 2011, Kari Andren of the Tribune-Review in Greensburg, Pennsylvania reported:
"I never thought prices would get this high," said Robert Huber, 73, who just sold his 500-acre corn and soybean farm in Carmel, Indiana, for $3.8 million, or $7,600 an acre -- triple what he paid for it a decade ago.
In the article, Andren further noted:
Farmers and economists are sounding the alarm, saying betting the farm on crop prices staying this high is too risky.

"You see it all if you live long enough, but people have short-term memories," Mattilio said. "They look at this corn, and they think it's never going to go down."

Concern that farm prices may be inflated is serious enough that the Federal Deposit Insurance Corp. held a conference for farm lenders in March titled "Don't Bet the Farm."

Thomas Hoenig, head of the Federal Reserve Bank of Kansas City, oversaw dozens of bank failures when a farm boom turned bust 30 years ago. Today he suggests prices may be in an "unsustainable bubble."

"I hope a lot of people don't think this is an option and something to jump into," Harper cautioned. "It's not like investing in a stock or bond that has a very liquid market. This is real estate. It doesn't move fast."

Farm Income Is Way Up
On August 31, 2011, the AP reported the following from the annual Farm Progress trade show in Decatur, Illinois:
"We had calls from companies that sell hot tubs, or companies that sell exotic cars, some lawnmower companies," said Matt Jungmann, the show's national manager.

He turned away 40 companies for lack of space at the show that started Wednesday. All wanted a spot because they know the agricultural economy is healthier right now than the economy in general, he said.

The U.S. Department of Agriculture said this week that it expects farm incomes to increase by more than 30% this year. Prices for the country's biggest crops, such as corn and soybeans, are near historic highs on strong demand.

But don't expect to see farmers shelling out a lot of money for luxury items. They said they learned hard lessons from the 1980s, when many debt-ridden farms went under after land values suddenly plummeted. Most say they are taking advantage of the current good times by paying down debt and growing at manageable rates.
III. Game Plan: How To Play Falling Corn Prices
While I recommend that investors take one of the two positions below, there are other ways to get exposure to falling corn prices. I just prefer these two plays best. Play AGA, CORN or both.
LONG PowerShares Agriculture Double Short (AGA): I recommend purchasing shares under $15 and selling at $30 for a potential gain of 100%. Upon entry, set your sell orders. While I think AGA will see $30 by January 1, 2012, investors should plan to exit this position on or before March 31, 2012. Investors can also buy and build upon this position over time.
SHORT Teucrium Corn (CORN): I recommend playing either in-the-money or near-the-money CORN puts. To capture the biggest move, the February 2012 puts will likely work best.
Conclusion
Corn may not be sexy, but I'm confident that it will produce the [next] big move – down.
Feeling risk averse? Buy just one share of AGA. I'm confident you'll thank me later.
Disclosure: I have no positions in any stocks mentioned, but may initiate a short position in CORN over the next 72 hours.