Despite its various menu items failures (see this article from Business Insider), McDonald's (NYSE:MCD) is a great and robust stock, with a long term bullish trend since the 1970s and some minor corrections even during the Lehman mess in 2009. It has a trailing P/E of 18.2, which is well balanced, and a forward P/E estimated to 15.44 for the end of 2012.
It has a lot of cash, and it has demonstrated a strong capacity to optimize its supply chain: even when meat prices went up, McDonald's had always provided some strong results, with good margins and fair dividends for its shareholders.
But now I think that the coming recession (see my previous article) and contracting consumer spending could hurt this stock a bit too.
The daily timeframe chart shows that McDonald's is near its upper long term channel starting from middle 2009, and it is also very far from its 200 day moving average, now moving at about 80 dollars. This moving average is particularly significant since it had represented a strong support and now it is very near to the low level of the long term channel. Furthermore, McDonald's is coiling up to a wedge, which usually represents a pattern of inversion ending with strong volatility on the downside. I am waiting for a movement that could start soon and could bring this stock to 80 dollars, the first support. The recent top at 90.82 dollars could be a good stop loss for this bearish strategy.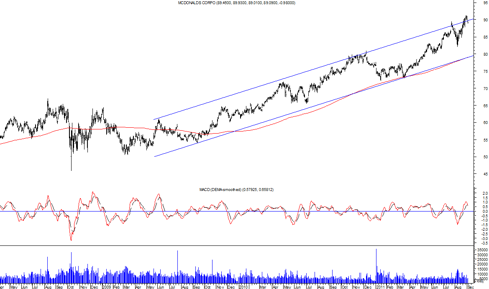 Disclosure: I have no positions in any stocks mentioned, but may initiate a short position in MCD over the next 72 hours.