ETF Spotlight on PowerShares DB Precious Metals Fund (NYSEARCA:DBP), part of an ongoing series on exchange traded funds.
Assets: $658.9 million.
Objective: The ETF tries to reflect the DBIQ Optimum Yield Precious Metals Index Excess Return, which is comprised of futures contracts on gold and silver.
Holdings: Holdings will change based on changes in the underlying futures prices. The fund will hold a base weighting of 80% in gold and 20% in silver.
What You Should Know:
Invesco PowerShares sponsors the ETF.
DBP has an expense ratio of 0.75%.
The fund has risen 11.05% over the past month, 17.21% over the last 3-months and 28.56% year-to-date.
The fund follows the Optimum Yield version of the underlying index, which tries to diminish the effects of "negative roll yield."
The index replaces expiring futures contracts, or rolls them over, with new contracts that expire in the month that will generate the highest "implied roll yield."
By targeting the month with the highest implied roll yield, the fund is able to minimize the negative effects of "contango."
The Latest News:
Gold futures rose as high as $1,884.60 an ounce during intraday trading on Friday after the disappointing August employment data, reports Matt Day for The Wall Street Journal.
Gold has also been gaining on the prospects that European and U.S. Central Banks will maintain their loose monetary policies.

PowerShares DB Precious Metals Fund (DBP)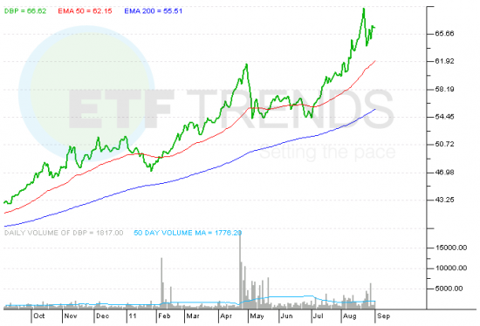 Max Chen contributed to this article.
Disclosure: None