In the last few days, the crude oil price (let's focus on the WTI, but everything written here also applies to Brent, or to any other internationally relevant crude oil price) has risen significantly - the nearest month contract for WTI (March 2015) rose from around $44.50 in January 30 to over $50.00 in February 12 (reaching $54 in February 3).
In the first 3 days of this recent price increase (from January 30 to February 3) there was a clear market manipulation involved, as illustrated by the sudden price jumps shown in the following figure (for the CL WTI futures contract of March 2015).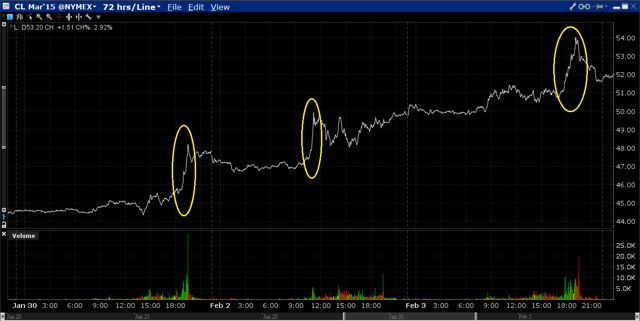 After that, in February 4 the prices had a strong downward correction, and then went back rising but with more normal daily patterns, and so it can be said that the bulls took over from the early manipulators. They just needed the initial price movement to enter long in crude oil, and to transform the initial oil price movement into a more legitimate (and long awaited) price recovery.
The problem of this oil price recovery is that it comes far too early. At present, the world still has excess production of crude oil in relation to demand (arguably around 1.5 to 2 million barrels per day, in the first 2 quarters of 2015). This excess production needs to be stored (no one will throw away already extracted crude oil), and available storage is getting exhausted.
This is happening both at world level and in the US. In international terms, most of the significant commercial storage (in opposition to national strategic reserves) is concentrated in the OECD countries. The International Energy Agency (IEA) stated this, in February 10:
"Industry oil stocks inched down by just a tiny fraction of their usual draw in December, sending their surplus versus average levels to 65 mb, its widest since October 2010, from 16 mb a month earlier. Preliminary data suggest stocks posted a large seasonal stock build in January. Floating storage is on the rise."
In the US, this kind of information comes out weekly, and the progressive filling of the available storage seems to be more advanced - as could be expected since the present excess of world crude oil production can be attributed to the amazing shale oil rush in the continental US that happened in the last few years.
In fact, the US land-based stocks are rising extremely fast, and at very consistent rates. Using numbers from EIA, overall crude oil stocks in the US are at its historic maximum: 1 109 million barrels in February 6, 2015 when including the Strategic Petroleum Reserve (SPR) and at 418 million barrels in February 6, 2015 without the SPR. These February 6 numbers surpassed the previous all-time high established in the previous week (January 30), and one can expect next week numbers to again establish new all-time highs, and so on, until US land based crude oil storage is exhausted.
This reality is even more noticeable if we follow the evolution of the overall aggregate of crude oil and petroleum products (instead of just unprocessed crude oil). In fact, weekly US stocks of crude oil and petroleum products, taken together, established an all-time high in January 2, 2015, and have been beating that record in every week since then!
On a more regional note, Cushing, the most important oil hub in the US and the place where WTI prices are referenced, is also home of very large crude oil storage facilities. Cushing crude oil storage values are published weekly by the EIA and, at present, are a fair proxy for the overall national storage situation. Naturally, one could argue that, since an important part of US shale oil and of the Canadian central states oil production still tends to flow to Cushing, its storage should be expected to be somewhat more advanced in its filling that overall national storage. But both shale oil and Canadian production now have greater flow dispersion (or "escape routes") than they had one or two years ago, and during most of the second half of 2014 Cushing crude stocks were actually below the overall national filling averages, so the Cushing bottleneck seems solved, and the rapidly increasing crude stocks, there, now seem to be a good proxy of the overall national situation.
So, what is happening in Cushing? Since the beginning of December 2014, crude oil stocks in Cushing have been increasing at an average of 2 million barrels per week, jumping from 24.9 million barrels in December 12, 2014 to 42.6 million barrels in February 6, 2015.
At the present rate, crude oil stocks in Cushing would reach the installed maximum capacity of around 58 million barrels in less than 2 months.
Naturally, this very fast increase of crude oil stocks can slow somewhat, as free storage is reduced and contracting prices for the remaining tankage rise, but it can't be expected to stop until storage exhausts, for 3 reasons:
1. Prospects for the balance between oil production and oil demand:
On the demand side, world oil demand is quite stable and predictable. Variations between successive years tend to be around 1 or 2%, and the IEA usually does a good job of predicting them up to a year forward. Then, they adjust their prediction every month, and publish the revisions in their monthly Oil Market Report, but those monthly revisions are always minor. US demand, still an important fraction of world demand, is obviously already included in the IEA projections, but even if taken in isolation, it is still quite stable and predictable. For the US, the best data source is the EIA, and according to their data the US the demand for the aggregate of petroleum products is, at present, growing some 3% in relation to a year ago (the most up-to-date demand data can be found in the WPSR). This demand growth rate, fueled by lower gasoline and distillate prices, has been stable during the last few months, and can be expected to remain around current levels for the near future. In general, as the past has proved and the present confirms, demand of petroleum products is relatively inelastic to price changes and (in particular in response to lower prices), it tends to change only slowly. This change is more the result of indirect effects, such as a progressive alteration in the types of new vehicles that are bought, acceptance of longer commuting when changing jobs or residence options, etc. than the result of more direct mechanisms, such as people suddenly changing their daily habits and starting driving a lot more, due to lower fuel prices. In short, a sudden discontinuity in demand can't be expected. Petroleum products demand will go on evolving rather slowly, following predictable tendencies, and will not jump suddenly to solve the present imbalance between production and demand.
So, a faster adjustment between petroleum supply and demand must come from the production side. At present, in the absence of a voluntary production cut from traditional swing producers (Saudi Arabia, Kuwait, UAE), US shale oil and similar higher cost production (Canadian oil sands, Venezuelan bitumen, ultra-deep sea oil) will inevitably have to be the balancing factor. In particular, US shale oil seems a very good example of what can be expected in terms of the future of this kind of expensive crude oil production and, due to the fast depletion rates of the producing wells, can be expected to be among the faster to adjust among those higher cost alternatives.
What can we expect for the near-to-medium term evolution of US shale oil production? Much has been written, and commented, about the present fast reduction in North America land-based rigs (a factor that can be followed every Friday, courtesy of Baker Hughes' excellent free information). The present reduction in North American land-based drilling rigs' activity is indeed very fast. This could be expected by anyone that follows the news and studies the evolution of the fundamentals of the oil E&P companies - in particular of those involved in the US shale. In fact, not only this reduction of rig activity could be expected, but it is also easy to predict that it will go on at a very fast rate during the next weeks and months. However, some analysts and media commenters seem to fail to understand that this drilling rig reduction has a very significant delay before affecting the oil production. This delay is easy to understand. As an example, let's consider the shale oil industry and, just as a prediction exercise, let's construct a narrative around that:
The reduction in drilling rigs that occurred until now was fast, but it is still limited in overall numbers (arguably, it is still the beginning of a much more pronounced reduction). The present number of operating rigs is still high enough to drill enough wells to maintain a small increase in shale oil production. However, if the present rate of rig reduction goes on, one or two months from now the number of rigs will be insufficient for that. This means that we could never expect a reduction in shale oil production due to a smaller number of operating rigs until, let's say, the end of March. However, after the drilling of the wells, there is an extremely important further step: the fracking of the drilled wells. That is an independent process, quite heavy in costs, manpower, trucking needs, etc.. One year ago, fracking services were insufficient for the demand, and the E&P companies sometimes had to wait many months for the fracking of their wells. That problem has been minimized by the growth of the fracking service industry, but expecting 2 or 3 months for the full fracking of a newly drilled pad is still probably conservative. Thus, the effects on production of the reduction in drilling suffer a further delay of, say, 3 months (for this very simple thought exercise, let´s consider that all the wells in the pad start producing at the same time, immediately after the fracking is done). This points to June, as (potentially) the first month of non-growth in shale oil production. So, let's consider that July would show a first decrease in shale oil production - but still quite limited, since it would result from a follow-up of incremental reduction in drilling (and fracking), not from a sudden stop of all development activity. By then, even considering the strong seasonal factors that should increase demand after the end of the traditional refinery maintenance season, US land based crude oil storage will probably be full. However, in this exercise, July will not be the end of the story. An initial reduction is US shale production will be far from enough to balance crude oil production and demand. For that, one can expect that 1.5 million barrels per day of production will have to be lost, worldwide. So, let's go on our though exercise considering that the US shale is the new swing producer, and that half of the world reduction of production needs to come from US shale oil contraction. One can also postulate that after July the US shale oil production reduces by 150 thousand barrels per day each month (an assumption that corresponds to a reduction of about 3.5 to 4% of the initial production per month - something that seems reasonable if the reduction in the absence of any new drilling/fracking is around 6 % per month for shale oil, but some drilling/fracking will remain). So, if the US shale oil had to assume an overall reduction of 0.75 million barrels per day (half of the world's reduction of 1.5 million barrels per day) that would require some 5 months, starting after July, to balance production and demand. This kind of scenario seems validated by (or at least compatible with) the projections of the EIA's Drilling Productivity Report (DPR), an invaluable document that comes out monthly and presents industry-based projections for the shale oil production of the next 2 months. The most recent DPR was published in February 9, and presents projections for the production of February and March. These projections show an initial reduction of the growth rates of US shale oil production, but still predict an increase in March's production of 68 thousand barrels per day, in relation to February.
2. A second factor that needs to be considered when trying to understand the present build of crude oil stocks is the present strong contango in crude oil prices. Naturally, this is in itself a result of the present oversupply. However, it has direct effects in stock growth, since arbitrage can be done buying physical oil now, storing it, and selling futures contracts for, say, March 2016 - thus pocketing immediately a price differential that easily surpasses the storage, insurance, and support costs. With the present price curve, storage at sea, in big tankers, is only marginally cost effective (the storage costs stand around $9 to $10 per year, depending on always-changing oil tanker rates), but for storage in land-based tanks, the present contango is more than enough (for most tank farms in the US, the storage cost is around $5/year).
3. Anyway, there is a more direct and simpler consideration that explains the present stock growth, and cannot be circumvented. It is fundamental to remember that irrespective of the existence of positive market incentives for contango arbitrage, excess production will always need to be stored. There are no other options. Obviously, even forgetting the monetary losses involved in extracting crude oil just to throw it away, no one will accept to throw excess crude oil into the sea, or into the rivers of any nation... So, with no more storage space available (and no, building new tanks farms cannot be done on time), the prices will have to correct downwards. And this time, that correction need to be strong enough for producing oil wells to be effectively closed, rather than simply for future drilling, fracking and completion to be curtailed! A WTI price of $50 will never do that. At the very least, short term crude prices need to get low enough to make storage at sea worthwhile, but that will only buy so much time…
Thus, to summarize, when storage gets exhausted, the prices will have to drop enough for production to be effectively closed. Not just a reduction of capex related to new drilling, fracking, etc., but effective throttling of producing wells. Who will do it? Not Saudi Arabia, for sure. Not Venezuela. Tar/oil sand producers? Yes, some, for sure. Shale oil producers? Some, most probably.
Throttling the production of oil wells that are already online will add to the immense pain caused by the very low crude prices that will be reached by then: Shutting down a producing well, with very low operating costs, will cut out sales and income. It will be hard to keep up with the regular maintenance costs of an operating company: Paying even for a skeletal number of employees, utility bills, renting of headquarters, leasings, etc.. And, of course, it will be even harder to service debts…
But that is another story.
This article only aims present some thoughts about the short-to-medium-term future of crude oil prices (with reflection on ETFs such as USO and USL, and futures contracts like CL (for WTI) or COIL (for Brent). Discussing the prospects of E&P shale companies would also be very interesting, but will be left for further efforts.