By Justin Dove
Since its inception in 2004, the SPDR Gold Trust (NYSE: GLD) has attracted many average investors who want to capitalize on gold appreciation. It's a great way to invest in gold at a cheaper rate and with no storage costs.
But one thing many people don't know is that SPDR Gold Trust and other precious metals ETFs are taxed as collectibles. This can lead to a tax rate as high as 28 percent.
That's one reason some investors look to mining companies. They hope to take advantage of increased margins for the miners and only get taxed the normal capital gains rate of 15 percent. There's just one problem.
Gold Mining Stocks Aren't Keeping Up with GLD

Through this most recent run-up in gold… gold mining stocks aren't reaping the benefits yet.
One of the largest miners, Newmont Mining Corp. (NYSE: NEM), is having an awfully hard time keeping up with the SPDR Gold Trust: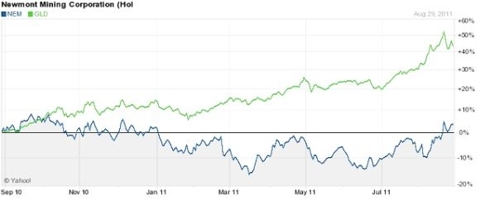 And when mining companies do start earning more, there are large costs to mining that will temper the large profits.
Alternatives to Miners and Traditional ETFs
There are two investments that offer the best of both worlds in terms of capitalizing on gold appreciation and avoiding the higher tax rates:
Royal Gold Inc. (Nasdaq: RGLD)
Central Fund of Canada Limited (AMEX: CEF)
Royal Gold's Royalties

Royal Gold isn't technically a mining company and it doesn't hold physical gold. It owns mines and charges royalty fees to miners to use these mines.
The beauty is that it capitalizes on the high margins that miners make, without incurring the production costs normally associated with mining.
What this creates is a stock that mimics the returns of the SPDR Gold Trust much more than mining stocks, at less than half the price: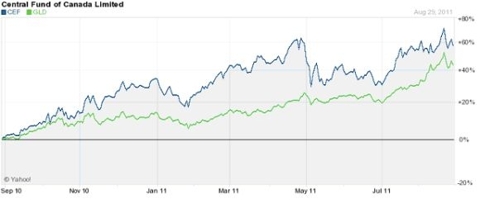 Royal Gold has an advantage over the Central Fund of Canada because it isn't complicated to file on your taxes, but we'll get to that later.
Canadian Fun
The Central Fund of Canada is a mutual fund that holds silver and gold bullion. It's a close-ended fund that has actually outperformed the SPDR Gold Trust over the last year: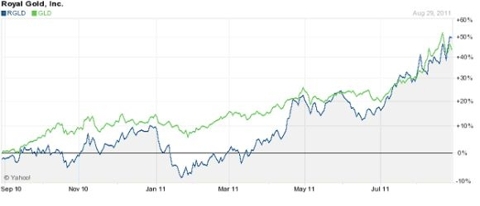 Not only has it outperformed SPDR Gold Trust, but CEF is about seven times cheaper. Its market cap is about 2 billion higher than Royal Gold.
Where it really looks like a bargain is in the P/E ratio. Royal Gold has a Price-to-earnings of nearly 60. Which is really high. Obviously investors have priced in the higher margins that will lead to much higher earnings in the forthcoming quarters.
CEFs P/E is only 2.24. Also according to CEFConnect.com, CEF is trading at a premium of its holdings of just 1.67 percent. This is compared to a 52-week high of 11.94 percent and an average of 4.65 percent.
If there is a catch to CEF it's the tax hassle, but if done properly it will only be taxed at the normal capital gains level of 15 percent. CEF is considered a Passive Foreign Investment Company (PFIC) by the IRS. This requires completion of Form 8621 and an election to treat it as a Qualified Electing Fund (QEF).
I am certainly not a tax professional, so don't take my word for it. But CEF spells it out on its website. The IRS does this to discourage investment in these foreign companies, so do your due diligence before deciding to invest in something like this.
Gold's Bottom Line
Gold is obviously hot these days. Margin hikes are imminent, but they haven't done much to hinder gold's rise yet. This could all be a bubble waiting to burst. But inflationary concerns and increasing turmoil are keeping things steady for now. For those bullish on the future of gold, these investments might be something to consider.
They offer the benefits of gold appreciation at a much cheaper cost than physical gold and a lower tax burden than the ETFs.
Disclosure: Investment U expressly forbids its writers from having a financial interest in any security they recommend to our subscribers. All employees and agents of Investment U (and affiliated companies) must wait 24 hours after an initial trade recommendation is published on online - or 72 hours after a direct mail publication is sent - before acting on that recommendation.