Imagine if you could bet against bloated U.S. Government agencies – and actually profit as they continued to falter. I'm not talking about shorting Treasuries or buying gold. Rather, I'm talking about betting against specific wasteful divisions of government, like Amtrak or the Division of Motor Vehicles.
Thanks to one little known stock called Stamps.com (NASDAQ:STMP), it turns out, you can "short" the United States Postal Service. Let me explain…
Sunday, The New York Times reported the USPS "is so low on cash that it will not be able to make a $5.5 billion payment due this month and may have to shut down entirely this winter…" Hundreds of local branches of the USPS have slashed hours. Others have closed down altogether. And Postmaster General Patrick Donahoe is now pushing to eliminate Saturday mail delivery and close an additional 3,700 post offices around the country – on average 74 per state!
In short, the USPS's inefficient business model is a short-seller's dream come true.
Of course, unlike Fannie Mae, you can't short the Post Office directly. But you can go long the ONLY publicly traded company that's making hay on the Post Office's pain. Stamps.com is the only publicly-traded firm catering to individuals and small business owners who simply don't have the time or patience to wait on line at the post office. And it's exactly the type of company whose success is a direct result of the government's failure to deliver.
It's almost completely unknown to the investing public. I haven't seen a single feature article on this stock – but that's about to change, because its growth is becoming hard to ignore.
A Look Under the Hood
Like any successful retail business, STMP is doing well because it solves a critical problem – saving its customers hours of unproductive downtime – waiting in line at the local post office. Additionally, STMP saves its customers cold hard cash. According to its website, in exchange for a monthly fee of $15.99, subscribers receive a free digital scale which hooks up to any PC or MAC and allows you to print postage at home.
Subscribers also receive discounts of up to 21% off Express Mail shipments and up to 15% off Priority Mail rates. Once you print and stamp your package or letter, you can simply leave it outside for the mail carrier or drop it off at the nearest post office or mailbox, without standing in line. The company has postage partnerships with several top mailing label manufacturers, including Avery Dennison (NYSE:AVY) and Hewlett Packard (NYSE:HPQ), as well as Microsoft (NASDAQ:MSFT) and the US Postal Service.
By the Numbers…
Q2 2011 marked STMP's best quarter in history.
On July 28th it announced 111% growth in postage sold through its software.
Quarterly revenue was up 26% vs. 2010.
83% of that revenue came from its core PC Postage printing business.
$3.5 million (13%) came from its PhotoStamps business – which allows you to go online and design your own custom stamp using pictures of kids, pets, etc. (Ironically – most people have heard of its PhotoStamp business – but not their much more lucrative print-at-home postage business.)
On the heels of the revenue announcement, the stock rose 27% from the mid $13 mark to $17.41 and hit a 52 week high of $19.95 before pulling back to $19.24 last Friday.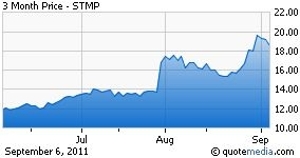 Is it still a fair value at $19.24? I believe it is. For the simple reason that the U.S. Postal service is hell-bent on destroying itself slowly through run-away pension spending, staff cut-backs and regional closures.
With each following closure or cut-back, the USPS will become less user-friendly and less accessible to its customers who will likely seek a better deal somewhere else. And unlike some dot-com stocks – STMP is quite profitable, trading at 25 times earnings, with a forward P/E of 14.
Compare that to richly held LinkedIn (LNKD), which is trading at a whopping 1,144 times earnings, and Pandora Media (NYSE:P) which is not even remotely profitable, and STMP seems like a relative bargain.
Management also appears to be confident. Stamps.com is aggressively buying back shares. The company purchased 232,000 shares in the second quarter of 2011 and it's authorized to buy back 600,000 more this year.
And notably, it has not taken on a penny of debt. It's sitting on $23.23 million in cash – not an insignificant stash when you consider its tiny $274M market cap.
Potential Threats to Growth

USPS Shutdown: If the U.S. Postal Service literally shut down, that would cut off STMP's chief source of revenue. However, this threat – while possible – is extremely unlikely to occur. In fact, any situation that allows the USPS to "muddle through" will be extremely beneficial to STMP because more and more USPS customers will be itching to abandon their daily or weekly trip to the post office.
I suspect we will see a full-scale bailout or reorganization of the USPS in 2012. And I'm predicting a lot more than 3,700 post office closures. I would not be surprised to see 33% of all post offices close down within the next 3 to 5 years, ultimately replaced with some kind of RedBox-style automated service center which would be located in supermarkets, strip malls or convenience stores.
Competition: STMP is in a unique niche of the market that serves small business owners and individuals – so it is not in direct competition with big-name commercial shipping processors like Pitney Bowes (NYSE:PBI).
There is one smaller rival in the same print-at-home business, the privately held Dymo Endicia. But thanks to onerous licensing and approval process – in which the USPS takes its sweet time – it's somewhat difficult for more competitors to enter the market.
The greater threat would be if the Post Office actually got its act together and offered an online postage experience as good or better than Stamps.com. But I wouldn't hold my breath. The only purpose of most government agencies is to grow for the sake of growth – not actually improve the way they work on the ground level.
Bottom line
Postage is moving online. Just like movies. Just like music. Just like anything else that can be effectively digitized. As we speak, 35% of all postal revenue is coming from internet postage. We expect that number to top 50% in short order. Stamps.com is best positioned to benefit from this massive growth potential.

Disclosure: I am long STMP.