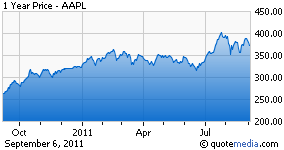 Rumors are circulating that suggest Facebook will announce a new music service for its social network, via a partnership with Spotify, that will allow Facebook members to share songs in much the same way videos and links are currently shared. Is this a rival to Apple (NASDAQ:AAPL) and iTunes?
To put it simply: no. Forays into digital music services that attempt to combine social networking with digital jukeboxes are nothing new; Rhapsody, Napster and Grooveshark are just some of the services to walk down this path. All have failed mightily relative to the success of Apple's iTunes. And so, I remain skeptical that the outcome with Facebook will be any different.
To disrupt Apple in any of its product lines, one thing is needed: hardware. While Facebook could in theory do something interesting here via its mobile application to create an offering that more directly competes with iTunes, the company's inability to deeply integrate hardware and software will result in a poorer and more confusing experience, in my opinion. I think the odds are much better for a company that can leverage open source hardware and software to create an integrated system that costs less than Apple's products while still delivering a "good enough" experience. In this regard, I think Amazon is not to be overlooked - especially as it already sells MP3s and is venturing deeper into the hardware business, such as its forthcoming tablet - built atop a forked version of the Android operating system - indicates.
But while I don't think Facebook is much of a threat to Apple's iTunes service at this time due to its lack of hardware, it is worth noting that Facebook is making some progress toward launching its own phone. The HTC Status is the first phone to have a Facebook button embedded in the hardware. If Facebook keeps developing along these lines, Apple may have something to worry about.
Disclosure: I have no positions in any stocks mentioned, and no plans to initiate any positions within the next 72 hours.