Weakening demand claimed its first victim with the bankruptcy of Evergreen Solar. Solar Power Industries in PA closed its doors in May. Spectrawatt Inc., the solar cell manufacturer that was originally spun off from Intel Corp. (NASDAQ:INTC) in 2008, filed for bankruptcy protection in August, followed by Solyndra the next week..
For many solar firms such as Suntech (NYSE:STP), SunPower (SPWRA), First Solar (NASDAQ:FSLR), Trina Solar (NYSE:TSL), JA Solar (NASDAQ:JASO), and Hanwha SolarOne (HSOL), the second quarter of 2011 was riddled with high inventories, a lack of transparency in German and Italian policy, impacted share price, ASPs, profit, and revenue. The return of demand in the third quarter has not been as strong as expected.
Revenue and margins for solar module manufacturers have dropped due to falling European demand and pricing weakness due to overcapacity. An online article at Europe-solar.de provides vivid evidence that (1) solar module prices are dropping fast and (2) prices of modules sold by top tier companies (bankable) command selling price between 15% and 35% higher than modules from non-bankable solar manufacturers.
The term "Bankable" solar products is open for debate, but is a reality. According to Suntech's analyst day presentation a few months ago:
Only 9.5GW of an estimated world's 27GW capacity is bankable. Suntech includes itself in the bankable category along with JA Solar, Trina Solar, and Yingli Green Energy (NYSE:YGE).

Another 10.2GW are classified as "low-cost bankable" which may include many low cost second tier producers in Asia.

The remaining 7.3GW are pegged as simply "unbankable."
According to this thesis, there really isn't an overcapacity of solar cells in the solar industry, just an overcapacity of "unbankable" and "low-cost bankable" vendors.
Suntech's thesis is branding and thus bankability will be the key differential among industry players. These top-tier solar manufacturers are able to secure financing in the multi-million dollar range because bankability should insulate higher tier capacity from pricing declines more than lower tier suppliers.
High inventory of solar products has been pushing prices down since second quarter 2011. Total annual capacity plans by Chinese manufacturers in mid-June were to expand by 40GW in 2011. However, global demand for solar cells in 2011 might only be around 15GW, hence a further oversupply is very likely if the announced expansion becomes a reality.
2010 Solar Cell Production

Capacity

Company

Country

MW

2010

2011

% Change

1

Suntech

China

1,572

1,800

2,200

22.2%

2

JA Solar Holdings

China

1,464

2,100

3,000

42.9%

3

First Solar

USA

1,398

4

Yingli

China

1,117

1,117

1,700

52.2%

5

Trina Solar

China

1,057

1,200

1,900

58.3%

Top 4 China Production

5,210

6,217

8,800

41.5%

Global Production

23,900

Percentage Top 5

22%
According to the chart above, if 15GW demand becomes a reality, just the INCREASE in capacity of the top 5 companies (excluding First Solar) will make up more than half of the expected demand in 2011. By way of comparison, demand in 2010 was 17 GW, so there may actually be a drop in sales in 2011.
Survival mode
Even though the top tier Chinese companies have led the Chinese to win the solar war, they continue to work on methods to reduce overall non-silicon costs. Mark Kingsley, Chief Commercial Officer of Trina Solar recently noted that the company was striving to reduce costs by lower consumables, material supply chain optimization, technology driven cell efficiency improvements, and increasing manufacturing efficiency.
"In the big picture cost reductions, we are driven by a balance of technology-driven efficiency gains, more efficient materials used, and solutions designed to reduce installed systems cost. Specifically, as we further develop innovative offerings to lower the cost of solar, both within and outside the module, we will continue our rigorous evaluation of new and second supplier technologies," Kingsley added.
Shooting at a moving target (Chinese innovations) is difficult but shooting while the ducks fly (survival mode) is critical. Although the secondary equipment market may soon be flooded with used equipment as other solar companies go out of business, "The next wave of cost-per-watt reduction in the solar PV industry will be achieved through major changes in cell technology and manufacturing sophistication to simultaneously improve efficiency and factory output," said Mark Pinto, executive vice president and general manager of Applied Material's (NASDAQ:AMAT) Energy and Environmental Solutions Group.
Applied Materials has announced its new Applied Baccini Pegaso solar PV cell manufacturing platform that fabricates electrical circuits on both sides of a solar cell - a process that includes multiple screen-printed metallization steps, metrology and sorting. Advancing in cell manufacturing, the breakthrough Pegaso system delivers high yield and cell output - over 20 million solar cells per year - at the lowest overall cost-per-watt of any cell manufacturing system available.
Another way to reduce costs and remain competitive is to develop technologies to increase efficiency. If we look at the chart below from NREL (National Renewable Energy Laboratory), except for concentrator cells and emerging technologies, the increase in efficiency can take 10 years to improve just 1%.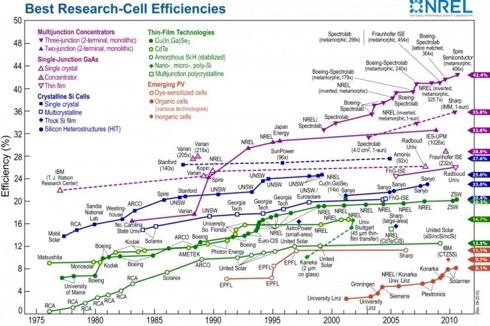 Privately held SolarPA (www.solarpa-inc.com) has shown that by applying a coating of its nanomaterial-based NanoCoat over the surface of a completed cell, efficiency increases of 1.78% can be achieved. The process is non-disruptive to the production line – the coating is done at the end of the manufacturing line – and cost is cents per watt. Not only that, but increasing the efficiency of cells manufactured with sub-par performance and typically scrapped – as much as 20% of production – can make these cells usable.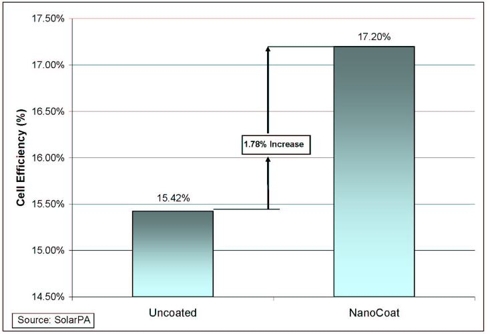 DuPont's (DD) recently purchased Innovalight product uses Silicon Ink in a predetermined pattern on top of the bare silicon wafer to form a high efficiency selective emitter.
Natcore (OTCQB:NTCXF) uses a novel method of replacing the standard SiN antireflective coating (ARC) deposited in the gaseous state with their ARC deposited as a liquid
There are numerous universities doing research on unique materials and processes. All well and good, but none are proven and we need solutions now.
Disclosure: I have no positions in any stocks mentioned, and no plans to initiate any positions within the next 72 hours.