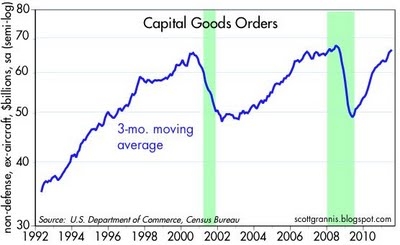 (Click chart to expand)
This is an addendum to my previous post on the subject of July capital goods orders. With the Aug. 31st release of factory orders came an upward revision (one more of the many upward revisions to this series in recent years) to the July capital goods data. New orders for capital goods were revised up 0.8%, and are now only 3% below their all-time high, after rising 11.7% in the past year.
Once again I'll make the point that this is not the stuff of which recessions are made. It's plain old good news that is being buried beneath the avalanche of angst coming out of Europe.