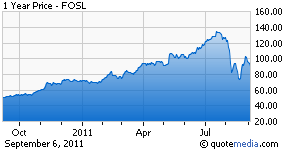 Fossil Inc. (NASDAQ:FOSL) makes and sells a full line of watches under the following brands: Fossil, Michele, Relic and Zodiac. They also sell watches through licensing agreements with brands such as Adidas, Diesel, Burberry, DKNY, Emporio Armani, Marc Jacobs, and Michael Kors. They also sell a variety of other products for men and women such as clothing, shoes, handbags, sunglasses, small leather goods, belts and jewelry.
Fossil is a momentum stock that has gone from about $11 in the beginning of 2009 up to a high of $134 in the summer of 2011. That's a 1118% increase. It has since pulled back to $93 a share in the recent market correction. They have solid fundamentals to support such a strong drive upward. They have grown earnings at 29% annually for the last five years. Revenue has increased by 31% from FY2010 to FY2011. They have a well valued PEG of 0.98. Their stock is trading at only 5.7 times book value per share. It is nice to see a momentum stock with a PEG under 1. Some other momentum stocks that have a PEG under 1 include: Apple (NASDAQ:AAPL), Deckers Outdoor (NASDAQ:DECK) and MasterCard (NYSE:MA).
Click to enlarge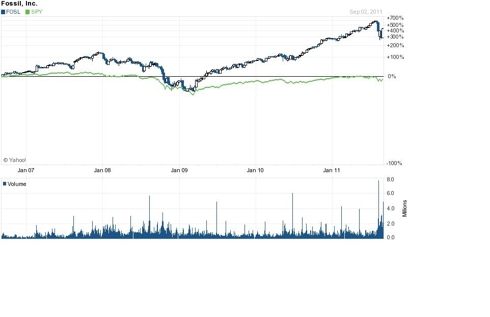 They are operating with $3.7 million in debt, but have a total cash figure of $332 million. Fossil has a healthy operating cash flow of $221.7 million, which makes it easy to pay off debt. Their balance sheet looks good with a current ratio (current assets divided by current liabilities) of 3.33.
In addition to North America, Fossil is also increasing sales in South America, Europe and Asia. Revenue has increased in these regions 64%, 16.8% and 35.3%, respectively. Overseas sales averaged 38.7%, which is slightly higher than their North American sales increase of 36%.
Fossil has an attractive array of products that appeal to consumers worldwide. The recent market correction should provide a nice entry point to start a position in Fossil. They are expected to grow earnings annually at 21.8% for the next five years, so expect their stock price to rise in tandem.
Disclosure: I have no positions in any stocks mentioned, and no plans to initiate any positions within the next 72 hours.