Gold stocks have generally been trending upward as the price of gold has risen on the threat of U.S. and EU currency devaluation. The Central Banks around the world bought more in 1H 2011 than they bought in all of 2010.
India and China have been buying more for jewelry and investment. Some tend to discount Asian demand, but the facts say something else. India and China accounted for 52% of the global investment demand and 55% of the global jewelry demand in Q2 2011. With still fantastic Q2 GDP growth rates (India = 7.7% and China = 9.5%), the inflation rates in their own countries and others are very worrisome to them. China's July CPI was 6.5% (up from 6.4% in June 2011). India's CPI in July was 8.43% (down from 8.62% in June 2011). With inflation rates like those, it is not surprising that significant portions of those countries populations are interested in holding gold.
Russia, Brazil, and other emerging market economies also have strong interest in gold. Overall world demand in volume was 17% lower in Q2 2011 versus a year ago. It was higher by 5% in price terms. Demand was far off in Q1 2011. The year on year 37% decline in Q2 2011 in investment demand was due mostly to ETF and other products. The demand by volume for jewelry and physical gold was up in both cases. I should mention that gold inflows into ETFs were +$3.5B for July -- very bullish for gold. Overall the picture for gold is still one of growth, but the investment demand is showing signs of weakening.
Allied Nevada Gold (NYSEMKT:ANV) is growing quickly both in volume and in total price of gold sold. Gold production is expected to be 275,000 oz. in 2012 and 320,000 oz in 2013 and 2014. Silver production is expected to average over 1 million oz/year beginning in 2013. These data are from ANV's Hycroft mine alone. Other mines are producing, but at lower development stage levels. The below table shows some recent results from Hycroft.
The Gold Resources chart for the Hycroft mine as of Mar. 31, 2011: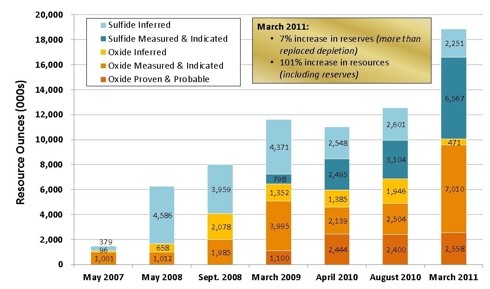 The Silver Resources chart for the Hycroft mine as of Mar. 31, 2011: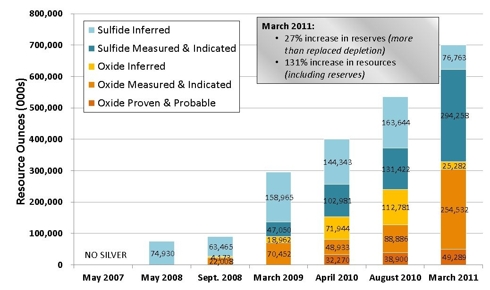 The NPV chart as of Mar. 31, 2011:


One might think that eventually the Hycroft mine will top out. However, Hycroft is merely the first of the ANV mines to enter production stage (and it is still ramping up development). Allied Nevada Gold controls 63 exploration properties throughout Nevada. It has 12,375 claims and 254,925 acres. The more advanced development projects appear in the table below.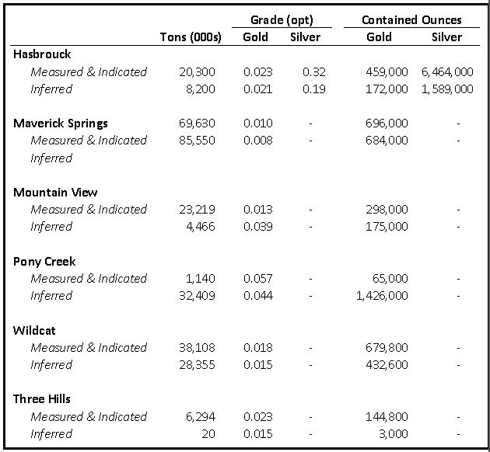 Other than the advanced projects ANV has late stage projects: Silver Cloud, Rock Creek, Pony Creek, Illipah, and a 49% interest in Ocelot. ANV has a large number of early stage exploration projects: Toy, Sno, Santa Renia, Mountain, Springs, Marr, Golden Cloud, Elephant, Elder Creek, Eden, Cobb Creek, Beowawe, Goldstorm. ANV also has 42 properties it classifies as grass roots exploration. This pipeline is not likely to go dry or even to slow down any time soon. Plus it is in the U.S. -- a relatively low risk political situation. It is easy to see why more people are getting interested in ANV.
The table below of fundamental financial data gives a hint at how successful a stock ANV is going to be. When you read it, keep in mind that ANV is just getting to the point where it is beginning to have some mature production. It is only scratching the surface now. The numbers are going to get a lot better. The data in the table are from TDAmeritrade and Yahoo Finance.
| | |
| --- | --- |
| Stock | ANV |
| Price | $43.70 |
| 1 yr Analysts' Target price | $50.77 |
| Predicted % Gain | 16% |
| PE | 285.62 |
| FPE | 22.88 |
| Avg. Analysts' Opinion | 1.7 |
| Miss Or Beat Amount For Last Quarter | -$0.04 |
| EPS % Growth Estimate for 2011 | 24.40% |
| EPS % Growth Estimate for 2012 | 274.50% |
| 5 yr. EPS Growth Estimate per annum | N/A |
| Market Cap | $3.90B |
| Enterprise Value | $3.62B |
| Beta | 1.52 |
| Total Cash per share (mrq) | $3.42 |
| Price/Book | 7.37 |
| Price/Cash Flow | 189.57 |
| Short Interest as a % of Float | 3.15% |
| Total Debt/Total Capital (mrq) | 4.41% |
| Quick Ratio (mrq) | 11.15 |
| Interest Coverage (mrq) | 184.89 |
| Return on Equity (ttm) | 2.60% |
| EPS Growth (mrq) | -84.46% |
| EPS Growth (ttm) | -75.90% |
| Revenue Growth (mrq) | -9.52% |
| Revenue Growth (ttm) | -40.42% |
| Annual Dividend Rate | -- |
| Gross Profit Margin (ttm) | 55.48% |
| Operating Profit Margin (ttm) | 9.27% |
| Net Profit Margin (ttm) | 9.94% |
| Production Cost per ounce (2011) | $450-$490 |
The financial fundamentals data indicate a company that is just ramping up production. The data indicate a fast growing newcomer. This is exactly what ANV is. The Net Profit Margin is respectable (and likely to improve with time). ANV has little debt, and it has huge potential. ANV gives every indication of being a well run company. It should continue to go up for many years to come. The growth potential is fantastic in a politically stable environment. Plus ANV is in a state which is largely sparsely populated desert. Nevada has far fewer environmental laws to run afoul of.
The chart of ANV indicates investors strong belief in this company. The two year chart is below.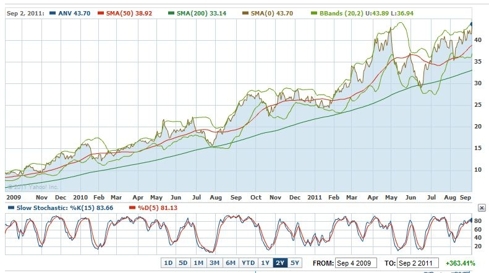 ANV has gone straight up for the past two years. Even overall market downturns have had little negative impact on the stock price. I am sure many people would say they wish they had gotten into the stock two years ago. Who wouldn't after a 363.41% gain over the last two years? However, as I have tried to point out above, ANV is just barely scratching the surface of its potential. Plus many think gold is going to go much higher too. As it stands now, the NPV is often calculated using $800/oz. gold and $14/oz. silver. From the chart earlier in this article, the investor can tell that the NPV for ANV is already much higher than its Market Cap if you use more reasonable values for gold and silver. That is without even considering that ANV has only reached strong production (still not full production) on one of its mines. It is without considering that the price of gold may go up to $2000 - $2500 per ounce in the near term. Some think the price of gold will go to $10,000 per ounce by 2020.

As the overall market went down on Friday by -$3.52 on the SPY including after hours action, ANV went up by +$2.25. If that isn't showing strength, nothing is. The FPE of 22.88 is cheap when considered in light of ANV's projected growth. For the next several years this stock is likely a winner. When you identify one of those, you just ride it up. It is hard to pick an entry point in a stock like this. Legging in is usually a good idea.

Good Luck Trading.

Disclosure: I have no positions in any stocks mentioned, but may initiate a long position in ANV over the next 72 hours.