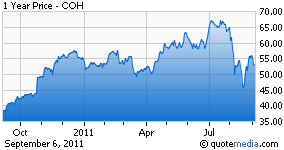 Coach Inc. (COH) engages in the design and marketing of accessories and gifts for men and women in the United States and internationally. The company's primary products include handbags, women's and men's accessories, footwear and jewelry products, wearables, business cases, sunwear products, travel bags, fragrance products and watches.

Coach is one of the most popular brands among women. It is a status symbol which symbolizes a strong sense of fashion. If you have ever been in a Coach store, then even you know it may prove to be difficult to find a handbag under a $100 price tag. Women continue to buy the products since the company has one of the strong brands in the world.

You would think that the way the global economy has been acting that sales of Coach handbags would be dismal, but it turns out they have been doing pretty well. Fashion in countries such as Japan and China is an extremely important part of the lifestyle. Women in countries such as China even have handbags to match their clothing. Coach has outlet stores in Macau, Hong Kong and Mainland China, which makes Coach a great emerging markets play.

Even though the U.S. lower and middle class may be feeling a pinch in terms of disposable income, the upper class has seen a rise in consumer confidence as the economy slowly starts to recover.

The one nice thing about Coach is the moat that it has. Barriers to entry in the handbag industry are pretty low and companies like Gucci and Louis Vuitton already have their own lineup of handbags. However, Coach comes out ahead as the company specializes in handbags and provides a product with higher quality at a much more competitive price. Each and every Coach handbag is made by hand. They use the highest quality of leather. The leather is softened for days before it is even used. Coach believes in its products so much that they offer lifetime warranties in case of damage.

Coach is a powerhouse brand with strong exposure to China. Women will continue to buy its bags and pay a higher premium for the name brand. The stock currently trades at a forward P/E of 13.6 and pays a dividend of 1.7%. I believe the valuation is cheap for a company with so much more growth potential. I recommend you take a look into Coach.

Disclosure: I have no positions in any stocks mentioned, and no plans to initiate any positions within the next 72 hours.