The federal government continues to impact all aspects of financial investments, and potentially agency mREITs. I have to roll with the punches. Nobody can fight the Fed. Today's mission is to address whether the new proposals will work. Let me pour myself a cup of coffee and examine if Operation Twist will work. The last known experimenting was in the 1960s with President John F. Kennedy.
Here are the impacted agency mREITs if Operation Twist is implemented:
Click to enlarge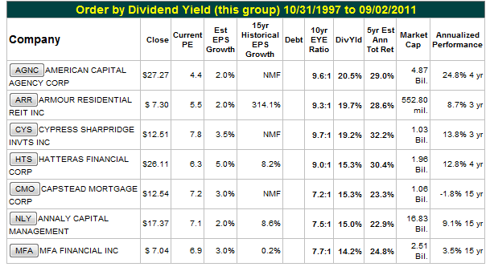 Fed Chairman Ben Bernanke, on July 17th, did state he thought the economic slow down was "temporary." He stated that the Fed was ready to provide more "accomodative measures." It turns out one of the options on the table is "Operation Twist." It turns out the economic recovery was not on a temporary stall, but a continued slowdown.
Operation Twist And The Effect Of Large-Scale Asset Purchases
Operation Twist was designed to keep short-term rates low. Secondly, the Fed would purchase long-term bonds to reduce longer-term duration yields. I would like to address the similarities in attempts to fix the country in the 1960s versus 2011. I believe we should focus upon the question of what issues we are trying to solve.
My understanding is the Fed's and president's core question is how does the country increase jobs, address refinancing to households with mortgages, and make the U.S. strong again. I dispute whether our government recognizes the question, and is therefore providing inappropriate answers.
The government appears to be focused upon providing capital to the big banks again, just like 2008. In Operation Twist, longer-duration yields are not available to a widespread number of home owners with mortgages. The big banks have access to the capital. They are reluctant to lend to home owners with under water mortgages.
This is reminiscence of Bob Dylan's response to President John F. Kennedy's question about how to make the country "grow." The president wanted to know how to create jobs, promote prosperity, and strengthen the country. Here is President Kennedy's question and Bob's incorrect 1963 interpretation of the question:



What does Fed Chairman Bernanke And President Obama Want From Operation Twist?
Operation Twist should have the impact of creating jobs, restoring prosperity to our debt burden country, and providing a simple nationwide refinancing solution. I believe most regular U.S. citizens want thes actions. If the country is not seeking this outcome, then Operation Twist will be ineffective.
The elephant in the room is obvious. Is the government focused on U.S. households or bailing out big banks circa 2008? Certainly big banks have access to the Fed and president. The retail investor does not have such access or privilege.
1960s Operation Twist Outcome
Operation Twist. President Kennedy and his administration implemented the 1960s twist on the following key dates. The measurements were from February 2nd through April 6th: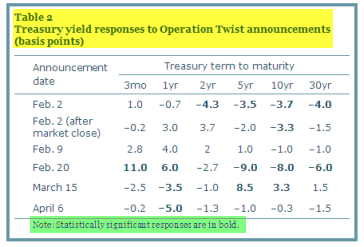 Keep in mind the Federal Reserve has implemented two quantitative easing plans up to this point. Job growth is still absent. Housing prices continue to fall. Banks are not refinancing to all GSE-MBS home owners who are current on their terms. This is especially the case if a home owner is under water on his mortgage. Banks are keeping the money internally and profiting by a carry trade position. The homeowner, with an under water mortgage, suffers.
Yes, the homeowner took out the loan and is responsible. If, however, the government wants these home owners to have access to low interest rates, then a nationwide refinancing plan must be made available.
The 1960's outcome resulted in a 15-basis point change. I believe we need results which are more authoritative and beneficial than a similar 2011 Operation Twist outcome:




Government Sues Big Banks
On Friday, September 2nd, 17 banks were sued for "sale of risky mortgage investments." This could mitigate an impetus for banks under attack opening their lending operations to home owners to refinance their mortgage.
Operation Twist Summary
On September 2nd, Goldman Sachs (NYSE:GS) and other firms announced they believe the Fed will implement Operation Twist. If history has any rhyme to it, the response is likely to be muted. If the focus is to provide direct refinancing to home mortgages, then the result will be positive.
If Goldman Sachs is suggesting Operation Twist is likely, then agency mREIT investors should be aware of the potential impact. Operation Twist is designed to bring down the long-term yield curve. This will decrease the agency mREIT's net yield spread, which is leveraged to provide a high-yield to shareholders. Operation Twist is likely to cause agency mREITs to sustain a rise in book value per share and a decreased dividend payout due to a flattening yield curve.
Disclosure: I am long AGNC, HTS, NLY, CYS.