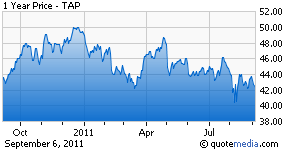 It appears that Tuesday is going to start an ugly week in the markets. I think that it is going to pay more than ever to be defensive on any new money you deploy into the market. Stocks in defensive sectors with low valuations, high dividend yields and sticky revenue streams are the way to go. As they say, when the going gets tough, the tough buy beer ... beer stocks that is.
Molson Coors (NYSE:TAP)
– "Molson Coors Brewing Company brews, markets, sells and distributes beer brands. It sells its products in Canada, under the Coors Light, Molson, Rickard's Red, Carling, Pilsner, Keystone Light, Creemore Springs, and Granville Island
brands
". (Business description from Yahoo Finance)
Eight reasons to buy Molson Coors at $42 a share:
1. TAP has good long term technical support in the $41 to $43 price level (See chart).
Click to enlarge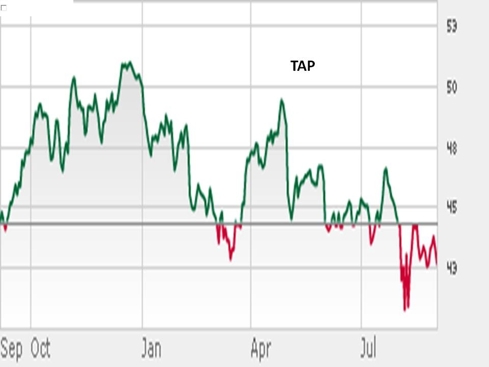 2. Despite the recession it has averaged 12% annual earnings growth over the last five years.
3.
During the last half decade, it has raised its dividend payout by an average of 17% over the last five years. It now yields 3% in dividends.
4.
Molson Coors is selling near the bottom of its five year valuation range based on P/E, P/B, P/S and P/CF.
5.
Two directors have recently purchased shares.
6.
Both Argus and Stifel Nicolaus have upgraded the stock over the last four months.
7.
Molson is a low beta (.73) stock selling at 11 times next year's earnings with sticky revenue streams.
8.
The median analyst price target on Molson Coors is $48 which is same target price that Credit Suisse and S&P have on TAP.
Disclosure:
I have no positions in any stocks mentioned, but may initiate a long position in
TAP
over the next 72 hours.