Last week the market (mainly the media) found some solace in the fact that the Dow Jones Industrial Average had returned to the plus side year-to-date. That is no longer the case; the Dow has slipped back to the dark side. 2011 started out around 11,500 and climbed to a height of 12,800 at the start of May. That was right around the time that President Obama announced the death of Osama bin Laden. This was followed by a pre-summer pull back to around 12,000, then a bounce back up, and then the chance of default surrounding the debt ceiling, resulting in a 15% fall.
Now we are roughly a month removed from that news, but the volatility has been wild -- good news for day traders and computers, not so much for the rest of us. Of the 30 stocks on the Dow, only 8 are in the positive for the year. 10 of the 30 have experienced greater than 10% loses, half of which are down more than 20%. Bank of America (NYSE:BAC) and Hewlett Packard Co (NYSE:HPQ) are the worst at minus 48% and 44% respectively.
With that in mind I am going to suggest some of the stocks that have had a rough year, but are currently offering a stronger than average yield because of it. First off, Bank of America is not on the list because I still think investors should wait on banking stocks until all of the new regulations are fully understood. Hewlett Packard is also not included because it is in the midst of some realignment, meaning that it has completely lost focus and need to go to financial rehab.
None of the stocks I have chosen got killed over the course of the year. They are mostly this low in price because of outside market factors that do not directly affect their operations. Travelers (NYSE:TRV) was left off the list because the aftershock (get it?) to insurance companies from all of this crazy weather could have some detrimental effects to long term profit margins.
Home Depot (NYSE:HD) – America's favorite home improvement store is down 8.59% on the year and because of this it is now yielding 3.10%. It is twice the size of its greatest competitor (Lowe's (NYSE:LOW)) and has a comparable P/E. As you can see in the graph, it is still in the midst of an uptrend and can be bought on the drops.
images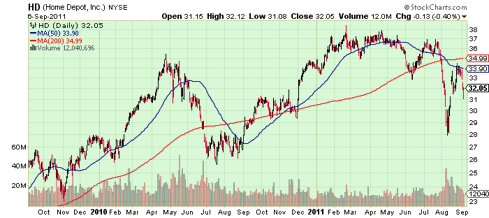 DuPont (DD) – Another pick that is still in a massive upswing over the last two years is DuPont. It is a very large conglomerate that operates in a number of sectors, but mainly chemicals. It has fallen 7.5% on the year and about 16% off recent highs. This gives it a yield of 3.5%, but buyer beware, this has been frozen since 2007; if and when an increase is announced, I'd imagine the stock will get a nice boost. On a completely off-topic side note: you can get a sense of the history of this company by visiting the former DuPont mansion at Longwood Gardens in Pennsylvania.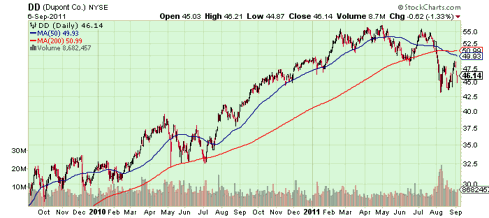 General Electric (NYSE:GE) – Speaking of conglomerates…GE is the largest wind turbine manufacturer in the world. It is also a major player in medical devices, jet engines, and also has a financing branch (GE Finance). One would think that this is way too many tasks for one company to handle, but it's been doing it for a while now. It is down the most of the 5 stocks on this list at 16.6%, and down just under 30% from its year-to-date high. It is currently yielding 3.80%. Its technicals don't really say much, but there may be some support around $14.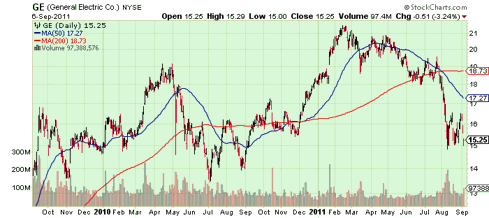 Intel (NASDAQ:INTC) – I like Intel the most on this list because it is by far the number one company in its industry. A solid majority of laptops and PCs use Intel chipsets, and the rest use Advanced Micro Devices (NASDAQ:AMD), meaning there are some definite barriers to entry in this field. Despite this, it is down 7% on the year and 17% off recent highs. It is yielding 4.3%, and this is on a recent dividend increase. Its last one was after only 2 quarters, and this could signal good things to come in that regard.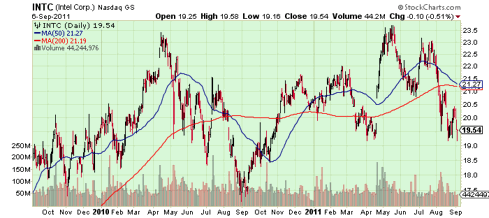 Merck (NYSE:MRK) – It is often said that healthcare is a prudent place to turn in times of market turmoil because it offers some safety as the products have become near necessities. This has not held true for Merck, who is down 10% on the year, and is yielding 4.7%. This seems amazing given the industry, but it does not increase its dividend so you'd have to pray for some price appreciation as well. Or you can load up when times are low, since it's better than holding Treasuries.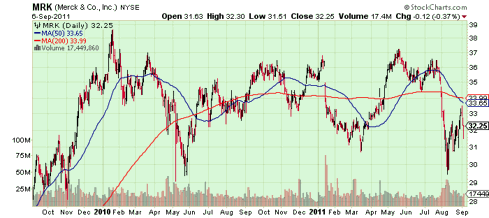 Again, these are five stocks from the Dow that have been hit hard over the course of the year. This is not to say that there are not better picks of the 30 out there right now. For instance, I would always push McDonald's (NYSE:MCD), Coca-Cola (NYSE:KO) and Johnson & Johnson (NYSE:JNJ) over these stocks, but they are all up on the year. These picks would require much greater due diligence and could force you to make the hard determination of when to sell…once you've profited.