One way to understand Annaly Capital (NYSE:NLY) is to use an analogy. Suppose that the company owned two giant portfolios of office buildings, purchased for $48 billion each. One is leased to Fannie Mae (OTCQB:FNMA) and the other is leased to Freddie Mac (OTCQB:FMCC) and Ginnie Mae. To purchase the properties, Annaly borrowed $41 billion on each property and made a cash down payment of $7 billion per property. Annaly's total equity is about $14 billion (in fact this matches the stockholders' equity shown on Annaly's balance sheet as of June 30, 2011).
Now suppose that the market value of the buildings fell by $2 billion per property, a 4.2% drop. Annaly's equity would drop from $14 billion to $10 billion. That is a 29% drop in Annaly's book value, and probably a similar drop in its share price.
Keep in mind that Annaly's financing (borrowing) has an average maturity of only 130 days. Its lenders are under no obligation to renew their loans to Annaly. So in the office building analogy, if the lender on one of the two loans refused to refinance that loan, Annaly would have to sell that portfolio of office buildings and actually realize the $2 billion loss. Its paper equity loss would become a realized reduction in equity of the company.
What Might Cause a Drop in the Value of Annaly's Assets
There are two main things that could cause the value of Annaly's Agency bond portfolio to drop: (1) a rise in interest rates; and (2) concern over the credit quality and/or liquidity of Fannie Mae, Freddie Mac or Ginnie Mae, the three entities to whom Annaly lends the bulk of its money.
Interest Rates
Let's start with interest rates. The chart below shows the rate on the five-year Treasury bill over the past 10 years. This is relevant because the average maturity on the bonds owned by Annaly appears to be closer to five years than to any other Treasury note maturity (as best I could tell from the Annaly financial statements that I reviewed). Currently, rates are at their lowest level of the past ten years. Suppose that rates rose from about 1% to about 3%, which appears to be about the average rate over the past 10 years shown in the chart.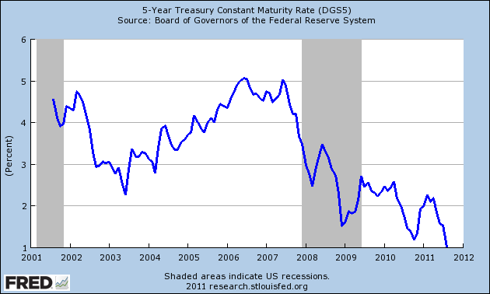 Let's assume for simplicity that the yield on the bonds held by Annaly rises and falls in lockstep with the yield on the five year Treasury note—that the spread between the two yields remains constant. So if the Treasury note is yielding 1% right now, and a Fannie Mae bond with the same maturity is yielding 4% today, then if the Treasury rate goes to 3%, the Fannie Mae yield goes to 6%. What happens to the value of the Fannie Mae bond? We know the value drops, but how much?
The answer is, the value needs to drop enough so that someone buying this bond would get a yield-to-maturity of 6%, which is what they could get if they purchased a new bond (after rates have risen). For a bond with an original yield of 4% to actually yield 6%, the investor would need to pick up about 2% return per year, each year for five years, from appreciation, to supplement the 4% per year in interest payments. In other words, the value of the Fannie Mae bond would need to drop by about 2% x 5 years = 10%. The math here is not precise; it is simply intended to show the order of magnitude of the phenomenon we are investigating.
Returning to the analogy of the two office buildings, we can see that a relatively small move up in interest rates—as little as a 1% rise—could lead to a substantial decrease in the value of Annaly's asset. Because Annaly is highly leveraged (approximately a 6 to 1 debt to equity ratio), a small decline in asset value leads to a magnified drop in Annaly's book value and its likely share price.
Of course, Annaly can hedge this risk to some extent. However, it is likely that Annaly is only able to hedge this risk to a limited extent, just as Southwest Airlines (NYSE:LUV) can only hedge the impact of rising oil prices for a limited period before it must either raise ticket prices or accept lower margins.
Credit Quality
It is unlikely that the U.S. government would allow any default on the bonds of Fannie Mae, Freddie Mac or Ginnie Mae. These three agencies form the cornerstone of America's long-standing policy of supporting and subsidizing of homeownership.
That being said, these agencies are clearly very ill. Since 2008, the U.S. Treasury has needed to pump $140 billion into Fannie and Freddie to keep them solvent, as well as taking over ownership of both agencies (Source: The Economist, Sept. 3, 2011, pg. 72).
America's finances are at the breaking point, forcing the country to rethink many long-held assumptions. The reason Fannie and Freddie must pay more to borrow money than the Treasury is that there is a real risk, admittedly a remote risk, that bondholders will one day have to accept something other than what they are entitled to under the terms of the bonds. To assume that nothing will go wrong, and that Congress will forever write Fannie and Freddie a blank check to subsidize losses, is to make a political calculation. I for one would not want to make such a bet.
Summary
Annaly has built a significant business as one of the world's largest holders of Agency bonds. It uses leverage cleverly, taking advantage of the spread between short term borrowing and medium term lending (the upward slop of the yield curve). It has also found lenders willing to lend at extrodinarily low rates, in part because it is pledging liquid assets with an implied U.S. government guaranty, and Annaly does have "skin in the game" in the form of $14+ billion of cash equity invested that is subordinate to its borrowings, providing Annaly's lenders with a cushion in case something unexpected happens.
Still, it appears that Annaly 's stock is priced to perfection, having benefited from a historic drop in interest rates while remaining tolerant of the increasing risks inherent in Agency bonds as the housing bust and financial crisis unfolded. Annaly is so tolerant that it does not bother having any "Plan B"—it simply plays one game and tries to play it as well as possible. Such focus is normally a virtue for businesses.
Not so for Annaly, in this writer's view. It is hard to see how Annaly's stock price could go up from its present level, unless it was able to begin borrowing at negative interest rates somehow (getting paid by lenders to take their money). And it is fairly easy to see how billions of dollars of Annaly's equity could be wiped out.

A Highly Geared Bet on a Political Decision
Annaly's latest annual report cover features the company's logo, opening up like the face of a grandfather clock to reveal a series of gears inside. Two pages into the report, the company reveals its intended interpretation for the image—Annaly is an economic engine enabling families to buy homes and shareholders to collect dividends.
I interpreted the image a different way, as a fitting depiction of the high leverage and gearing in the company's business model. It is this high leverage which creates the single largest risk for Annaly's shareholders. While collecting Annaly's amazing 14% dividend, Annaly's shareholders need to be prepared for a decline in the company's share price. How investors will fare remains to be seen, but the breathless excitement over Annaly's strong management and high dividend need to be qualified by stating the obvious risk. As every real estate investor knows, leverage is great on the way up, but horrible on the way down.

Disclosure: I have no positions in any stocks mentioned, and no plans to initiate any positions within the next 72 hours.