The market, while off the lows made in August, has experienced a major downturn in light of recent economic data and more worries about Europe. Still, it's easy to forget that stocks are supposed to be priced based on perceptions and outcomes of corporate earnings. In fact, there were plenty of companies that grew earnings faster after the 2009 recession began.
Since August, where stocks got hit hard after the S&P downgrade, the market became afraid of any asset deemed "risky" and flocked to safe havens. US treasuries became one of the most popular assets despite the prospect of inflation looming on the horizon. This has become ridiculous to the point where long-term treasury yields are lower than they were in the depths of the 2009 crash. Also not priced into these fixed-income instruments is the possibility of QE3.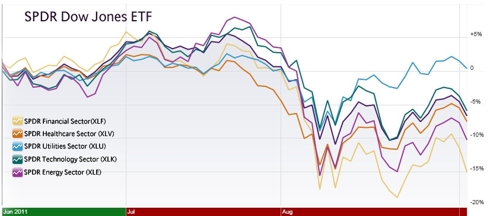 The chart above compares SPDR's sector ETFs relative to the performance of its Dow Jones ETF (NYSEARCA:DIA) over the last three months. On average, financial stocks have been hit the hardest in the August crash while utilities have climbed back to the prices made back in June.
The thesis for the investments put forth here is simple: Despite a bad labor report last Friday and some macroeconomic headwinds (mostly from Europe), the following equities have become strong investments based on valuation and continued revenue growth, which may become the focus as earnings season is around the corner.
Financials: JPMorgan Chase & Co. (NYSE:JPM) is arguably the best major US bank to invest in for a variety of reasons. In addition to being one of the best in terms of operating margin, earnings growth, dividend, and valuation, it is deemed one of the least risky. It is also increasing hiring, adding as many as 10,000 jobs in 2011, as noted in its latest quarterly report.
With troubles in debt markets continuing, JPM's investment banking branch has compensated by increasing its presence in new deals drastically this year while keeping high fees. The shares have dropped to levels unseen since 2009, trading at a mere P/E of 7.14. In addition, this is the only big bank with substantial dividends (now 3%). If the bank can continue revenue growth into Q3 of 2011, there should be a massive correction for these shares to the upside.
Technology: Oracle Corporation (NYSE:ORCL). While I'm less bullish on Oracle now that Europe is in such a mess -- Oracle derives a substantial part of their revenue from EU countries -- the fundamentals still reflect a very strong company which is coming to dominate non-consumer software. Double digit revenue growth, increases in IT spending, strong acquisitions, high margins, and superior products are all factors which make the somewhat expensive stock worth it. The P/E ratio is at about 15.9, and the dividend is a very small 0.91%, but this is a stock primarily meant for growth investors. It has also taken one of the biggest tumbles in the technology sector, falling roughly 18% since the crash began in August. The shares are trading at a great discount and could rally significantly with a good earnings report.
Energy: BP plc (NYSE:BP). While there are other deals in the energy sector, BP takes the cake. It has been hit the hardest of the "Big 5" oil companies in the crash, and is trading at an incredibly low P/E of 5.75, with a huge 4.6% yield. Lately, there have been issues in Russia as the TNK-BP (OTC:TNKBF) partnership was ignored in an attempt to avoid partnership with Rosneft (OTCPK:RNFTF), which resulted in a raid on its Moscow office. In addition, the latest hurricane caused a temporary shutdown of its Gulf of Mexico platforms and the expenses related to the oil spill that occurred there in 2010 ended up costing the company $10 billion. Still, none of this news causes a significant enough dent in the $115 billion company. BP is arguably the most undervalued energy equity available, and would be trading much higher if investors were focusing on fundamentals.
Healthcare: Novartis AG (NYSE:NVS) is an ADR that has been underperforming other healthcare companies so far this week. These last few months have been successful for the company, despite what the tape may say. NVS' new drug Afinitor is set to provide a substantially larger presence for the firm in the oncology medication market, as outlined here, and NVS' pipeline has a huge number of upcoming medications with planned filings in the next two to three years.
Additionally, Novartis has had tremendous revenue growth that has outpaced many of its large-cap competitors despite the underperformance of NVS' shares. NVS' latest quarterly report had some great figures, including 19% sales growth in the last year. For the most part, investors yawned and dumped the shares when the markets began to drop in August. Shares of NVS are about 12% lower than they were in late July, an amazing buying opportunity given the fact that Novartis is in a defensive industry that has been outperforming the market. It's trading at P/E of 13.2, and has a solid 4.22% dividend.
Services: AT&T (NYSE:T) has enjoyed the arrival of the iPhone (NASDAQ:AAPL) to its network, although for the most part T hasn't had any substantial revenue growth. Although its deal for a merger with T-Mobile looks like an impossibility, the shares are still fundamentally cheap and have become even more undervalued since the latest market crash. Trading at a P/E of 8.4, and with the highest yield on the Dow Jones Industrial Average (6.2%), the shares are a very safe bet with upside potential given a half-decent earnings report.
Materials: BHP Billiton (NYSE:BHP) is a deeply undervalued raw materials producing company which has fallen roughly 12% since the start of the August crash. BHP's been experiencing great revenue growth (36% gain year on year referencing BHP's latest annual report), which is certainly not reflected in the P/E of 9.4. In addition to its dominant position in the industry and long history of rapid growth and success, the stock has a 2.5% yield, which makes it a great long-term investment. Investors may realize this again at the end of the month, as BHP releases its quarterly results.
These equities are deeply undervalued for a variety of reasons. For the most part, investors have blindly dumped shares in a giant selloff due to fears of a double dip recession. This is still less likely than a continuation of the current environment of just slow growth; thus, the companies on this list are great buys, especially when earnings season starts and people begin to look at the numbers again.
Disclosure: I have no positions in any stocks mentioned, but may initiate a long position in BHP, BP, NVS over the next 72 hours.