I've decided to construct a 30-stock portfolio based on the
size and yield filters
described earlier, since my
originally proposed simple model
(DA+) based on the Dividend Aristocrats already had a bias toward larger cap stocks. I will outline my process and discuss some of the interesting findings along the way. I wasn't sure what to expect when I started this, and I definitely have some concerns. This model will serve as a benchmark for comparison purposes and a starting point for conversation about developing an optimal consistent dividend growth portfolio.
First, a huge thank you to David Fish for his publication of the Dividend Champions and Contenders (DCC)
lists in Excel format
. Without this, I could not have performed the sorting and statistics for this effort. I combined the Champions and Contenders into one document, sorted it by industry, and then removed the REITs and MLPs because the U.K. research excluded investment trusts. Also, since I planned to sort by highest yield, I feared the list would be dominated by these stocks. To allow readers to follow along, my Excel workbook can be downloaded
here
. The edited DCC list is the second tab. I used the July 2011 file, as I wanted to start my model portfolio on August 16 to match the start date of my DA+ portfolio.
After removing the REITs and MLPs, the DCC universe consisted of 224 stocks. I added a sector column, and the table below shows some group statistics. For the DCC universe, based on number of stocks (count), there is a heavy tilt toward financials and industrials. I found this interesting, given the recent financial collapse, yet these 53 financial firms continued to raise their dividends through this period. While they may deserve credit for this feat, I personally find it difficult to allocate 24% of my funds to financials. Furthermore, if you examine the market cap values, these are small financials, making up just 4% of the overall DCC universe market cap. Conversely, the 10 energy stocks (4% by count) account for 20% of the market cap. The research study purchased equal dollar amounts of every stock in the quartiles it studied. Unfortunately, I couldn't find any information on distribution over different sectors for that study, which I believe is important for diversification.

This presented my first challenge: How to weight my model portfolio? I chose to split the difference and averaged the count and market cap percentages. Then I used a formula to determine how many stocks should go to each sector based on this weighting, with the requirement that each sector gets at least one stock. Funds would then be equally weighted to these 30 stocks, as the research found equally weighted portfolios had higher returns. The final portfolio distribution, based on equal weightings, is in the second to last column. It compares pretty closely with the S&P 500 distribution, with info tech reduced and consumer staples overweighted. If my goal is consistent income with less volatility, that's a trade off I can live with.
Size Filtering – Top 25% and the DA+ Portfolio
I proceeded to sort the DCC universe by market cap and highlighted the top 25% (56 firms, see next tab in the file). The U.K. research found that stocks in the Top 25% based on market cap underperformed the other 75%, so I wanted to analyze these two groups. As seen in the table below, the top 25% had fewer financials, with higher weightings for consumer staples and industrials by count, and consumer staples and energy by market cap. Applying the same weighting technique already discussed, I arrived at a portfolio that was overweighted in consumer staples and underweighted in financials and info tech, relative to the S&P 500.

Some presumably interesting data points about this group:
21 of 42 Dividend Aristocrats are in the Top 25% by market cap, and two just missed the cut.
21 of the 30 stocks in my DA+ model portfolio are in this group; therefore, the DA+ portfolio is a representative sample of the top 25% subgroup for comparison purposes.
Top 25% averages as of July 31: Yield = 2.77%, payout = 36%, five-year EPS growth est. = 10.3%, and five-year DGR = 11.6%.
DA+ averages as of July 31: Yield = 3.77%, payout = 46%, five-year EPS growth est. = 8.2%, and five-year DGR = 10.5%. So the DA group has higher yield with lower growth than the complete top 25% portfolio.
The Bottom 75% (Smaller Caps)
Next, I removed the top 25% stocks to yield a DCC list with just the smaller cap stocks. Again, I sorted by sector and yield and generated some group statistics. As expected based on the previous work, this group contained a high number of financials, but with the larger cap stocks removed, these stocks now accounted for a larger portion of the subgroup based on market cap. I was surprised that energy stocks were practically gone and industrials made a strong showing. Using my average weighting process produced a distribution that I am not very comfortable with, particularly the 20% financials and 20% industrials.

This group had an average yield of 2.78%, about the same as the overall DCC universe. Its historical dividend growth rates all came in lower than those of the DCC universe respectively, though the standard deviations were also lower (tighter range of values). This is consistent with smaller firms investing more of their earnings back into the business. However, income investors would likely prefer to see higher dividend growth rates and yields.
Constructing a Higher Yield Portfolio
To address the income issue, I decided to apply another recommended filter from the U.K. research. The study found that higher yield stocks had higher total returns over the long run. Starting with the bottom 75% group, I sorted each sector by yield, and selected the top yielding stocks from each sector based on the calculated distributions. I had concerns about some of the stocks with high payout ratios, and chose to perform a brief analysis of any stock with a payout of 80% or higher (around 10 fit this category). If 2011 estimated earnings did not cover the dividend and/or if the firm's operating cash flow failed to cover the dividend payout for more than one of the last four quarters, I removed the stock and selected the next one from the list as a replacement. I admit this is not a very in-depth analysis and somewhat subjective, but I considered it more of an "avoid potential harm" filter. Others may come to different conclusions and choose to keep these stocks.
The removed ones are highlighted in orange on the Excel page, and those highlighted in green are the keepers. This process yielded the following list of 30 stocks. I based the yields on the August 16 pricing, as that is the date I started the DA+ portfolio and I wanted to have consistent data for comparisons. The resulting DCC-SmallCap-HiYield portfolio has a slightly higher yield and beta than the DA+ model, but the beta is still less than one. The group statistics for this portfolio are summarized in the next section and compared to the other subgroups.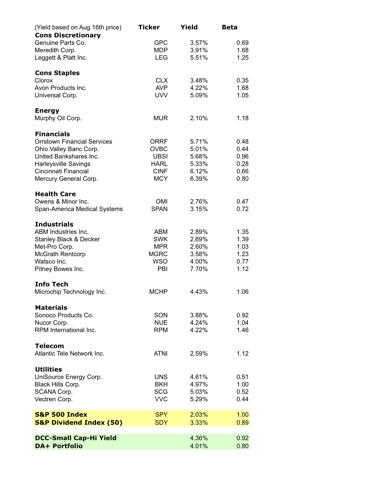 Note: For the DGR and EPS numbers in the above table, I removed any value that was over 50% or under -50%, as I considered them outliers that skewed the percentages and std devs. This mostly affected the one-year data. I wanted to get more representative averages, so I chose to remove these values when building this table, but I restored the original values in the Excel file data tables. Also, there is some survivor bias in that any firm with a negative DGR would get dropped from the DCC universe.
Based on historical results, the DCC-SmallCap-HiYield portfolio had the highest yield of all the groups, which surprised me. I expected small caps to invest more and payout less, though I did filter to take the highest yielders from each sector. This group also had the highest payout ratio, and lower dividend and EPS growth rates. Given that the yield is 50% higher than the top 25% group's yield, the lower dividend growth rate may not be a huge short-term issue to income investors, as it would take some time for the top 25% group's yield to catch up (at 5 percentage points difference per year, around 10 years). However, the DA+ portfolio offers a comparable yield with lower payout ratio and slightly higher dividend growth rates than the small cap portfolio. Regardless of the research, I would feel more comfortable with the DA+ portfolio based on these group statistics and the greater stability offered by larger cap firms. Time will tell which produces the higher total return and income growth.
Concerns About the SmallCap-HiYield Portfolio/Process
In the process of constructing the small cap portfolio, some concerns surfaced.
The portfolio is heavily weighted in financials and industrials. Should my weighting formula be adjusted, or should I simply go with whatever the DCC universe weightings are (and which one, market cap or count)?
Some of the bank stocks have low trading volumes (less liquidity), very small market caps, and low one-year DGR (< 3%). Perhaps they should be avoided? Should there be higher standards for financials given recent events (i.e. take less yield, require a minimum mkt (or market) cap, lower payout ratio and/or higher growth rates)?
There are some interesting businesses, particularly in the industrials sector, but I haven't heard of over half of the stocks in this portfolio. There is probably less information and analysis available on these firms collectively. While this could lead to opportunities for more alpha, without doing more in-depth research on each firm, it's harder to feel comfortable with these holdings since I'm not familiar with them.
Dividend growth was not part of this screening process. Income investors are interested in yield, but they also want the income stream to grow consistently and ideally above the rate of inflation (~2.5-3.0%). The research discussed not owning the highest growth rate stocks and I would argue for also avoiding the lowest ones. I'm looking at a way to incorporate this idea in a future screen.
Removing the large caps eliminated several firms with good yields and high dividend growth rates. While small caps may offer higher total returns in the long-term, are we throwing out the baby with the bathwater? Income investors would likely feel more secure with Johnson & Johnson (NYSE:JNJ) and appreciate its high DGR, over some unknown small cap with a lower DGR.

I created a virtual portfolio (effective Aug. 16) to begin tracking the performance of the DCC-SmallCap-HiYield stocks, and will provide quarterly updates along with the DA+ portfolio. In both of these model portfolios, I invested $10,000 in each of 30 holdings, and plan to rebalance just once per year (after Dec. 31), at which point any dividends will be reinvested. I'm also tracking the
SPY
and
SDY
as benchmarks.
Given my concerns, I plan to refine this model to incorporate dividend growth, add back some large caps, and hopefully arrive at a list that I feel more comfortable and confident about. The challenge will be to find a logical, systematic process for making the decisions. This effort was useful in creating a process for constructing a small cap portfolio from the DCC lists that serves as a benchmark for comparison purposes.
Disclosure:
I am long
COP
.