I bought into Sirius Satellite Radio (NASDAQ:SIRI) in June of 2004, for $3.08 and sold it in November of 2004, for a little over $6.00; I can't remember the selling price exactly it was so long ago. I know it was nearly a double for me. I felt like I may have made a mistake when the stock continued to rise into the end of the year, but felt better about my trade over the past seven years as SIRI has continued its downward spiral into oblivion. I am a huge fan of Cameron Kaine and Spencer Osborne, two Seeking Alpha authors who are long SIRI and frequently write about SIRI's prospects with a positive slant. Their last few articles have prompted me two drop in my two cents due to the fact that I strongly disagree with their analysis. I believe SIRI is a "Sell, Sell, Sell" as Cramer would say.
Four Major Reasons SIRI is a Sell
Endlessly Increasing Competition
SIRI is facing more and more competition from out of nowhere. I posit that several of the current alternatives to SIRI are only at the startup phase and will begin to eat away at SIRI's subscribership at a much faster pace as the new technology is embraced. The current competition includes, HD Radio, Internet Radio, Terrestrial radio, the iPod and recently smartphone dashboard integration, which plays Pandora (NYSE:P), Slacker, Spotify, iHeartRadio, or iTunes. Here is the kicker, I believe that 5 years from now the way we access and listen to the radio and music will be completely different due to technological innovations and SIRI Satellite radio won't even exist. When I owned the stock seven years ago I had no concerns about competing technologies, its main competition was XM radio, another satellite radio company it eventually merged with. Then out of nowhere came the iPod. It took less than a year for Apple (NASDAQ:AAPL) to develop the iPod, which was unveiled on the 23rd of October, 2001. The iPod was marketed as a product that put 1000 songs in your pocket. While sales were quite slow in 2002 and 2003, the iPod increased in popularity rapidly during 2004, 2005 and 2006, as SIRI's stock continued its downward spiral. Today, more than 40% of Apple's profits come from iPod sales. Who knows what the next evolution will be, all I know is there will be one and it may just put the final nail in SIRI's coffin. As the use of smartphones for everything from GPS to internet access rises, I believe services like the Garmin GPS system and Sirius Radio face extinction.
Low Conversion Rate
SIRI has a less than 50% conversion rate currently. Everyone I know who has received a free trial from Sirius has canceled at the end of the free trial. This is not a good sign. I don't know anyone who has not let the subscription expire. With the introduction of more and more competition, the churn rate may continue to rise.
Consumer Belt Tightening
As we enter a period of austerity for the US consumer concerned about cutting cost, I submit pay radio will be one of the first expenses to be slashed from the budget. There is just too much free content out there for budget conscious consumers. When the US congress completes the second half of the budget cuts, people will begin to tighten their belts even further.
Macro Market Conditions
The big money has already been made in SIRI. The big players have already harvested their profits in SIRI years ago. If you are going to make such a speculative play, why not speculate on something that is not already played out technically? This has been dead money since 2001. The current market environment does not lend itself to speculative tech stocks trading under five dollars. My thesis is to invest in strong blue chip stocks that have just as much or better prospects for growth and a safer risk/reward ratio.
Please review the following information regarding SIRI.
Key Statistics Chart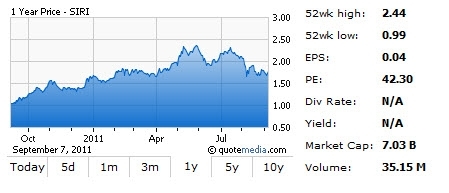 Company Review
Sirius XM Radio Inc. provides satellite radio services in the United States and Canada. It broadcasts a programming lineup of approximately 135 channels of commercial-free music, sports, news and information, talk and entertainment, traffic, and weather on subscription fee basis through two satellite radio systems in the United States; and holds an interest in the satellite radio services offered in Canada. The company is trading significantly below analyst estimates. Sirius has a median price target of $2.40 by 10 brokers and a high target of $2.80. The last up / downgrade activity per yahoo Finance was on Mar 23, 2011, when Wunderlich downgraded the company from Buy to Hold.
Conclusion
I have no chance of matching the eloquence of either Cameron or Spencer, so let me simply say, SIRI has been on a downward spiral for seven years and if you are one of the privileged few to get in at under a dollar and have a significant profit or you are one of the long-term holders who has been caught in the downdraft and are still hoping the stock price will regain its past glory, I suggest you sell your SIRI stock now and buy into the following four strong tech stocks: Apple Inc. (AAPL), Microsoft (NASDAQ:MSFT), Google Inc. (NASDAQ:GOOG) and Intel Corporation (NASDAQ:INTC).
These four blue chip tech stocks have great stories, positive catalysts for future growth, substantially above industry average profit margins and PEG Ratios of less than one. When a company is profitable, and has money to give back to shareholders in the form of earnings, the company has two basic options. It can distribute some of the earnings in the form of a stock dividend. Whatever is not paid out in the form of dividends is placed into the retained earnings, which then become a source of money, or capital, which can be used to help support the growth of a company. The PEG ratio is a broadly used indicator of a stock's prospective worth. It is preferred by numerous analysts over the price/earnings ratio because it also accounts for growth. Similar to the P/E ratio, a lower PEG means that the stock is undervalued. Many financiers use 1 as the cutoff point for PEG ratios. A PEG of 1 or less is believed to be favorable. As Warren Buffett says, "Price is what you pay; value is what you get."
Is the recent sentiment change regarding these strong stocks justified, or is this a case of the baby being thrown out with the bathwater? Considering the broad-based sell-off, I submit it is the latter. There may be more volatility in front of us even with the more than 10% drop in the market recently. Nevertheless this may be a good point to start a position in these highly profitable buying opportunities. As Warren Buffett also says, "We simply attempt to be fearful when others are greedy and to be greedy only when others are fearful."
Moreover, most of these stocks are trading well below consensus analysts' estimates. Several have recent upgrades and positive analyst comments. Nonetheless, this is only the first step in finding winners for a portfolio. Please use this as a starting point for your own due diligence.
Below are two tables with detailed statistics regarding each company's current summary and fundamental information, followed by a brief review of each company, detailed current analysts' estimates and up/downgrade activity, then a chart of the company's key statistics.
Summary Statistics (Click images to enlarge):



Fundamental Statistics (Click images to enlarge):



Company Reviews
Apple Inc., together with its subsidiaries, designs, manufactures, and markets personal computers, mobile communication and media devices, and portable digital music players, as well as selling related software, services, peripherals, networking solutions, and third-party digital content and applications worldwide. The company is trading significantly below analyst estimates. Apple has a median price target of $500 by 46 brokers and a high target of $666. The last up / downgrade activity was on Aug 15, 2011, when Hilliard Lyons initiated coverage on the company with a Buy rating.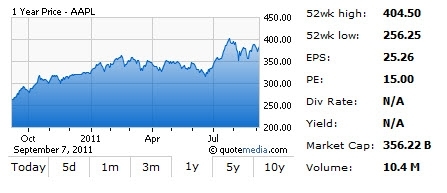 Microsoft develops, manufactures, licenses, and supports a range of software products and services for various computing devices worldwide. Microsoft was founded in 1975 and is headquartered in Redmond, Washington. The company is trading below analysts' estimates. Microsoft has a median price target of $32 by 24 brokers and a high target of $36. The last up/downgrade activity was on Feb. 17, when Collins Stewart initiated coverage on the company with a Buy rating.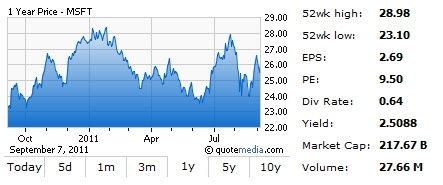 Google Inc. maintains an index of Web sites and other online content for users, advertisers, Google network members, and other content providers. The company is trading significantly below analysts' estimates. GOOG has a median price target of $730 by 34 brokers and a high target of $830. The last up/downgrade activity was on Aug 15, 2011, when Hilliard Lyons initiated coverage on the company with a Buy rating.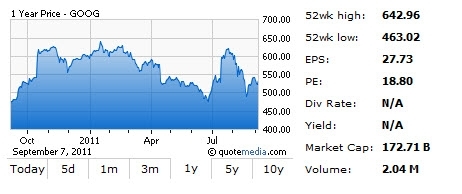 Intel Corp. engages in the design, manufacture, and sale of integrated circuits for computing and communications industries worldwide. Intel was founded in 1968 and is based in Santa Clara, California. The company is trading below analysts' estimates. Intel has a median price target of $26 by 35 brokers and a high target of $32. The last up/downgrade activity was on Aug 8, 2011, when Standpoint Research upgraded the company from Hold to Buy.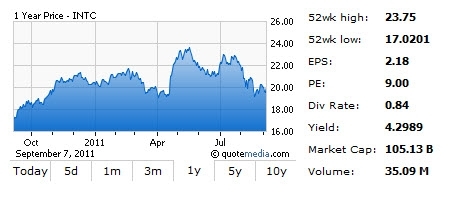 Disclosure: I have no positions in any stocks mentioned, but may initiate a long position in GOOG, MSFT, AAPL, INTC over the next 72 hours.