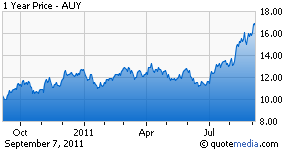 Yamana Gold (NYSE:AUY) continues to hit the sweet spot for investors as exploration programs yield success and earnings continue to explode on the back of record gold prices.
The second quarter yielded production of 278,737 gold equivalent ounces (geo) at a net cash cost of negative $80 per geo including Alumbrera and negative $2 excluding Alumbrera. Gold production for the quarter reached 232,138 ounces and silver production jumped to 2.3 million ounces.
Cash flow from operations increased in the second quarter to $331 million, or $0.44 per share and $615.4 million or $0.83 per share over the first six months of 2011. The cash margin for the second quarter came in at $1,589, amazing considering the company's operations are located in Brazil, Argentina and Chile.
The balance sheet shows considerable strength with $520.9 million in cash and cash equivalents, an increase of $90 million despite $310 million in capex so far in 2011.
The hedging program has yielded significant benefits to operations in the inflationary environments of Brazil and Argentina. Over the second half of 2011, 55% of Brazil's operating expenses have been hedged at a rate of 2.08 Brazilian reals per USD.
Construction of the Mercedes mine in Mexico continues to move forward with start-up production now expected at the end of 2011, ahead of the initial estimate of the second quarter of 2012.
In my last article found here, I remarked about the explorations success Yamana has achieved so far in 2011. Yamana is firing on all cylinders with current operations. The exploration success feeds into current and future operations as the cost to expand deposits through exploration is cheaper than acquiring new assets.
Cash flow is being returned to shareholders as evidenced by the jump in the annual dividend to $0.18 per share despite a significant capex spending in the first half of 2011.
With annual gold production set to rise by 40% over the next three years and operations showing negative cash costs Yamana is literally firing on all cylinders.
The stock price has broken out and moving to new highs as investors lock into Yamana's story this year. For those who do not think there may be enough value left in the stock, Yamana currently trades at a Price/Cash Flow ratio of 13.2 against 16.8 for industry leader Goldcorp (NYSE:GG). If the price of gold and Yamana's gold margins hold at current levels ($1,600 assuming some decay) for the year we are looking at approximately $1.60 per share in operating cash flow and a 10x Price/Operating Cash Flow ratio.
Investors reviewing gold stocks should take a close look at Yamana as a core holding for their portfolios. Technically, the stock is overbought but any pullback should be looked at as a buying opportunity for investors.
Disclosure: I am long AUY, GG.