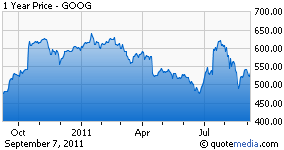 On May 16, 2010, I wrote that mobile kills the model for Google (NASDAQ:GOOG) and the stock is only up 7.3% since then. I made the claim that GOOG wasn't worth more than an aggressively low price target $360.00 based on matured growth rates. The closest the stock came of my target was $433.63 on 7/6/10. I got close, but GOOG still needed to fall another 16% before hitting my target.
Back then, I was being pessimistic by questioning Google's future growth rates and sustainability. Fast forward to today, I see things from a more positive perspective. If everything goes to plan for Google, I believe they have the potential for another round of explosive growth, which should result in another GOOG bull market. That doesn't mean I am buying GOOG tomorrow. It's on my wish list if the market deteriorates to levels where I can potentially scoop up GOOG for a fire sale price. That is, if all goes to plan.
A lot of doubts of Google's future products have come into question over the years when first introduced. The most recent success, thought-to-be-failure, was Android OS. Granted, it took Android OS nearly 3 years to get on top, but now it currently holds the largest share of Smartphone subscribers, according to ComScore. When Google wants something to really work out, they put a ton of resources behind it.
That's exactly what they've done with their new line of laptops, called a Chromebook, which run on a new Google branded computing operating system, ChromeOS. ChromeOS is based on, and behaves just like Google's Chrome Browser for mainstream personal computing operating systems. The major difference between using a conventional laptop and using a Chromebook is that on a Chromebook, everything is done and stored online in the cloud. To use a Chromebook, a Google account is necessary and ties the entire experience together across the multitude of products Google currently offers.
It is my view that future earnings growth sustainability for Google depends on the success of Chromebook(s) and ChromeOS alike. As a comparison, Google's Chrome Browser has done very well since its introduction nearly 3 years ago, and now commands over 18% of market share. Chromebooks, on the other hand, have not been well received yet, albeit they have only been available to the public since June 2011. I think it will take a few more years before this new computing concept has meaningful traction for consumers, businesses, and educators.
When a person or organization switches their computing habits to relying heavily on the cloud, some considerations must be made:
Is my data secured?

What will change?

Would I lose any compatibility?
Number 3 is the main issue behind the Chromebook: Compatibility. From my experience, users are often reluctant to forego compatibility to change computing habits. I seriously considered purchasing a Chromebook, but after thinking about specific instances where they fail, I hesitated.
The only reason it failed to me is not because I think it's an overpriced netbook, I don't. It's because Google Apps, mainly Google Docs needs to better improve on cross compatibility with Microsoft (MSFT) Office products before I feel comfortable I can 100% do the job from a Chromebook without any add-ons.
Simple and plain: Google needs to do a better job with their compatibility before people take Chromebook(s) seriously. And I won't be going long GOOG until that happens.
Disclosure: I have no positions in any stocks mentioned, and no plans to initiate any positions within the next 72 hours.