There's a little country (population-wise) near the Arctic Circle that posts fascinating opportunities and insights for both traders/investors and political/social scientists. Norway only has a population of about 5 million, but has one of the best fiscal/monetary balance sheets in the world … and a free-floating currency that may potentially become a relative safe haven when compared with the Euro, Dollar and others.
Norway has the 2nd highest GDP per capita and 4th highest GDP PPP per captia (with purchasing power included) in the world. Additionally, the unemployment rate is around 3% and both hourly productivity and hourly wages are among the highest in the world. Yet at the same time Norway offers a generous social safety net in the form of free healthcare, among other benefits. [most data from Wikipedia]. Certainly the fact that Norway sits upon some large reserves of oil helps it to achieve this relative economic success and stability in the current global economic slowdown.
What opportunities are there for US investors and traders to profit from Norwegian growth and healthy balance sheets? Well, the choices are somewhat limited currently, but let's examine them starting with an Exchange Traded Fund and various stocks:
ETF-wise, the main US based security to trade Norway is the Global X Norway ETF (NYSEARCA:NORW), which doesn't trade much volume and doesn't currently have options listed. The top holdings of NORW (with sector) as of 8/31/2011 are (data from MSN Finance and Forbes):
Statoil (NYSE:STO) [Oil & Gas]
DnB NOR [Financial Services]
Telenor [Telecommunications]
Seadrill (NYSE:SDRL) [Oil Services]
Yara International [Chemicals]
Subsea 7 [Oil Services]
Orkla [Conglomerate]
Norsk Hydro [Aluminum]
Storebrand [Insurance]
Royal Caribbean Cruises (NYSE:RCL) [Cruise Lines]
Of these, only the 3 listed symbols (STO, SDRL, RCL) above trade on US exchanges. However, they all may be available for purchase through your brokerage house in the form of Ordinary shares or other methods — check with your broker.
Nearly 75% of the NORW ETF is made up of these Top 10 holdings and Energy & Financial Services are by far the biggest sector with 67% of the assets in those groups.
Some of the other biggest Norwegian-based public companies not in the list above include:
Gjensidige Forsikring [Insurance]
Aker Solutions [Construction Services]
SpareBank [Financial Services]
The Norwegian currency known as the Krone does trade versus the Dollar, Euro and British Pound among others — check with your Forex broker for availability. However, there currently are no listed ETFs in the US that trade any of these currency pairs – however ETF Securities on the London Stock Exchange does have some ETF-style securities on these Norway Krone currency pairs, check with your brokerage house for availability. (NOK) is the normal symbol for the Norwegian Krone in forex currency trading.
Similarly, there aren't many Norway-focused Mutual Funds available to US-based investors. However, when one encompasses the Scandinavia region there is another ETF available (and there are Nordic/Scandinavia Mutual Funds). This region includes Denmark, Norway and Sweden primarily. One of the listed ETFs available would be the Global X FTSE Nordic 30 ETF (NYSEARCA:GXF). GXF does not have options trading available currently.
Let's take a look at the relative performance of NORW and GXF as well as the Norwegian Krone - (click charts to expand):

NORW Daily Chart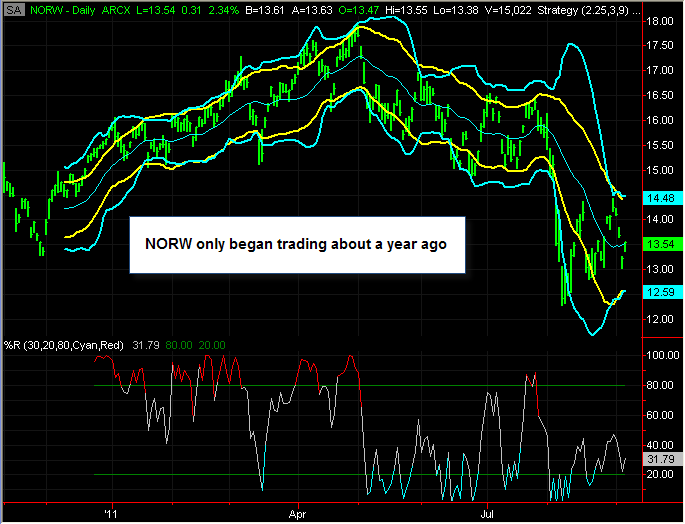 SPY vs GXF vs NORW Relative Performance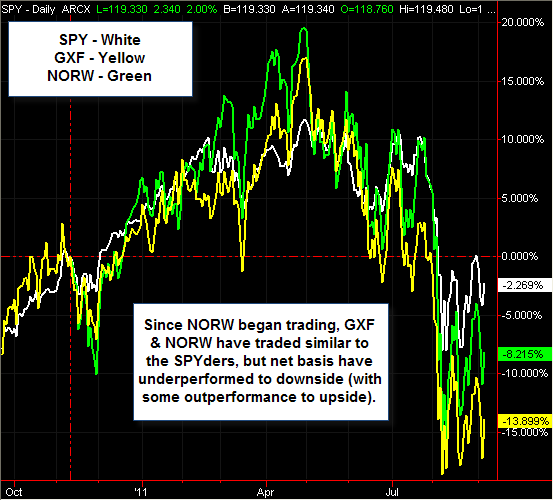 You can see above that both NORW and GXF are in downtrends currently, basically in line with the broad market here. On a relative basis, they have also patterned the S&P 500 Index ETF (NYSEARCA:SPY) (SPX), with more upside potential and downside risk thus far.
And since Oil is a big contributor to Norway's relative wealth, let's take a look at the performance of NORW versus the Crude Oil ETF (NYSEARCA:USO):
NORW vs USO Performance Chart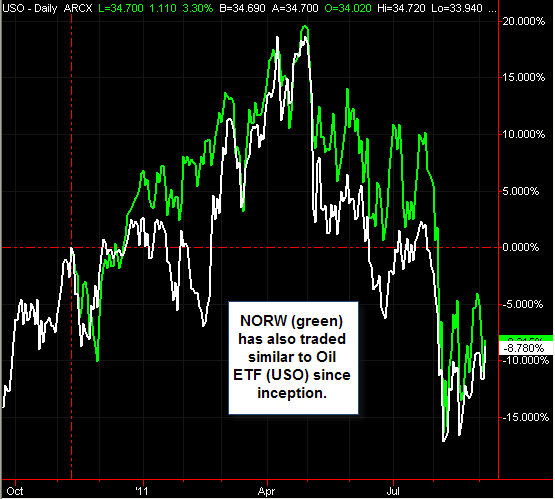 Again this looks very correlated currently, although future correlation between NORW & SPY and/or USO may not be as close — especially if more investors & traders become interested in this region of the world.
Now let's take a quick look at the Norwegian Krone currency versus the Euro and the US Dollar. Has it been a safe haven?
The answer recently is no. In fact, the Norwegian currency has lost value in comparison to both the Euro and US Dollar in this time frame. The trading value of the Nor. Krone may be influenced strongly by fiscal/currency policies of the Norwegian government, so do your research on this before trading.
Bottom line to me is that both Norway and the Scandinavia/Nordic region may become more attractive to investors and traders in the future due to strong national balance sheets. However, individual companies each have their own story and will require due dilligence as always – and currently it's not showing a relative outperformance indicating that big buyers have begun jumping in.
Disclosure: I have no positions in any stocks mentioned, and no plans to initiate any positions within the next 72 hours.