Fuelcell Energy Inc. (NASDAQ:FCEL) shares were up sharply in trading immediately after the company announced third quarter results. The company generated its first (albeit tiny) quarterly gross profit, and showed year-over-year quarterly growth in revenue of 65 percent. These are positive indications that the business is moving in the right direction.

Quick Summary
After many years in the wilderness, the company looks to be approaching profitability. However that financial success is almost completely based on one project in South Korea. There isn't enough evidence of long-term viability and we don't think that Warren Buffett would buy this stock, but as speculative investment we expect a short term profit.
Introduction
Fuel cell companies have lost investors a lot of money over the past ten years. Sky high expectations and valuations led to some spectacular disappointments and losses, but it seems like there is a glimmer of light at the end of the tunnel. Pure play public fuel cell companies are still losing money but the losses are shrinking as the companies reduce their costs, build production volumes, and narrow their focus to a smaller number of applications that are getting traction in the market.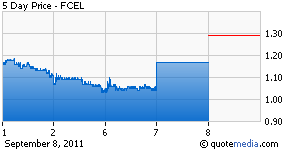 What is a fuel cell?
Simply put, a fuel cell is a device that converts fuel like hydrogen or natural gas into electricity through a chemical reaction. Fuel cells can be more efficient and more environmentally friendly than conventional alternatives for generating electricity (such a diesel engines or gas turbines). Fuel cells come in all sizes, from units that can power a single house, a single car, or a fork lift truck, up to megawatt units that can feed a factory or help feed the grid.
Unlike batteries, fuel cells do not need to be recharged. The fuel cell can keep running as long as there is a source of fuel.
Fuel cells for power generation apps are getting help from governments, either through financial incentives, or through pressure on government users and companies to find ways to use renewable fuels.
In an earlier article we listed some of the benefits, markets and technical challenges around fuel cells.
FCEL was founded in Connecticut in 1969. The core fuel cell products ("Direct FuelCell®" or "DFC® Power Plants") offer stationary power generation for customers. The products can range from 100 kW to over 2 MW in capacity. Fuel cells provide continuous power to on-site customers and grid-support applications. They can operate on a variety of hydrocarbon fuels, including natural gas, renewable biogas, propane, methanol, coal gas, and coal mine methane.

The company's vision is "to provide ultra-clean, highly efficient, reliable distributed generation baseload power at a cost per kilowatt hour that is less than the cost of grid-delivered electricity. Our power plants provide electricity that is priced competitively to grid-delivered electricity in certain high cost regions of the world."

Revenue and Customers

FCEL product sales and revenue in the third quarter were $29.4 million compared with $16.2 million in the prior year quarter, due to increased demand for its power plants.

FCEL's growing revenue and backlog is to a great extent dependent upon actions of the S. Korean government and Posco Power:
From the company press release:
"Posco Power of South Korea is aggressively installing new and renewable power generation to reduce pollutants and carbon emissions while simultaneously developing a clean technology industry to create jobs. South Korea adopted a renewable portfolio standard that takes effect in 2012 and mandates approximately 6,000 MW of new and renewable power through 2022, including fuel cells operating on either natural gas or renewable biogas.

Using fuel cell components supplied by FuelCell Energy, POSCO Power assembled their first fuel cell stack during the third quarter of 2011 in their recently built fuel cell module assembly plant and installed the completed power plant at a customer site. The POSCO Power fuel cell module assembly and balance of plant facilities are designed for 100 MW annual capacity, using fuel cell components purchased from FuelCell Energy. To date, POSCO Power has ordered 140 MW of fuel cell power plants, modules and components since 2007."
Posco is also starting to work with FCEL in the early stages of a plan to develop fuel cell markets in other Asian countries.
Activities outside Korea.
FCEL has a been taking advantages of government encouraged programs in California and Connecticut.
PG&E, one of the largest utilities in California, purchased two 1.4 MW power plants in June 2010 for installation at two California universities.
Three new DFC plants in the San Diego region totaling 4.5 MW that are expected to begin operations soon.
Orders for new projects in California are expected to grow with the introduction of new policy and programs such as the feed-in tariff that supports combined heat and power (CHP) distributed generation, including CHP configured fuel cells.

Connecticut adopted a comprehensive clean energy policy in June 2011 to expand energy efficiency and adoption of renewable power, including a long-term renewable energy credit (LREC) program.

An Orange County Wastewater treatment facility is showcasing the versatility of DFC power plants to produce clean power as well as renewable hydrogen for fueling vehicles or industrial purposes.
FCEL also mentioned that they are actively recruiting partners to expand into Europe.
Cost Control
A significant milestone for the company is that the product cost-to-revenue ratio was 0.99-to-1.00 for the third quarter of 2011 compared with 1.24-to-1.00 for the third quarter of 2010.
The company has stated that it expects to have to ship 80-90 MW per year to get to profitability. To put this in perspective, the company currently estimates its shipping capacity as 56 MW, compared with 22 MW one year earlier. Also the company has a 180 MW install base, and the Posco order is for 70 MW spread out until October/2013.
The company is not forecasting large investments to get to the 80-90 MW hour capacity number:
"Our overall manufacturing process (module manufacturing, final assembly, testing and conditioning) has a production capacity of 70 MW per year. We are expecting to continue to increase production volume based on continued order flow. By investing $5 million to $7 million for upgrades and maintenance of production assets, maximizing existing assets, operating at full capacity (e.g multiple shifts 24 hours per day, up to 7 days a week) and making other improvements, we estimate that we can increase capacity from 70 MW to 90 MW of annual production."

Cash
It appears that the company could reach profitability without an additional dilutive financing. Total cash, cash equivalents and investments in U.S. Treasuries were $49.5 million as of July 31, 2011. Net use of cash, cash equivalents and investments in the third quarter of 2011 was $5.5 million. Additional cash may be needed to expand capacity past break even profitability.

Risks - Speculative
Positives – The Company has built experience and credibility and reduced production costs through some 80 installed power plants. It is likely that governments will continue to encourage the use of environmentally friendly power generation, and renewable fuels regardless of whether the economy is good or tight. Its cash burn rate is down to a level that could avoid any further dilutive financings. Cost control is moving in the right direction.
Negative – The revenue stream is highly dependent on one partner and the policies of S. Korea. A failure in the success in the Posco relationship would be detrimental as no other revenue stream looks like it would be up within 24 months. Although the company is making progress in proving the long-term viability of its products, the technology has not been widely proven over multiple-year terms. Competitive viability is difficult to assess over the long term.
We rate the investment as short term speculative buy. By short term I mean re-evaluate after every significant price move and significant information release. People want to believe in fuel cells, and this company is showing signs that it might get "over the hump." On the other hand, we would wouldn't fall in love with this stock for the long term. Without its one customer, it would be in trouble.
Valuation
FCEL is making progress, and we think we see a road to success. Nevertheless, long-term valuation of FCEL is very difficult. Who knows what the long-term growth rates and profitability will be? We aren't even going to try. We doubt Warren Buffett would buy this stock, but we see a short-term and speculative investment at prices below $2.00 based on the company approaching profitability - while watching for the company to diversify its customer base over the next two to three quarters.

Disclosure: I have no positions in any stocks mentioned, and no plans to initiate any positions within the next 72 hours.