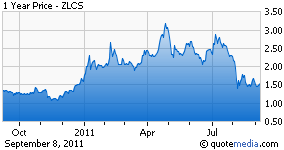 On Wednesday, Zalicus (ZLCS) followers tuned in for the long awaited Stifel Nicolaus Healthcare Conference presentation. Expectations ran high and the edited rebroadcast for listening version is available here. Thankfully, the Powerpoint presentation only got stuck once as heard during the live presentation, but most of the slides rehashed previous presentations.
As expected Synavive's phase 2B clinical trial is on track. No real news here except an admission from the CEO during the Q&A that most likely a safety study will need to go well beyond 2012 to satisfy the FDA should Zalicus entertain taking Synavive into phase 3. What does that mean? It probably won't be until late 2013 before Synavive enters phase 3, if ever. But most Synavive followers already know this and more than one remains optimistic and bullish.
As expected listeners heard the repeated "hope" that one or two of its ion channel candidates (Z-160 and Z-944) are targeting phase 1 clinical studies by the end of the year. Unfortunately investors did not get to hear how the pre-qualifying studies for phase 1 were going, other than they are going. The mantra for Z-160 is getting old; it's hoped its bioavailability problems have been resolved; problems that caused Merck (NYSE:MRK) to cancel the original collaboration for NMED-160. Otherwise, investors didn't hear more than generalizations and faint references to a sodium channel program that is still in the pre-clinical stage of development. I'm beginning to think the cash-burning program of CSO Dr. Snutch is light-years away. Nevertheless, I still find the science intriguing.
As expected investors heard about Zalicus's collaboration with Novartis (NYSE:NVS). Although investors still haven't heard a word about forth-coming milestones, so as of now, nothing must be expected. But where is Amgen (NASDAQ:AMGN)? Or Eisai? Apparently, their pilot programs have been completed and I can only assume they are no longer doing business with Zalicus. But more disturbing is the dead silence on Zalicus gaining a new collaboration similar to Novartis. That's one year, eight months under CEO Corrigan's regime. Zalicus can talk until the cows come home, but where's the new collaboration?
As expected devotees to Zalicus heard about Exalgo. Once again they were treated to the cracker-jack Covidien (COV) sales force (275) who apparently have let it slip to Zalicus's CEO Corrigan that sales will not pick up until the 32 mg version of Exalgo is made available. Listening to the Q&A session it sounds like Zalicus has been nipping at Covidien's heels to file the paperwork for the 32 mg version, but to date that has not happened. CEO Corrigan summed up the discussion by saying it was out of Zalicus's hands. Oh boy! With the patent set to expire in 2014 and Watson already hot to move in, it's hard to accept Covidien's $200-300M/year sales mantra. To date, everyone who follows Zalicus knows its royalty payments received from Covidien in 2011 have been a disappointment. With the 32 mg version on hold for reasons Covidien is not disclosing, it's hard to dream of lucrative royalty payments calculated in tiered single digits.
The brightest moment came when by some miracle CEO Corrigan spoke about Prednisporin licensed to Sanofi (NYSE:SNY) via their Fovea acquisition. A miracle because the company has said next to nothing up to this point; perhaps CEO Corrigan is finally showing some sympathy for the company's shareholders. On the recorded broadcast he said, "Sanofi in their R&D yesterday reaffirmed the progress of the product with an intended launch of 2015." He then added the launch of a clinical phase 3 trial would trigger a $3M milestone. This was good news, but when this might happen is still unknown. There are also no guarantees that Prednisporin will ever receive final approval, so I would treat Sanofi's 2015 expectation as subject to change. I also remember CEO Corrigan saying that he expected Prednisporin to enter phase 3 before the end of 2010.
In summary, the good news is Synavive is on schedule and Prednisporin is on Sanofi's schedule. What will come of the long-awaited ion channel program will most likely not become clear until 2012 as clinical trials will need to be completed. Exalgo's value to Zalicus remains tenuous and the failure to land a new revenue-generating collaboration explains why the company continues to borrow money. My conclusion is Zalicus's presentation inspires measured caution. Should Prednisporin go forward, Exalgo's sales dramatically improve, and/or Zalicus lands a lucrative revenue generating contract, I will be among the first to upgrade my measured caution to renewed optimism, but not yet.
Disclosure: I have no positions in any stocks mentioned, and no plans to initiate any positions within the next 72 hours.