With the 10-year anniversary of 9/11 coming up this Sunday, below we highlight how various asset classes have performed since then. While gold and oil probably come to mind as two of the top performing assets over the last ten years, silver has actually done the best by a large amount. As shown below, silver is up a whopping 900% since 9/10/11. Ten years ago, silver was trading at $4.16. The metal is currently at $41.57. Gold has certainly done well also with a 10-year gain of 568%. Oil ranks third out of the asset classes shown with a gain of 225%.
The S&P 500 is up 9.71% since 9/11, which is certainly not great, but things have looked a whole lot worse at other times over the last ten years. Japan is down 14%, the Dollar is down 34%, European stocks are down 37.48%, and the yield on the 10-year is down 57.82% (which means Treasuries are up huge).
Looking at the ten S&P 500 sectors, seven are up while three are down. The Energy sector is up the most with a gain of 128%, followed by Materials (70%), Consumer Staples (43%), Consumer Discretionary (34.5%), and Technology (27.73%). At +9%, the Industrials sector is up just about the same amount as the S&P 500 as a whole. Health Care and Utilities are basically flat.
Telecom has been the second worst performing sector since 9/11 with a decline of 31.62%, and the Financial sector takes the cake as the biggest loser with a decline of 48%. The Financial sector has essentially lost half of its value since 9/11.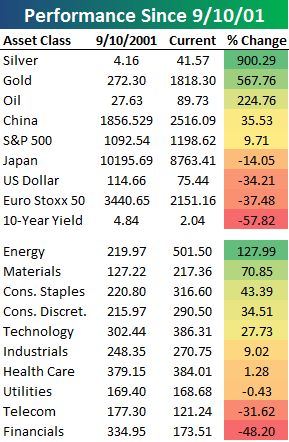 In the S&P 500, there are 193 stocks currently in the index that weren't in the index on the day before 9/11. This shows just how much things have changed since then. Below we highlight the best and worst performing stocks that are currently in the S&P 1500 since 9/10/11. Obviously there have been numerous companies that have gone out of business or changed hands since then, but we do not show these companies below.
Hansen Natural (HANS) has been the best performing S&P 1500 stock since 9/10/01 with a gain of 17,350% -- going from $0.49 to its current price of $85.07. That's a pretty nice return!
LivePerson (NASDAQ:LPSN) is up the second most with a gain of 9,233%, followed by Deckers Outdoor (NASDAQ:DECK), Green Mountain Coffee (NASDAQ:GMCR), Ezcorp (NASDAQ:EZPW), Clean Harbors (NYSE:CLH), and Apple (NASDAQ:AAPL). Ten years ago, Apple was just about to release a portable music player called the iPod. The device was released in early November 2001, and the rest is history.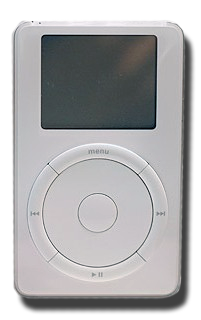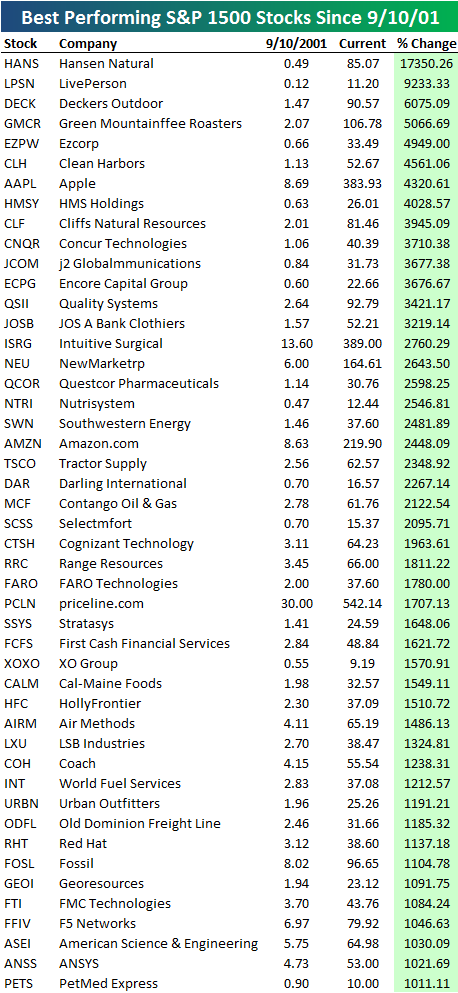 Below are the worst performing stocks currently in the S&P 1500 since 9/10/01: