Many people have been considering gold as an investment, but fear that they already missed the boat. Last year, you could have bought an ounce for around $1,200, and during the financial crisis it was near $800, but you would now have to pay well over $1,800 for that same ounce. No one wants to try jumping on a moving train, but that same logic may have been what kept investors from allocating into the yellow metal several hundred dollars ago. For those who are now looking to allocate into gold, the miners may make more sense.
Gold has appreciated to a far greater degree than have the gold miners, largely based upon a broad expectation that gold prices will not sustain this present price range. If rising gold prices continue, then the miners should follow that rise, and eventually undergo a dramatic upside correction. Additionally, several of the miners provide a dividend, while gold itself does not.
Moreover, given the significant disconnect between current gold prices and gold miner valuations, it is possible that these miners could eventually start to increase in share price even if gold does not. Over the last few weeks, gold miners have started to act somewhat better than gold, indicating that a shift into these miners may be under way. This game of catch-up could be significant, especially if fueled by any future quantitative easing announcements.
Below are seven large cap (over $10 billion) gold miners that are traded in the United States. I have provided their present yields, as well as their 1-month and 2011-to-date performance rates. I have also provided the same for fold.
Yield: 1%

1-month: 20.98%

2011-to-date: 4.96%
Yield: 0.8%

1-month: 21.03%

2011-to-date: 22.25%
Newmont Mining (NYSE:NEM)
Yield: 2%

1-month: 21.60%

2011-to-date: 7.16%
Yield: 0.7%

1-month: 18.42%

2011-to-date: -4.53%
AngloGold Ashanti (NYSE:AU)
Yield: 1.58%

1-month: 11.88%

2011-to-date: 3.18%
Yield: 1.2%

1-month: 27.80%

2011-to-date: 34.29%
Agnico-Eagle Mines (NYSE:AEM)
Yield: 1%

1-month: 25.94%

2011-to-date: 3.18%
Gold
Yield: 0%

1-month: 8.22%

2011-to-date: 35.13%
As these performance rates show, all of these large miners outperformed gold over the last month, with the majority appreciating well over 20%, or well over twice as much as gold (8.22%). Even the worst performing above-listed miner over the last month, AngloGold Ashanti, is up about 44% more than gold's recent climb. Compare that to its 2011-to-date performance, where gold has outperformed all of these miners.
Several of these miners, as well as the Market Vectors Gold Miners ETF (NYSEARCA:GDX), which has the above-named companies in its top holdings, may be short-term overbought. Nonetheless, the recent trend is upward moving, and breaking through prior resistance. See chart below: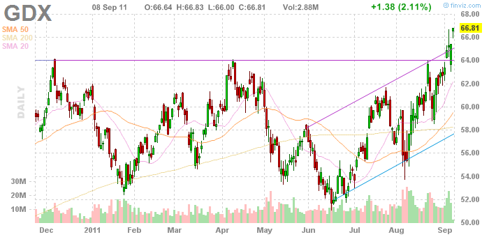 It is possible that individuals are beginning to place front-running bets on a QE3 announcement. Additionally, most of these miners have reduced or eliminated their hedging practices over the last few years and it is possible that some may soon begin to initiate some hedging. Some miners may also choose to pursue acquisitions, institute stock buyback plans and/or increase dividends if this disconnect between miner valuations and gold prices does not narrow.
Disclaimer: This article is intended to be informative and should not be construed as personalized advice, as it does not take into account your specific situation or objectives.
Disclosure: I have no positions in any stocks mentioned, and no plans to initiate any positions within the next 72 hours.