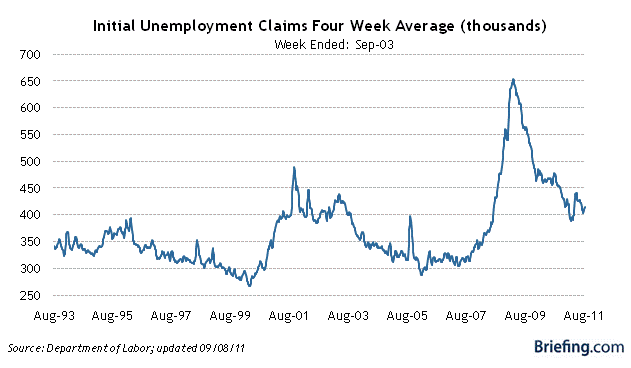 Click to enlarge graphic
The market was whipped around by a bevy of headlines today from Europe and the U.S. The market rallied in the morning around speculation that Fed Chairman Ben Bernanke and President Obama would give the market a bit of a jolt, but when Bernanke failed to deliver, the market shuttered. Additionally impactful was the Initial jobless claims report that highlighted claims came in higher than expected at 415K vs. expectations at 400K. This announcement put attention back on the weak jobs data on Friday.

Europe's headlines did not cause much of a rally or drop in the market as the markets stabilized a bit today. The ECB did not provide the spark that was thought when they kept interest rates the same and did not offer up euro bonds. Europe's headlines will continue to be very important for the direction of the market.


A number of upgrades did help stabilize the market today as Cisco (NASDAQ:CSCO), ExxonMobil (NYSE:XOM), Juniper (NYSE:JNPR) and Sandisk (SNDK) all received upgrades. Key downgrades were rather limited in comparison to these companies, and upgrades can really help the market from falling too greatly. Earnings were limited on the day, but Lululemon (NASDAQ:LULU) and Kroger (NYSE:KR) have key reports tomorrow morning that will have market impact.

We had another solid day here as we exited the final portion of a trade recommended in LULU for an 8% gain. We continue to hold a Direxion Small Cap Bear 3x ETF Bull Call Spread for Sept17 expiration with the spread being at 50/52. We are down on the position, but it is a nice hedge against long positions. We also did well with an iShares Silver ETF (NYSEARCA:SLV) position that we recommended from yesterday (we additionally added to the position today at 40.30). We also are looking solid on two bull put spreads we have with IBM (NYSE:IBM) and Joy Global (JOYG) with Sept17 expiration and strikes at 145/140 and 70/67.50, respectively.

For the day, we entered a new short sell in Cracker Barrel (NASDAQ:CBRL) as we believe they look quite weak moving into earnings on Tuesday morning and could move back to $39 before reporting. We also picked up a new Apple (NASDAQ:AAPL) Bull Put Spread for Oct22 expiration at 335/330 strikes.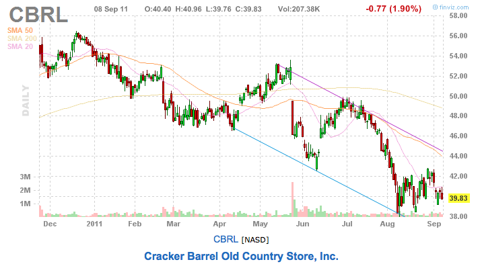 Moving into tomorrow, we maintain a bearish thesis. The market got some pop today on Bernanke and Obama, but these headlines are short-term fixes for a long-term problem. We have jobs data continually stagnating and very little headline news that can give us much to sustain a rally. We may see a pop on the Obama news, but it should be sold off.

Here are two things that still could make significant moves to the downside:
Oil - We believe the $90 line is the top of the sustainable range for oil, and accruing a short position on oil at these levels seems like a smart decision. The inventories came in much less than expected, but it was weather-related more than anything. Further, oil above $90 in a weak economy is not sustainable for long. The lack of Fed intervention on QE3 also does not help oil. Look for the commodity to weaken back to $85 next week. We like playing oil with Ultrashort Proshares DJ-UBS Oil (NYSEARCA:SCO) or puts on United States Oil Fund (NYSEARCA:USO).
AbitibiBowater Inc. (ABH) - The paper industry is not quite the industry of growth these days, and this is a weak stock that is holding the $16 line, but a multiple retest of the bottom is not a good sign of what is to come. A further breakdown in the market could take this stock down much further as it is already near its August lows, and its recovery has been quite weak from its August breakdown. We do not see a lot of upside for this stock in a business that continues to become more and more irrelevant.
Disclosure: I am long TZA, AAPL, JOYG, IBM, SLV.
Additional disclosure: I am short CBRL.I may initiate a position in SCO or short USO in next 72 hours.