Goldman Sachs has done something that it hasn't done this whole year. Goldman Sachs has advised customers to sell shares in Dunkin Donuts (NASDAQ:DNKN). What made it unusual is that Goldman Sachs was the lead underwriter that brought the company public. It is rare to see the lead underwriter rate its client a sell so soon. Goldman Sachs initiated the sell rating as soon as the 40 day grace period expired, allowing Goldman to rate the stock.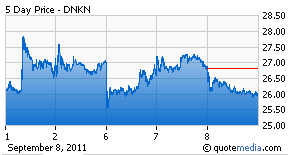 Goldman is defending this call by stating that the stock is up 65 percent from its original IPO range. Goldman Sachs analyst Michael Kelter expects to see a 15 percent drop over the next 12 months.
I wouldn't be surprised to see a pullback in Dunkin Donuts, but this pullback will be buyable. Here are some highlights that I like about Dunkin Donuts:
- Dunkin Donuts has announced its plans to expand into the Western market. They plan to start its expansion by targeting 5 states. There is a huge growth potential for Dunkin Donuts and I expect it could easily reach 15,000 Dunkin Donut locations by just expanding into the Western markets.
Dunkin Donuts has a great opportunity for international growth as well. Dunkin Donuts only has about 7,000 locations internationally. Starbucks (NASDAQ:SBUX) recently announced that it plans to triple the amount of its China locations and double the amount of its South Korea locations. I see the same opportunity for Dunkin Donuts. Dunkin Donuts is happy with its growth in Asia and Europe; I see this accelerating in the future.
- Dunkin Donuts is looking to expand its menu to increase business outside of breakfast. This will bring additional growth for the company and will be a great way to grow revenue going forward.
- Analysts expect consolidated revenues to grow 10 percent this year. Dunkin Donuts comparable store sales are expected to increase 3.5 percent. Dunkin Donuts' expansion plans will continue to increase revenue going forward.
I'm bullish on Dunkin Donuts and believe that pullbacks are buyable for long term investors. Dunkin Donuts has a strong brand with great growth prospects. I expect this growth to pay off for long term investors as the company also looks for ways to profit from its existing traffic.
Disclosure: I have no positions in any stocks mentioned, but may initiate a long position in DNKN over the next 72 hours.