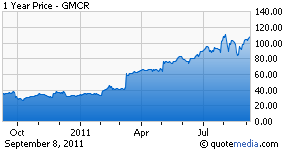 Although I try to write primarily about undervalued stocks, I simply could not resist the urge to say this to my readers: Green Mountain Coffee Roasters (NASDAQ:GMCR) is absurdly overvalued. In case you're unfamiliar with the company here is a little background. The company sells specialty coffee and coffee makers. Its "Specialty Coffee" business markets over 200 varieties of coffee, tea, and cocoa and its "Keurig" business segment manufactures single-cup coffee brewing systems.
The company likes to say it "revolutionized" coffee brewing by manufacturing a machine that brews coffee one cup at a time. Presumably, the system ensures that consumers get the freshest coffee possible. While it is certainly debatable whether Keurig's single-cup brewers truly constitute a "revolution" in the coffee industry, it really doesn't matter because the patent on the K-Cup (the coffee-filled cartridge that goes into the Keurig brewer) expires in 2012 opening the door for other companies to try their hand at manufacturing single brew, flavored coffee in a cute little cup. This could pose serious problems for Green Mountain given that it makes most of its profits on sales of K-Cups not Keurig brewers. The company's logic is that whatever profit it misses out on selling the brewer it will make-up by selling hundreds of K-Cups to the brewer's buyer. If Keurig owners begin buying K-Cups from other companies, Green Mountain could be in trouble.
On top of this, the company has some accounting issues. According to a CNBC article, "Green Mountain steers the investors to view the company on a non-GAAP basis, excluding acquisition-related expenses, amortization of identifiable and SEC inquiry expenses." The SEC has already probed the company once and recently Green Mountain created a new position (Chief Accounting Officer) to help oversee its accounting and reporting functions.
The company trades at nearly 66 times analysts' estimates of 2011 EPS and 155 times 2010 earnings. It trades at 36 times its tangible book value and 66 times cash flow. To top it all off, 12.5% of its shares are sold short as of August 29.
I would be short shares of GMCR until the stock comes down considerably. Revelations of further accounting irregularities or slumping sales of K-Cups could spell trouble for the company.
Sources: Greenberg, Herb. "Red Flags Still Fly Over Green Mountain." CNBC.com. 3 February 2011. Web. 8 September 2011.
Disclosure: I have no positions in any stocks mentioned, but may initiate a short position in GMCR over the next 72 hours.