Picking stocks is not a lost art. Rather, the elusive, ideal synthesis of fundamental and technical analysis. To be successful, one needs to demonstrate market timing. Increased volatilty states positions need to be held shorter and reassessed more efficiently.
Classically, technical analysis is the recognition of chart patterns. It fuses overall market psychology to supply/demand, arguing that all factors are appropriately weighed into the current share price. Followers then use trends to identify which way the stock will go, trading appropriately. Fundamental analysis is quite different. It involves dissecting and distributing appropriate weights to: financial statements, management, sector/market, competition, and global economics, which include GDP growth, inflation, and exchange rates. Backers believe any "misprice" in a security will be recognized over time and corrected.
I believe the market is demonstrating range-bound volatility because a tug of war is being played out by the fundamentals and technicals. The fundamentals are clearly bullish. The S&P 500 is expected to enjoy $100+ earnings per share in 2012. Inflation is supposedly in check, exchange rates favorable, and GDP estimates positive.
On the other hand, the 200 day moving average broke the 50 day moving average, known as the death cross. While this isn't necessary bearish within itself, once certain supports are broken, new lows are almost always gaurenteed. Furthermore, a bearish pole and flag pattern has emerged.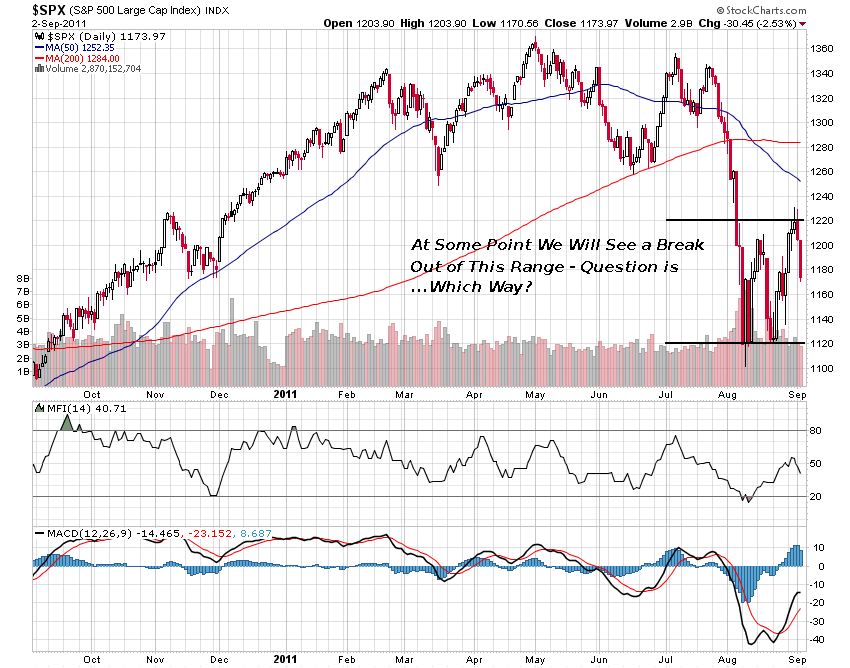 1) Chart from The Simple Accountant's, "For All The Drama, Markets Are Just Trading In A Range."
Conclusion
Equal validity of both cases provides a unique and volatile environment. For the bulls to "win" the power struggle, technicals need to improve. For the bears to "win", fundamentals will have to further deteriorate. The range can be broken upwards by monetary easing, stimulus, or removal of macro pressures and downwards if macro or contractionary pressures are realized. A greek default could accomplish this.
In the meantime, respect both the fundamentals and technicals. Expect a range-bound, bumpy ride. Buy in the lower eschelons of the range, and sell/short at the higher. Direction will be provided only when 1230 or 1120 is substantially breached.
Disclosure: I am short SPY.
Additional disclosure: Via 9/17 $17 SPXU calls, 1.40 avg.